What Is H.R. 1 Bill? House Vote Passes Sweeping Voting Rights, Anti-Corruption Bill, but Senate Republicans Await
The Democrats' broad signature reform bill—formerly titled the "For the People Act" but better known as H.R. 1—which the party has strongly pushed for in recent months, passed Friday in the House on a party-line vote.
With promises from Democrats it will "restore our Democracy," the anti-corruption legislation tackles campaign finance, voting and ethics laws while also trying to procure President Donald Trump's tax returns.
"It ends the dominance of big, dark, special interest money in politics and it empowers small donors and the grassroots," House Speaker Nancy Pelosi said on the steps of the Capitol, flanked by authors of the bill and freshman Democrats. "It ensures clean, fair elections and fights voter suppression. It cleans up corruption, returning integrity to Washington, D.C."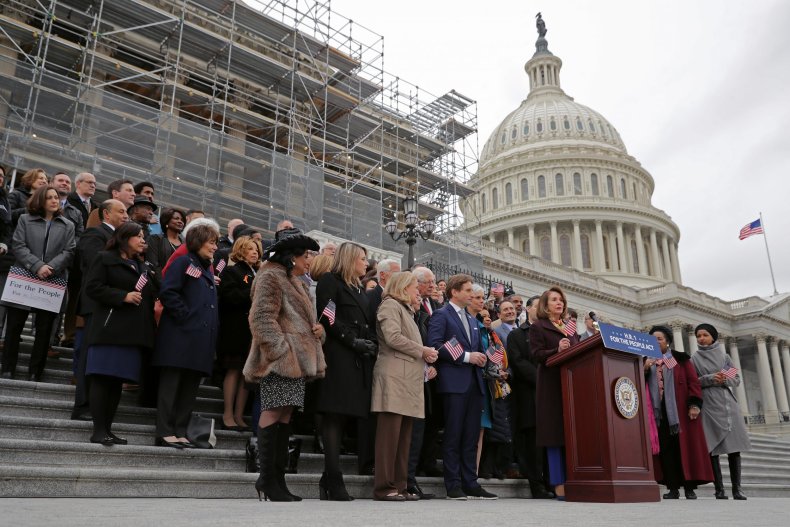 The bill includes crackdowns on campaign finance laws, the strengthening of ethics laws and creates new voting initiatives and laws aimed at increasing voter participation and fairness. Democrats say H.R. 1 would help drive out special interests and corruption in Washington by increasing government oversight.
Standout features of the bill include requiring the president to disclose his or her tax returns, prohibiting lawmakers from using public money to settle sexual harassment suits, requiring super PAC donations be made public, establishing a nationwide automatic voter registration system, increasing early voting and online voter registration, restoring a section of the Voting Rights Act and tackling gerrymandering.
But H.R. 1 is dead on arrival in the GOP-controlled Senate. And Democrats know it.
Senate Majority Leader Mitch McConnell has vowed not to hold a vote on the legislation, despite saying he plans to vote on the Democrats' Green New Deal.
"This sprawling 622-page doorstop is never going to become law," McConnell said earlier this week. "I certainly don't plan to even bring it to the floor here in the Senate."
Asked why there's no intention to vote on the matter, the GOP senator told reporters: "Because I get to decide what we vote on."
McConnell's objections to the bill include changes to the Federal Elections Commission, donations being made public and more control given to the federal government over how local elections are conducted.
Democratic leadership in both the House and Senate do not yet have a plan B for getting the Senate to pass what Republicans call the "Democrat Politician Protection Act," which in their view "over-regulates," "rewrites the rules to favor the far-left" and constitutes a "massive power grab."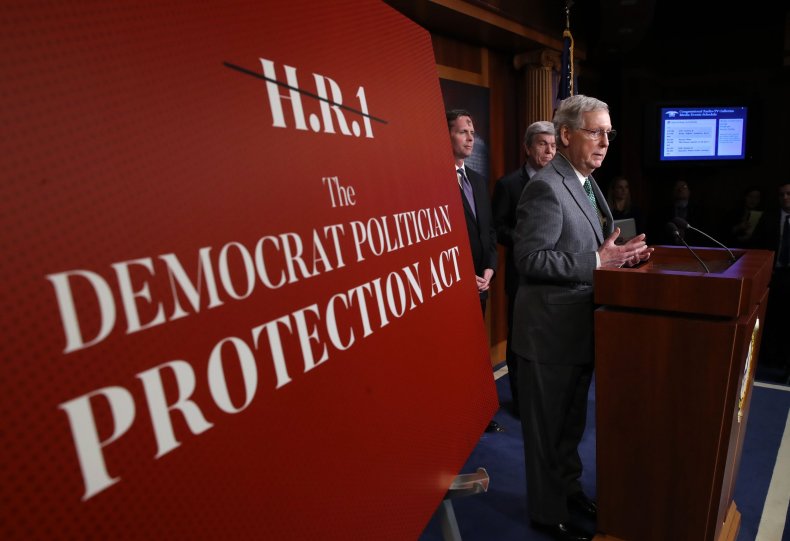 "We'll see what happens to it," House Majority Leader Steny Hoyer told reporters Thursday. "I know what Senator McConnell said, but there are a number of individual elements."
When H.R. 1 was unveiled last year by the Democrats, Representative John Sarbanes suggested one possible solution to garnering Republican support in the Senate could be to promote individual components of the legislation and put "pressure on all members" on "both sides of the aisle." But it does not appear party leaders still plan to move forward in that fashion.
"What we're doing now is we're moving H.R. 1 as a package, because we think the package deals with the issues that concern the American people about their role and influence in the process," Hoyer said.
At the same time, Senate Democrats have yet to indicate they're willing to make negotiations or offer a trade-off to their GOP colleagues in exchange for a vote. Democratic Senator Dick Durbin shot down the idea of making any concessions.
"I don't think it works that way. I think these changes are so fundamental that the Republicans have to resist them," Durbin told Newsweek. "I don't believe there's any condition for which [McConnell] would agree to bring up H.R. 1…because it doesn't have the blessing of the Koch brothers, it doesn't fit into his scenario of dark money supporting his candidates."
The passage of the new ethics and nepotism rules offered House Democrats a chance to come together following a week of deep party divisions over how to formally condemn—if at all—freshman Congresswoman Ilhan Omar's alleged use of anti-Semitic tropes. The added distraction of new revelations from the president's former personal attorney, Michael Cohen, and a ratcheting up of the congressional probes into the Trump administration also threatened to overshadow the party's message on what they call an historic bill.
"What is frustrating is that the system has been rigged year after year, decade after decade for big pharma, for big oil and for other special interests," Democratic Caucus Chair Hakeem Jeffries told reporters Thursday. "And that's why we, as a House Democratic Caucus, are going to fight to unrig the system and break the back of special interest in Washington, D.C."