Nancy Pelosi Says House Doesn't Need 'Too Much Inquiry' to Impeach Trump, Claims President Has 'Confessed' to Violating Oath of Office
House Speaker Nancy Pelosi said that lawmakers don't need to conduct "too much inquiry" on whether or not to impeach President Donald Trump since he has already "confessed" to breaking the oath he took when entering office.
Pelosi briefly discussed impeachment after attending a roundtable panel with Venezuelan community members in Florida on Thursday. As she was speaking with local leaders, Trump was also in Sunshine State to address his supporters.
"The president has confessed to his violation of his oath of office, and right there, there it is. So it doesn't need too much inquiry," Pelosi said, according to the Miami Herald. She added that it's "sad for our country that our president would put us through this situation."
The House of Representatives launched an official impeachment inquiry against Trump last week amid reports that he pressured Ukrainian President Volodymyr Zelensky to investigate his political rival former Vice President Joe Biden and then tried to cover up their communication.
Speaking to reporters outside the White House on Thursday, Trump doubled down on his calls for Ukraine to look into the Bidens over what he claims were corrupt business deals. Then he escalated the situation even further by suggesting that China do the same, which legal experts told Newsweek is "still a crime."
"China should start an investigation into the Bidens because what happened with China is just about as bad as what happened with Ukraine," Trump said. "I'm sure that President Xi [Jinping] does not like being under that kind of scrutiny where billions of dollars is taken out of his country by a guy that just got kicked out of the Navy."
Pelosi said on Thursday that she "tried to avoid impeachment because it is divisive in the country" but decided to launch the inquiry anyway because "our Constitution is worth it. Our democracy is worth it, and our republic ... is worth it."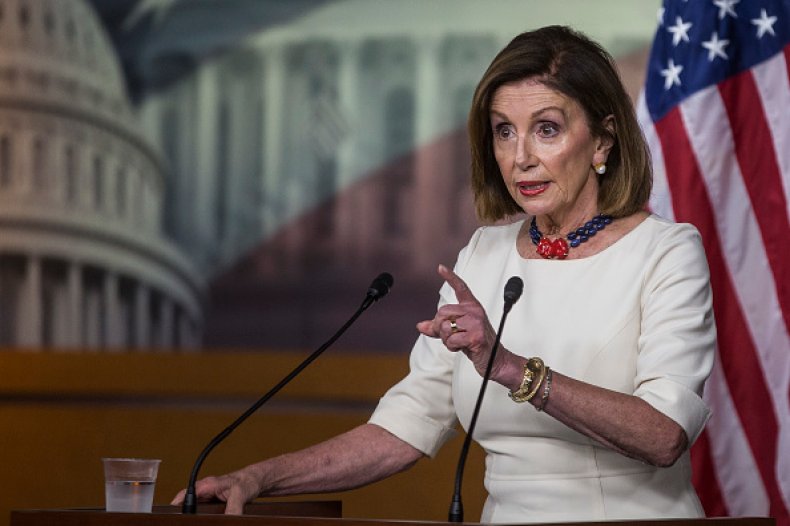 House Democrats have been moving full steam ahead on their impeachment inquiry, issuing several subpoenas for information relating to Trump's conversations with Ukraine. Secretary of State Mike Pompeo and Trump's personal attorney Rudy Giuliani have both been subpoenaed by lawmakers.
But on Thursday, House Minority Leader Kevin McCarthy urged Pelosi to suspend the inquiry until she establishes more "transparent and equitable rules and procedures."
Pelosi responded to McCarthy's request by saying she hopes Republicans in Congress will "share our commitment to following the facts, upholding the Constitution, protecting our national security, and defending the integrity of our elections at such a serious moment in our nation's history."
She added that she received McCarthy's request to halt the inquiry "shortly after the world witnessed President Trump on national television asking yet another foreign power to interfere in the upcoming 2020 elections."
Trump has largely dismissed the inquiry as a "Democratic witch hunt," but polling shows that public support for impeachment has been growing since lawmakers began their investigation last week. A plurality of Americans support Congress impeaching Trump and removing him from office, according to a recent survey from USA Today/Ipsos.