Vice President Mike Pence and Senator Kamala Harris faced off in the first and only vice presidential of the 2020 race on Wednesday and critics were quick to point out that both candidates dodged major questions.
Pence didn't give direct answers when asked about the future of abortion rights or the peaceful transfer of power following the potential defeat of President Donald Trump, while Harris avoided saying whether a Biden administration would pack the Supreme Court.
Moderator Susan Page, Washington Bureau Chief for USA Today, asked the vice president about the possibility of a conservative SCOTUS majority overturning the landmark abortion rights ruling Roe v. Wade.
Pence used his answer to refer back to an earlier discussion about the killing of Iranian General Qassem Soleimani and then discussed potential attacks on the faith of Supreme Court nominee, Amy Coney Barrett.
"We particularly hope we don't see the kind of attacks on her Christian faith that we saw before," Pence said, referring to comments by Democratic Senator Dianne Feinstein.
On the subject of the Supreme Court, Pence asked Harris if she and former Vice President would pack the court if they won the election. Court packing would involve increasing the number of justices, an idea that's found favor with many Democrats since the death of Justice Ruth Bader Ginsburg.
Harris didn't say whether a Biden administration would engage in court packing but instead criticized judicial appointments made during the Trump administration.
"So the Trump Pence administration has been, because I sit on the Senate judiciary committee, Susan as you mentioned, and I've witnessed the appointments for lifetime appointments to the federal courts, district courts, courts of appeal, people who are purely ideological, people who have been reviewed by legal professional organizations and found who have been not competent are substandard," Harris said.
"And do you know that of the 50 people who President Trump appointed to the court of appeals for lifetime appointments, not one is black? This is what they've been doing. You want to talk about packing a court? Let's have that discussion."
The graphic below, provided by Statista, shows the vice presidential candidate's background and career.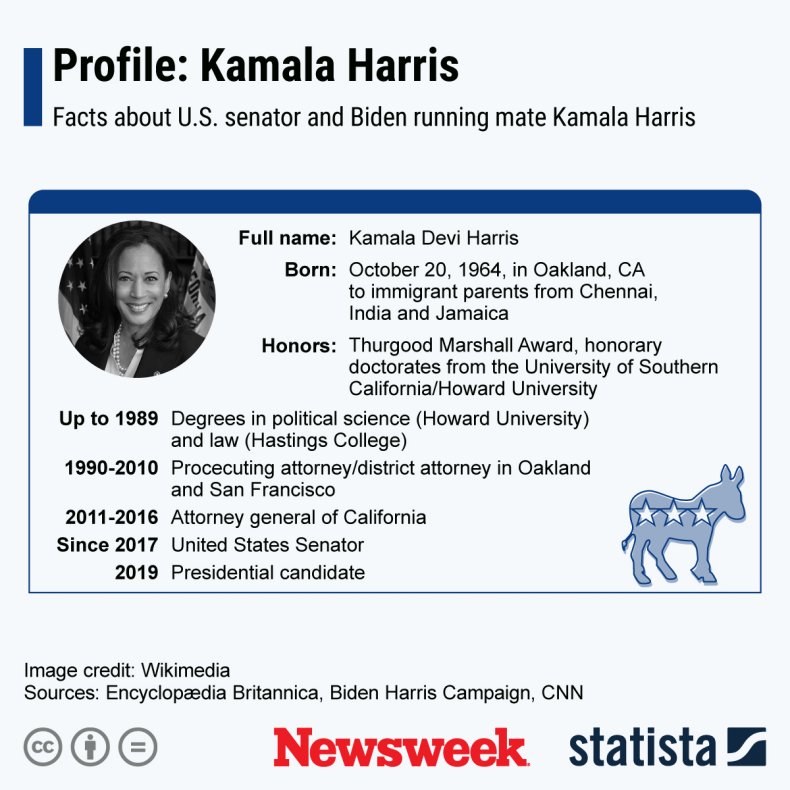 Later in the debate, Page asked Pence about the president's apparent unwillingness to commit to a peaceful transfer of power if he loses in November. The vice president didn't address the question directly but argued that Trump would win the election.
"Well, Susan, first and foremost, I think we're going to win this election. Because while Joe Biden and Kamala Harris rattle off a long litany of the establishment in Washington, DC and establishment that Joe Biden's been a part of for 47 years, president Donald Trump has as launched a movement of everyday Americans from every walk of life," Pence said.
"But when you talk about accepting the outcome of the election," Pence said later. "I must tell you. Senator, your party has spent the last three and a half years trying to overturn the results of the last election."
In a long answer, he mentioned voter fraud in mail-in ballots, Trump's impeachment and Hillary Clinton, but didn't clearly commit to a peaceful transition.
"@VP ducked the q about what @realDonaldTrump said about peaceful transfer of power," tweeted NBC News Chief Foreign Affairs Correspondent Andrea Mitchell. "Democrats haven't day in [sic] enough to highlight this threat."
NBC News Correspondent Garrett Haake summed up many viewers' attitudes in a tweet: "GOP Twitter thinks Harris non-answer on court-packing was most important moment of the night. DEM Twitter thinks Pence healthcare non-answers and Pence rudeness on time were key. And everybody is tweeting pics of the fly."