VP Mike Pence Jabs Hollywood's Georgia Boycott and Defends Wife For Teaching At Anti-LGBT School in Liberty University Speech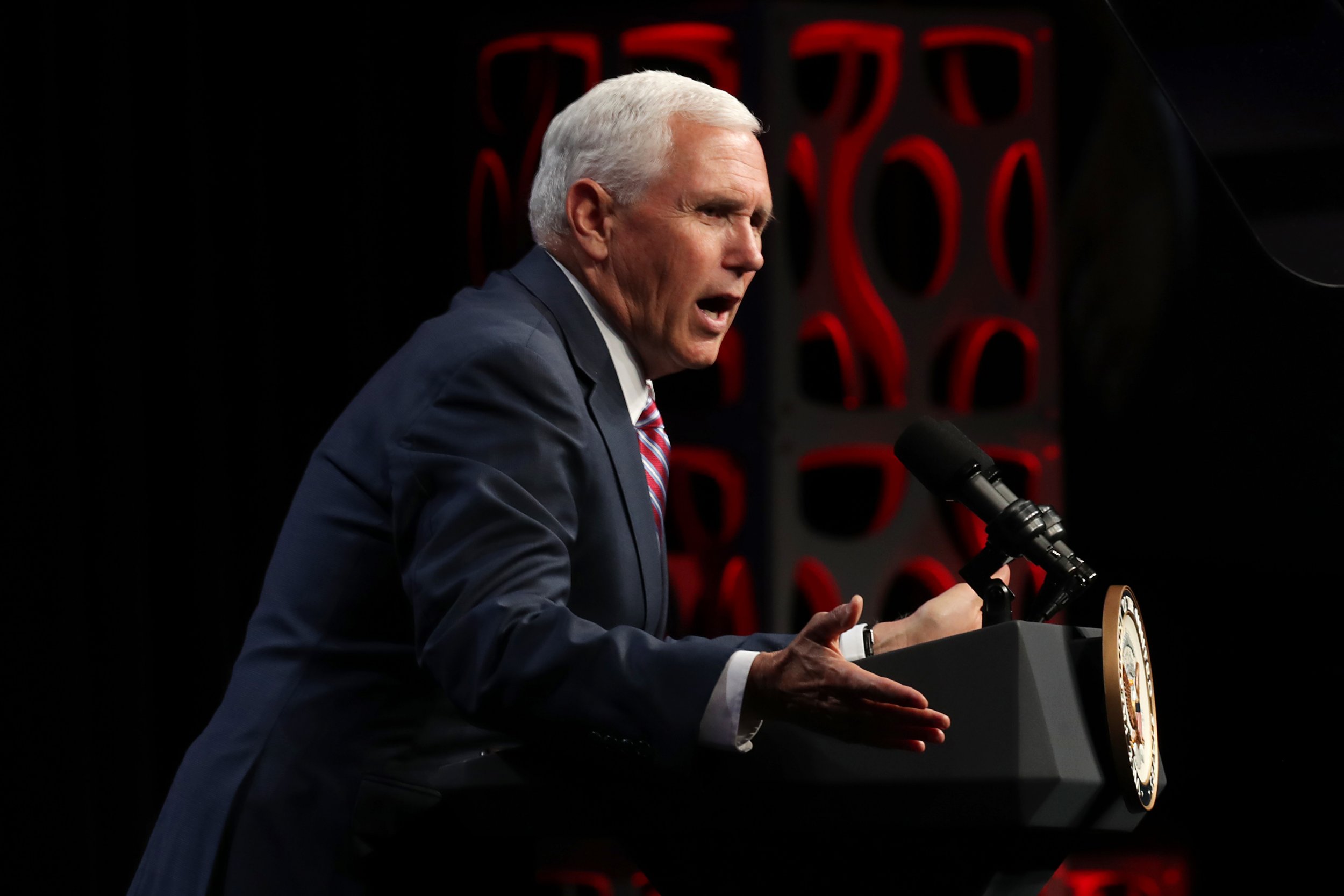 Vice President Mike Pence addressed graduating seniors at Liberty University in Virginina on Saturday, telling students at the Christian school to "be ready" to face persecution from the "secular left" over their religious beliefs.
"Some of the loudest voices for tolerance today have little tolerance for traditional Christian beliefs," Pence said, breaking from the optimistic tone he carried through most of his nearly 30-minute speech. "We live in a time when it's become acceptable and even fashionable to ridicule and discriminate against people of faith."
"You're going to be asked not just to tolerate things that violate your faith; you're going to be asked to endorse them," he said, encouraging the students to persevere. "You're going to be asked to bow down to the idols of the popular culture. So you need to prepare your minds for action."
His address at the Lynchburg, Virginia, college — co-founded in 1971 by prominent evangelical preacher Jerry Fallwell — specifically included mentions of Hollywood actors boycotting Georgia over the state's recently passed anti-abortion law, as well as jabs at those who criticized his wife Karen Pence for teaching art at Immanuel Christian School in Springfield, Virginia. That private institution, which teaches students in kindergarten through eighth grade, has stringent anti-gay policies that reportedly include barring non-straight students from attending. Likewise, LGBTQ teachers are reportedly not permitted to work at Immanuel Christian.
Pence implied that it was Karen Pence—not LGBT youth and educators—who was being persecuted and discriminated against in that scenario.
"When my wife, Karen, returned to teach art at an elementary Christian school earlier this year, we faced harsh attacks by the media and the secular left," he said, shaking his head and referencing the popular Twitter campaign #ExposeChristianSchools.
Pence also praised President Donald Trump over the low unemployment rate and told the students they were fortunate to graduate under a White House administration that has advanced "the very principles and values" that students learn at the religious university.
"Class of 2019, I just want to tell you, you picked a great time to graduate," he later said, "because after two years of the leadership of President Donald Trump, jobs are coming back and America is back."
Liberty University is notoriously friendly with the Trump White House, as it has been with previous conservative administrations. Trump has spoken at the school in 2017 and in May of this year, while Pence last appeared in 2016. The school's president, Jerry Fallwell, Jr., has been an outspoken supporter of the current administration.
The current administration's acceptance at other faith-based institutions has been more tenuous. Pence's scheduled speech at Taylor University, a Christian college in his home state of Indiana, triggered an online campaign pressuring the school to cancel the appearance.
Watch the full commencement address in the video above.