Pence at Odds With Trump Again, This Time Over Putin's 'Violence'
Just hours before former President Donald Trump said he would not choose Mike Pence as his running mate in 2024, Pence was on Fox News disagreeing with his old boss on the virtues of Russian President Vladimir Putin.
The former vice president broke with Trump on Wednesday during an interview on Fox News concerning Russia's ongoing war on Ukraine. Pence extolled the bravery of the Ukrainian people and their president, Volodymyr Zelensky, while lambasting Putin for his actions.
"I think the world's been inspired by President Zelensky," Pence said, adding that he had seen firsthand Zelensky's strength and poise. "I believe that it's important ... that we economically isolate Putin."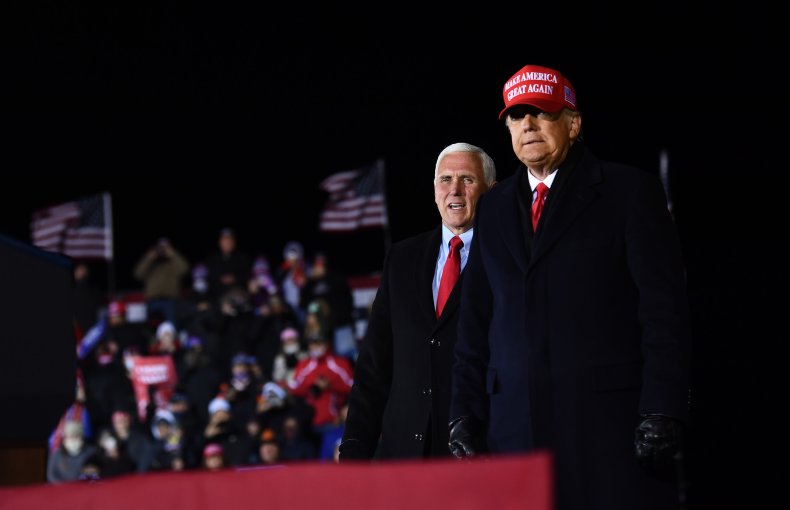 "There is one person to blame for this invasion, it's Vladimir Putin," the former vice president said. "And Putin must pay for the violence that he is visiting upon the people of Ukraine ... I think it's time for the free world to step up and work together to make sure that the people of Ukraine have the wherewithal to defend themselves."
Just hours after Pence's remarks, a new interview with Trump was published, in which the former president said that he had effectively ruled out Pence as his vice presidential candidate should he choose to run for office in 2024.
"I don't think the people would accept it," Trump said during the interview with conservative newspaper the Washington Examiner. "Mike and I had a great relationship except for the very important factor that took place at the end. We had a very good relationship." Trump added that he hadn't spoken to Pence "in a long time."
The former political duo have been at odds since the siege of the U.S. Capitol on January 6, 2021, when Pence was forced to flee the building for his life. Following the attack, Pence has been one of the few Republicans to admit that Trump was wrong in saying Pence could have overturned the results of the 2020 election that day—something the former president continues to assert.
"President Trump is wrong," Pence said during a speech last month. "I had no right to overturn the election."
Trump's views on the war in Ukraine also appear to be markedly different than the sentiments expressed by Pence. The former vice president's comments were also notably aired just hours before Trump's interview with the Examiner was published.
While the majority of Western allies, including Pence, the Biden administration, NATO and the European Union have condemned Putin for his actions, Trump's words regarding the Russian leader have been noticeably different. The former president told the Examiner that Putin's aggression had been "a smart way to negotiate" and previously called the invasion of Russia "genius."
The Examiner also noted that "Trump has often praised Vladimir Putin's geopolitical acumen and hesitated to criticize him directly," something that Pence appears to have no problem doing.
Trump also called Russia a country "where there was a lot of love" during a radio interview with Fox News this past Sunday.
If Trump's words are any indication, he will not have Pence by his side should he run for president in 2024. But this does not mean that the former vice president might not make another political run of his own.
Reports have emerged that Pence may be considering a run for president in 2024. It was noted, though, that among GOP voters, Pence still lagged significantly in the polls behind Trump. A January Harvard CAPS/Harris poll found that 57 percent of Republicans supported Trump, compared to just 11 percent for Pence, to be the Republican nominee.
Newsweek has reached out to the offices of Trump and Pence for comment.