Pence to Say 'No Room' in GOP for Putin Apologists After Trump Genius Claim
Former Vice President Mike Pence is expected to criticize members of the Republican Party for making excuses for Russian President Vladimir Putin days after former President Donald Trump apparently praised the "genius" of the Russian president's military strategy.
Pence is scheduled to address a Republican National Committee retreat in New Orleans this weekend and is expected to discuss Putin's invasion of Ukraine. In his remarks, Putin is expected to say there's "no room" in the GOP for Putin apologists and criticize those who believe NATO is to blame for Russia's violent attacks on Ukraine.
"To those who argue that NATO expansion is somehow responsible for the Russian invasion of Ukraine, ask yourself, where would our friends in eastern Europe be today if they were not in NATO?" Pence is expected to say, according to NBC News. "Where would Russian tanks be today if NATO had not expanded the borders of freedom? There is no room in this party for apologists for Putin. There is only room for champions."
The excerpt of Pence's speech didn't specify who exactly in the party he's talking about, but it's likely to drive a greater wedge between himself and Trump. In a recent interview with Clay Travis and Buck Sexton, Trump said he thought "this is genius" as he watched Putin's invasion unfold, adding that his strategy was "pretty savvy."
The comment was widely condemned and even prompted criticism from members of Trump's own party. Senate Minority Leader Mitch McConnell called Putin a "ruthless thug" when asked about Trump's recent comments and Representative John Katko told the Washington Post he didn't think Trump or Putin was a "genius."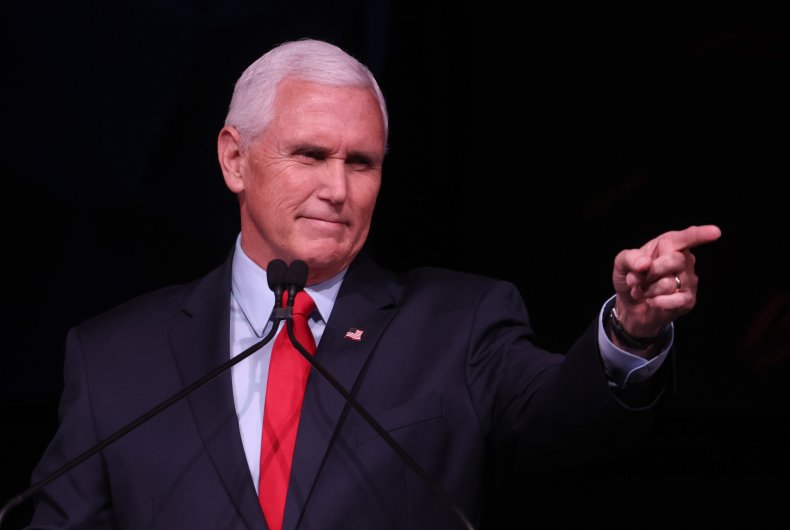 Trump pushed back on the criticism, saying that "warmongers" and the "fake news" were lying and misrepresenting his remarks about Putin in an effort to cover their own failures. He maintains that the invasion wouldn't have happened if he was in office.
While Pence is critical of those who seek to blame NATO for the attack, he's expected to join Trump's belief that Biden shares some of the blame. Pence will tell retreat attendees that Biden "squandered the deterrence that our administration put in place to keep Putin and Russia from even trying to redraw international boundaries by force," according to the Associated Press.
Along with blaming President Joe Biden, members of the GOP have targeted NATO for fueling the current unrest. NATO has continued to expand since its creation and Ukraine has been pushing for membership in the post-World War II alliance. Putin, however, demanded that NATO not expand into Ukraine, and some in the GOP have hit western countries for not heeding Putin's concerns.
Given that Pence is expected to specifically mention the blame that's been put on NATO, it's unclear if he was responding to Trump's remarks.
Both Pence and Trump are expected to appear at the retreat this weekend, appealing to donors and voters ahead of the midterm elections. While the two were once lockstep in terms of policies and talking points, the Capitol riot has driven a wedge in their relationship and the two haven't spoken in months, according to the former vice president.
Trump still believes the election was stolen from him and that Pence was in a position to give him a second term in office by sending the results back to the states. Pence stands by his decision on January 6 not to intervene in Congress' certification of Biden's victory and doesn't appear to be ready to shy away from Trump's criticism.
At the retreat this weekend, Pence is also expected to tell GOP donors that Republicans win elections by being "united around an optimistic vision for the future." He's expected to send the message that "we cannot win by fighting yesterday's battles or by litigating the past."