Pence Says WHO 'Let the World Down' Over Coronavirus as U.S. Pulls Out
Vice President Mike Pence defended the Trump administration's decision to withdraw from the World Health Organization (WHO), arguing that the global health body had "let the world down" amid the coronavirus pandemic.
Speaking to Fox News about the official exit announced on Tuesday, the vice president said the WHO had dished out "ill-fated advice" on the spread of the novel coronavirus in January and February.
Pence added that it was "absolutely the right time" for the U.S. to be withdrawing from the global health group, despite several states reporting large daily spikes in new COVID-19 cases.
The vice president defended the administration's move to back out of the WHO after a top Senate Republican said the exit shouldn't have happened in the middle of an ongoing pandemic.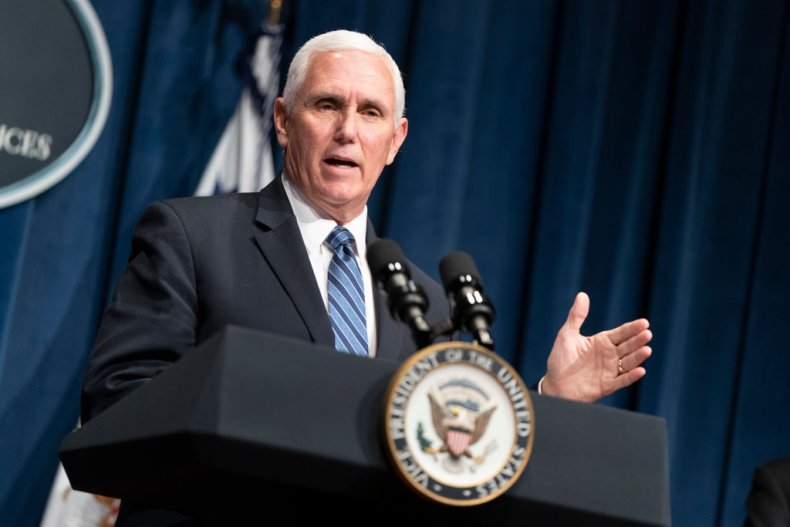 Sen. Lamar Alexander, the GOP chair of the Senate health committee, accepted that there needed to be "a good, hard look at mistakes the World Health Organization might have made," but still disagreed with President Donald Trump's decision.
"The time to do that is after the crisis has been dealt with, not in the middle of it," he said.
Responding to the senator on Fox News last night, Pence said: "Well, it's absolutely the right time to notify Congress, with all due respect to Senator Alexander's view.
"The World Health Organization let the world down by not informing the United States and the wider world about this pandemic as it began in China, giving the world ill-fated advice in January and February. There have to be consequences for this."
The WHO told Newsweek on Tuesday that it had received reports of the U.S. withdrawing from the organization, but declined to comment further.
A senior White House administration official said the withdrawal notice, effective from July 6, 2021, had been submitted to the United Nations Secretary General. According to a tweet from Senator Bob Menendez (D-NJ), Congress was also alerted about the move on Tuesday.
The president notified the WHO of the U.S. withdrawal from the body as the number of confirmed coronavirus infections continued to rise across the country.
In Florida, Texas and Arizona, states particularly impacted by the recent spike, thousands of new coronavirus cases have been confirmed on a daily basis over the last couple of weeks.
According to the Johns Hopkins University COVID-19 tracker, the U.S. has recorded more than 2.9 million coronavirus cases as of Wednesday morning.
The graphic below, provided by Statista, shows the eight largest contributors to the World Health Organization as of June 30 this year.