Peng Shuai: China Still Facing Backlash After Missing Tennis Star Shown in Photos, Videos
Chinese tennis star Peng Shuai was reportedly photographed in Beijing this weekend and told the International Olympic Committee (IOC) that she is "safe and well." However, officials fear the visual evidence may not be enough to prove her safety.
Peng, 35, had not been seen or heard from in public since she wrote a blog post on November 2 that accused former Chinese vice premier Zhang Gaoli of sexually assaulting her three years earlier. The post was quickly deleted by Chinese state-run media, and news about the incident has been heavily censored across the country.
Since then, world tennis bodies and the U.S. and British governments have expressed concern over Peng's disappearance. They have called on China to provide verifiable proof that the tennis player is safe.
On Sunday, Peng was reportedly seen in photos and videos published from a tennis tournament organized by China Open. In the online footage, the 35-year-old player could be seen smiling among guests wearing a dark blue jacket and white trousers, Reuters reported. The night before, Peng was also allegedly seen dining with a group of people at a restaurant in downtown Beijing.
The tennis star was also reported to have spoken with the president of the IOC on Sunday and assured her safety in Beijing.
"She explained that she is safe and well, living at her home in Beijing, but would like to have her privacy respected at this time," the IOC said in a statement on Sunday, per Reuters. "That is why she prefers to spend her time with friends and family right now. Nevertheless, she will continue to be involved in tennis, the sport she loves so much."
Officials with the Women's Tennis Association (WTA) and the International Tennis Federation (ITF) had said that visual evidence of Peng's whereabouts was "insufficient" in proving her safety.
"While it is positive to see her, it remains unclear if she is free and able to make decisions and take actions on her own, without coercion or external interference. This video alone is insufficient," WTA Chairman Steve Simon said, per Yahoo Sports.
"As I have stated from the beginning, I remain concerned about Peng Shuai's health and safety and that the allegation of sexual assault is being censored and swept under the rug," Simon added.
Earlier this week, the WTA was allegedly sent an email from Peng stating that is safe at home and that the sexual assault accusation was a lie. Simon, however, believes that message was written by Chinese-state media.
"I have a hard time believing that Peng Shuai actually wrote the email we received or believes what is being attributed to her," Simon said. "Peng Shuai must be allowed to speak freely, without coercion or intimidation from any source. Her allegation of sexual assault must be respected, investigated with full transparency and without censorship."
ITF President Dave Haggerty also told Reuters that while the latest footage "appears to be a positive step," officials will continue to seek direct confirmation from Peng that she is safe.
Both tennis bodies have told media outlets that they have repeatedly tried to contact Peng but have been unable to reach her.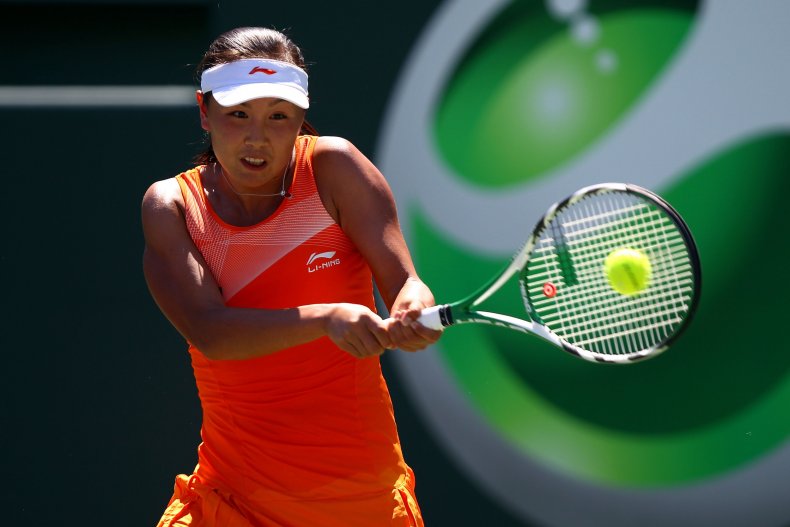 On Friday, White House Press Secretary Jen Psaki commented that President Joe Biden and his administration were "deeply concerned" about Peng's disappearance.
"[Any] report of sexual assault should be investigated and support a woman's ability to speak out and take accountability," Psaki added during a White House briefing. "[The Biden administration will] continue to stand up for the freedom of speech and we know the PRC has zero-tolerance for criticism and a record of silencing those that speak out and we continue to condemn those practices."
Peng's alleged disappearance had also sparked concern from numerous high-profile tennis stars, including Naomi Osaka and Julia Goerges.
"I am deeply concerned about the ongoing situation involving Peng Shuai," Goerges tweeted this week. "We live in a world where victims should not be silenced & I stand with the entire tennis community in saying, we want answers!"
Newsweek contacted the White House for additional comment regarding Peng.
Update 11/21/21, 1:28 PM ET: with a comment from the IOC as reported by Reuters.