Penguin in Love With Anime Poster Romantically Dies By Its Side at Japanese Zoo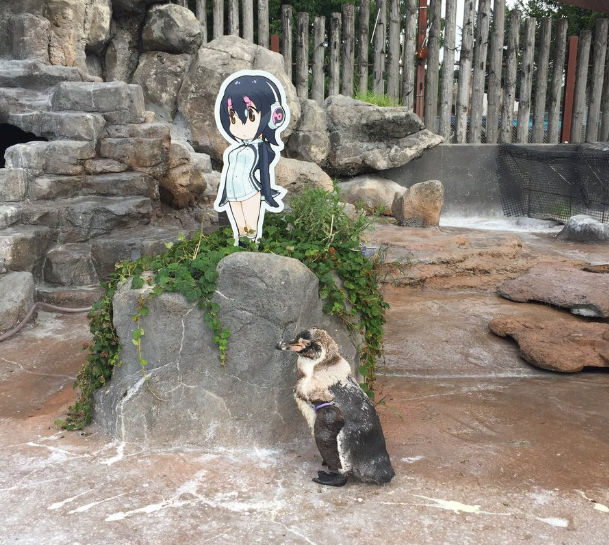 Grape-kun, a Humboldt penguin at Tobu Zoo in Miyashiro, Japan, who became attached to a cardboard cutout of an anime character placed in his pen as a partner, has died. According to reports from the zoo, the penguin died just as he lived: by the side of his beloved.
Hululu is a female penguin that looks like a human girl from the Japanese TV series Kemono Friends that was put in the zoo's penguin pen for promotional purposes this April, Indy 100 reported. However, Grape-kun became attached to his new pen pal and would go berserk whenever zookeepers tried to remove the cutout. Grape-kun even took the official courtship stance while standing next to Hululu—standing with his wings outstretched and his beak pointed upward—confirming that the small seabird was indeed enamored with the cutout.
The penguin's love story with the cardboard cutout was so famous throughout Japan that at one point the voice actress for Hululu came by to pay Grape-kun a visit, Vice reported.
Zookeepers once had to remove the cutout during a storm, fearing it would be blown away. The team soon returned Hululu to the pen after they saw how stressed Grape-kun became when separated from his mate.
Humboldt penguins are native to South America and named after the Humboldt Current that flows along the coast. The penguins are considered a vulnerable species, as their population has been steadily declining for the past 50 years. According to the Denver Zoo, commercial fishing and changing weather patterns have dramatically reduced their food supply.
Like all penguins, Humboldt penguins are monogamous and choose only one mate for life.
However, as with humans, sometimes things go awry in paradise. The Daily Mail reported that the zookeepers believe Grape-kun first got an eye for Hululu after he was rejected by Midori, a female penguin he had been with for 10 years.
Grape-kun had recently fallen down due to an undisclosed illness but still remained by the cardboard cutout's side. He died October 13 at 21, an average age for this breed when held in captivity.
"Sincere thanks to everyone for supporting him until now," the tweet read. "Thank you also to Hululu, who watched over him until the very end. And thank you, Grape-kun, for all this time. Rest peacefully in heaven," the Tobu Zoo tweeted on Friday about the lovestruck penguin whose unique romance touched the hearts of so many.