Penis Swelling and Rectal Pain Identified As Monkeypox Symptoms
Penile swelling and rectal pain have been identified as symptoms in people who have contracted monkeypox amid this year's unprecedented global outbreak of the disease, according to a study.
These symptoms are not usually associated with the disease, the authors of the report, which was published in the BMJ, said.
Over the course of 2022, more than 20,000 cases of monkeypox—a rare disease that is usually only found in parts of Central and West Africa—have been identified worldwide in countries where it is not normally reported, according to the Centers for Disease Control and Prevention.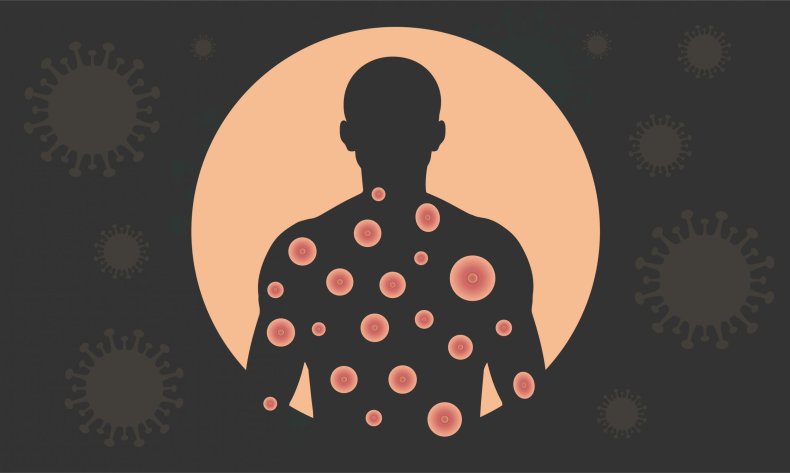 Typically, the disease begins with flu-like symptoms, including fever, headaches, muscle aches, and severe lack of energy, accompanied by swelling of the lymph nodes.
Subsequently, the infected individuals can develop rashes—usually within one to three days of fever appearing. These lesions tend to start on the face before spreading to other parts of the body.
However, the observed features of the monkeypox infections in this year's outbreak appear to differ from historical reports, with some patients experiencing atypical symptoms or disease progression. The reason for this has yet to be determined.
The latest BMJ study provides further evidence of people infected with monkeypox suffering from unusual symptoms.
For the study, a team from Guys and St Thomas' NHS Foundation Trust in London, characterized the clinical features of monkeypox infection in 197 patients who tested positive for the disease between May and July this year.
All of the participants were men, with 196 identifying as gay, bisexual, or other men who have sex with men. This mirrors the situation globally, with the current outbreak primarily affecting this group—although it is important to note that the virus can affect anyone.
Among the 197 patients in the study, all presented with lesions, most commonly on the genitals or the area surrounding the anus.
The researchers also found that 71 patients presented with rectal pain or pain while defecating, and this was the primary reason eight people were admitted to hospital.
One participant, a 46-year-old-man, for example, sought medical attention after experiencing symptoms starting with fever, sore throat, and fatigue, followed by severe rectal pain.
A week after his symptoms appeared, the rectal pain became so severe that he needed to visit the hospital for treatment.
In the study, 31 patients reported penile edema, which is characterized as swelling of the penis. Five of the patients were admitted to hospital as a result of this symptom.
Overall, 20 of the study participants were admitted to hospital for the management of symptoms, most commonly for rectal pain and penile swelling.
Twenty-two of the participants only had a single lesion, which is not typical for monkeypox patients, who will often develop multiple lesions across the body. Nine participants also had swollen tonsils, which again is not typical for the disease.
Traditionally, health authorities have not recognized rectal pain, penile swelling, a single lesion or swollen tonsils as typical monkeypox symptoms.
It is important to note that the majority of participants (86 percent) also reported more common monkeypox symptoms, such as fever and swollen lymph nodes. But the authors wrote in the study that 14 percent of participants did not meet the current U.K. Health Security Agency definition for a probable monkeypox case.
According to Julia Bilinska, an author of the study and a sexual health registrar at Guys and St Thomas' NHS Foundation Trust, it is not yet known why monkeypox is causing unusual symptoms in some people.
"It may suggest a change in the natural disease course, or it may be due to the mode of transmission. It's a question that deserves a lot more research," Bilinska told New Scientist.
The authors said their findings suggest the disease may be taking a "new clinical course" and recommended that the new symptoms should be included in public health messaging to "aid early diagnosis and reduce onward transmission."
The researchers also said their study supports previous findings that monkeypox infection is generally a "self-limiting" disease—meaning one that resolves on its own with or without treatment—with a low fatality rate. No deaths were reported among the participants and none required intensive care.
In addition, only around a quarter of the participants had known contact with someone who had a confirmed monkeypox infection, raising the possibility that people who are asymptomatic or only have very mild symptoms are transmitting the virus.