Pennsylvania Avoids a Disastrous Green New Deal Policy—For Now | Opinion
Pennsylvanians are, for the moment, protected from high costs of a "Green New Deal" initiative being pushed by Governor Tom Wolf via executive order. Earlier this month, the Pennsylvania Commonwealth Court issued an injunction against further implementation of the Regional Greenhouse Gas Initiative (RGGI).
RGGI would cause Pennsylvania to join other mid-Atlantic and New England states to "to cap and reduce power sector CO2 emissions." These states strictly limit carbon emissions from electricity producers by forcing them to pay for "credits." This is a tax in everything but name. By Pennsylvania state law, only the legislature—not the governor—can pass taxes. Joining the initiative via executive order is flatly unconstitutional in our state.
The governor is no stranger to executive overreach. Last year voters agreed to amend the state constitution to rein in Wolf's emergency powers related to COVID. Here he goes again.
But Wolf is a lame duck, and RGGI's ultimate fate may not be decided on his watch. The issue should be central to Pennsylvania's gubernatorial race this fall. Pennsylvanians deserve to know whether the nominees will respect the legislative process and seek solutions that heal the environment without imposing excessive burdens on our citizens.
Republican Doug Mastriano has a history of voting against RGGI as a state senator and has pledged to withdraw from it if Wolf were to implement it this fall. Democrat Josh Shapiro, however, has a long history of hostility towards the energy sector and has sent mixed messages on RGGI, refusing to take a position until after the election.
That must change, because if Wolf or his successor forces Pennsylvania into RGGI, workers in our Commonwealth will pay dearly. By one estimate, joining RGGI could raise already skyrocketing electric bills in Pennsylvania by another 30 percent, as well as costing the state some 22,000 jobs and $7.7 billion, ravaging an economy already reeling from Wolf's—and President Joe Biden's—disastrous policies.
Why would our governor make working families pay even more to heat their homes and keep their lights on in a time of crushing inflation?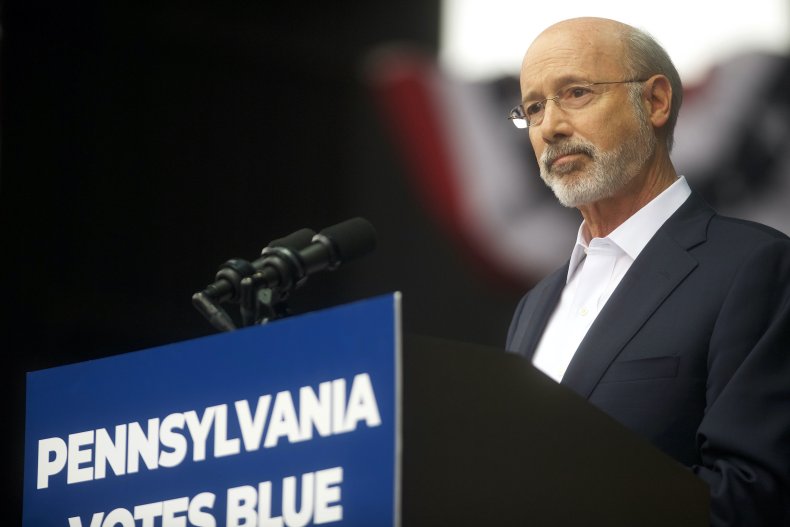 The answer lies in Wolf's blind allegiance to radical Green New Deal dogma. That's why the governor is pushing this idea via executive fiat rather than getting the consent of Pennsylvanians through their elected representatives.
But the legislature has made it clear its constituents have no appetite for more taxes and higher electricity bills. It is so strongly opposed, in fact, that it passed legislation to disapprove the implementation of RGGI. Unfortunately, the effort fell one vote short of surviving a veto from Governor Wolf, setting up the battle in the courts.
Pennsylvanians' elected representatives are so opposed to RGGI because they understand it will disproportionately harm our state, our region—and even negatively affect the rest of the world.
Pennsylvania is one of the largest exporters of electricity in the country, and it powers much of the northeast. For example, Pennsylvania sells electricity to New York every day. That electricity is generated from Marcellus Shale gas that lies under both Pennsylvania and New York—but New York will not permit it to be developed. New York's joining RGGI, therefore, had a negligible impact on the regional grid. But it would have a devastating impact on Pennsylvania's ability to produce electricity, and therefore New York's ability to buy it.
Pennsylvania can also play a key role in helping partners and allies around the globe. Without RGGI's penalties on carbon, Pennsylvania could emerge as a key natural gas exporting hub. We are in the midst of a global energy crisis exacerbated by, but not limited to, Vladimir Putin's brutal invasion of Ukraine. Consuming nations from Europe to Asia are going into the winter with limited energy reserves. Pennsylvania can play a critical role supplying them with electricity.
Our state has a number of plants and pipelines waiting to be built. But none of them will move forward if RGGI proceeds. Big investments require certainty. The injunction against RGGI is only temporary. Governor Wolf's administration has already filed an appeal in the Pennsylvania Supreme Court to stay the injunction until the Court hears the case.
We saw how much Wolf's abuse of power cost the state in terms of lives and livelihoods during the pandemic. We cannot address climate change by putting people out of work and destabilizing their financial situation. The voice of the people must be heard now, or the next governor may have to bear the costs of Wolf's mistake.
Victoria Coates is a distinguished fellow at the American Foreign Policy Council and served as deputy national security adviser for the Middle East and North Africa in the Donald J. Trump administration. Jennifer Stefano is the executive vice president of the Commonwealth Foundation and fellow at the Independent Women's Forum
The views expressed in this article are the writers' own.