Pennsylvania Great-grandmother Kills Cobra on Her Patio with Shovel
A Pennsylvania woman faced with a potentially venomous, five foot cobra in her yard took matters into her own hands and killed it with a shovel.
Kathy Kehoe, 73, spotted the cobra at around 2 p.m. on Monday on her patio in Falls Township, Bucks County, 25 miles from Philadelphia and 75 miles from New York City, CBS Philly reported.
The great-grandmother heard birds screeching, looked outside her patio door windows and spotted the snake. She told ABC 6 she saw its tail and thought, "Oh, it's a snake."
"When I opened the screen door to see what kind of snake it was, the birds flew away and I saw the spot on its back, and I kind of nudged its tail and it came up and spread its hood and I said 'That's a cobra,'" she explained.
Kehoe didn't have any shoes on at the time, so headed back into her apartment to put some on and snap some photos of the slithery visitor. When she came back out, she saw it take off.
"I was like 'This animal can't be here, it's a poisonous reptile,'" she told ABC 6. The great-grandmother then pursued the potentially venomous creature in her yard.
"I stalked him and when he got over to here I tapped his tail," Keho told ABC 6 in her yard. "He went up and that's when I did the deed and held him there."
Kehoe used a shovel to hit the animal until it was dead, CBS Philly reported.
Animal control told CBS Philly the snake was an Asian cobra, and was 4.5 feet long. Cobra bites, especially from larger species, can be fatal. Kehoe told ABC 6 she believes the reptile found its way on to her property because snakes were being kept in an apartment nearby.
However, police told ABC 6 the cobra in Kehoe's yard may not be related to the nearby apartment.
Alise Kaplan, who lives in the neighborhood, told ABC 6 of Kehoe: "She's a bad ass. I don't know if you can say that on TV but she's a bad ass."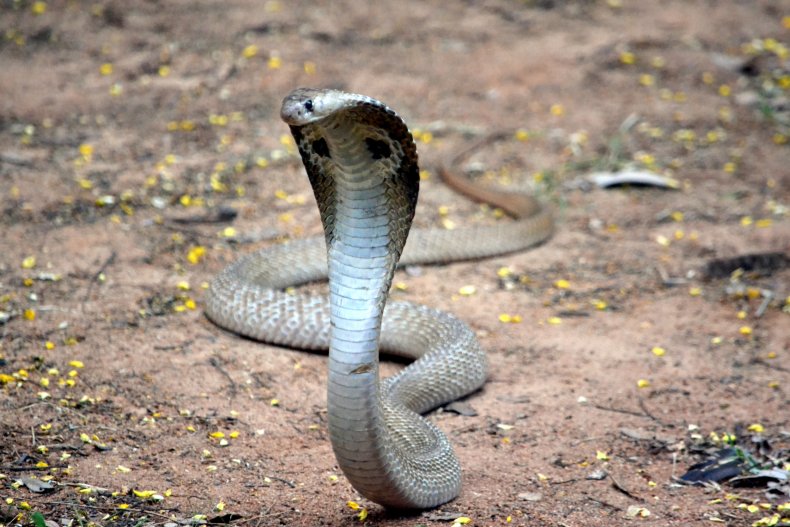 In March, officials seized almost two dozen snakes from Aspen Falls Apartments in Falls Township, Fox 29 reported at the time. Almost 20 of the reptiles were venomous. The owner stored them in unsecured tanks and plastic bins. Among the animals was a rattlesnake living inside a child's room.
Jungle Joe Fortunato, an animal expert and retired cop, told Fox 29 at the time: "They had spitting cobra. We didn't know what we're walking into. I mean, I'm a retired police officer, I've been doing the animal thing since 1985 and I've been called to a lot of conversations. This was by far one of the most dangerous I've ever walked into."