In Pennsylvania Half of Requested Mail-In Ballots Are Already Cast, With Dems Far Outpacing Republicans
Democratic voters in the key swing state Pennsylvania are far outpacing their Republican counterparts in the number of mail-in ballots that have already been cast in the state with just 10 days until the November 3 election.
According to the United States Elections Project, 1,461,135 Pennsylvanians have mailed in their ballots as of October 23. More than 1 million of those belong to registered Democrats, whereas just 295,430 were cast by a registered Republican. The remainder of ballots cast are from unaffiliated voters or those belonging to a different party, the data shows.
The varying numbers between parties isn't necessarily surprising, given that many Republican voters in the country plan to vote in-person on Election Day. President Donald Trump has attempted to incite fear in his fan base regarding the trustworthiness of mail-in ballots, despite there being no evidence of significant fraud associated with them, and has encouraged his backers to instead go to the polls themselves.
An ABC News/Washington Post poll conducted in September found that nationwide Trump led by 19 percentage points among those who intended to vote on Election Day, compared to Democratic candidate Joe Biden's massive advantage among early voters.
For the 19 states that report party registration, nearly 50 percent of ballots returned have been cast by Democrats, compared to the 27.5 percent by Republicans and 22.3 percent by those with no party affiliation, according to the U.S. Elections Project.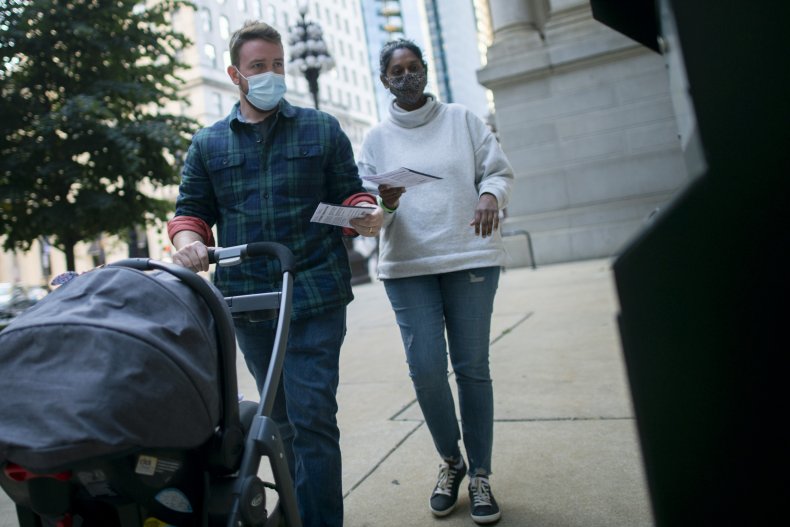 As of Saturday afternoon, more than 54.4 million Americans have voted early in this year's general election, according to the project's data. The numbers are particularly staggering when compared to those from the 2016 election, during which many eligible voters never cast a ballot.
In Pennsylvania, for instance, just over 6.1 million people voted that year, despite the more than 8.7 million people who were registered, according to the secretary of state. Trump ended up flipping the state, receiving its 20 electoral votes after Pennsylvania hadn't voted for a Republican president in the last six election cycles.
As of October 19—the last day to register to vote in the state—just over 9 million people were registered to vote in this year's election, according to the secretary of state. Among parties, more than 4.2 million Democrats and over 3.5 million Republicans are registered. The rest of the voters are either unaffiliated or affiliated with a minor party.
These statistics are similar to the party breakdown among registered voters in 2016, although the Republican Party has seen an increase of over 200,000 voters, data suggests.
While Pennsylvania remains a swing state in the 2020 election, several recent polls have Biden leading, as his team has increasingly turned its focus on securing the state. Former President Barack Obama campaigned there on Wednesday, hosting a drive-in rally to encourage the importance of voting early. Biden was there Saturday at a drive-in rally that Trump supporters in pickup trucks attempted to disrupt with honking.
A poll conducted by Muhlenberg College from October 13 to 20 had Biden ahead by 7 percentage points, leading Trump 51 to 44 percent. A Fox News poll taken among registered voters between October 17 and 20 had Biden winning by 5 percentage points, receiving 50 percent of voters' support, compared to the 45 percent who backed Trump.