Pennsylvania House Speaker Resigns Amid Accusations GOP Reps Hid a Member's Virus Infection
Pennsylvania House Speaker Mike Turzai announced Wednesday he is stepping down from his position, saying he will leave the Legislature before his current term ends in November. Turzai, a Republican, said in January that he did not intend to run for re-election.
Turzai's resignation announcement comes two weeks after Representative Brian Sims said Pennsylvania's House Republicans intentionally withheld information about a GOP representative's coronavirus diagnosis.
Sims, a Democrat, said in a Facebook Live video shared May 28 that GOP representatives failed to disclose their knowledge of the confirmed infection for about one week. He pointed out that doing so put other representatives at risk of contracting the virus. He also noted House Republicans' ongoing push for an economic reopening plan with a speedier timeline than Governor Tom Wolf's guidelines permit.
"This morning, apparently, House Democratic leadership learned that—for as much as a week, perhaps longer—House Republican leadership knew that at least one of their members tested positive for COVID-19, that other members who'd been exposed to him would eventually go on quarantine. But they didn't go on quarantine until they were done serving alongside us," Sims said in the 12-minute Facebook video.
One day earlier, on May 27, Pennsylvania House Representative Andrew Lewis confirmed that he had tested positive for the novel virus in a statement shared online.
"On Monday, May 18, I was tested for COVID-19, and on Wednesday, May 20, I was notified that my test came back positive," his statement read. "I immediately began self-isolation protocol and contacted the House of Representatives, and our caucus Human Resources department. My last day in the Capitol was Thursday, May 14."
Lewis added that "every member or staff member who met the criteria for exposure was immediately contacted and required to self-isolate" for two weeks, according to U.S. Centers for Disease Control and Prevention guidelines. Regarding the lack of further disclosure, the lawmaker said he chose to keep his diagnosis private "out of respect for my family, and those who I may have exposed."
In response to Turazi's resignation, Rob Mercuri, a candidate to take over the state representative's seat, posted a statement on Facebook.
"My family and I would like to thank Speaker Mike Turzai for his long career of exemplary public service to the people of Pennsylvania and House District 28," he wrote. "Pennsylvania is going to miss this man."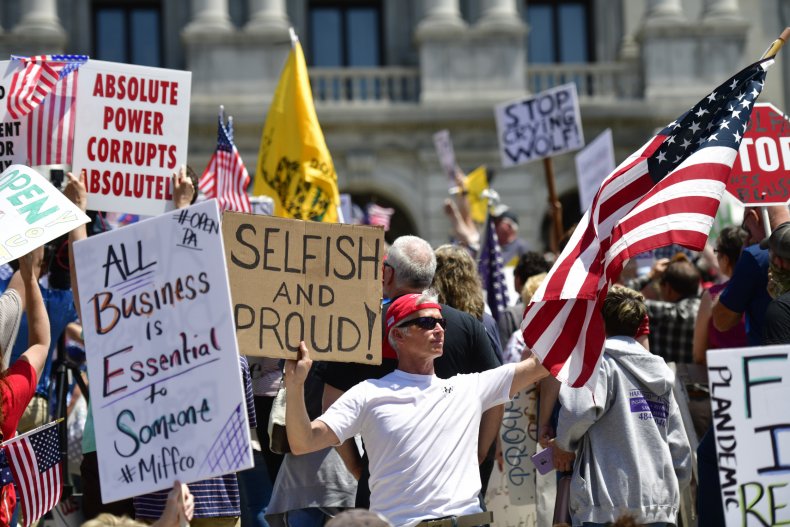 Newsweek reached out to Turzai's, Sims' and Lewis' offices for additional comments but did not hear back before publication.
Pennsylvania has confirmed more cases of the coronavirus than many other states, with only Massachusetts, Illinois, California, New Jersey and New York surpassing its total. As of Wednesday afternoon, health officials had confirmed 80,870 positive cases and 6,014 deaths statewide, according to Johns Hopkins University's tracker.
Counties across Pennsylvania have begun to reopen in accordance with Wolf's phased plan. On June 3, the governor renewed Pennsylvania's emergency disaster declaration, which he said would allow state agencies to obtain ongoing resources as they support regions reopening businesses and public areas. On Tuesday, the state's House of Representatives passed a resolution ordering Wolf to terminate the declaration.
Wolf's press secretary said Wednesday, "Only the governor can terminate the disaster emergency," according to local news outlet PennLive.com.
Newsweek reached out to Wolf's office for comment but did not hear back before publication.