Thousands of Pennsylvania Mail-in Ballots Are Delayed with Just 25 Days until Election
County officials in Pennsylvania have blamed a contractor for a delay in the delivery of almost 60,000 mail-in ballots that were supposed to be sent out earlier this week.
The Westmoreland County Election Bureau told Channel 11 News WPXI that the Midwest Direct mailing service were provided with the ballots on October 3 last week, and were supposed to have sent them out to voters on Tuesday.
It is now expected that the 58,000 delayed ballots, first covered by TribLive in Pennsylvania, will be mailed to locals on Friday morning—three days later than intended.
"The County has been assured that the ballots will be sent out starting tomorrow morning," Westmoreland County officials told WPXI. "Once Mid-West is able to catch up on the backlog over the weekend, the County expects the process to run smoothly."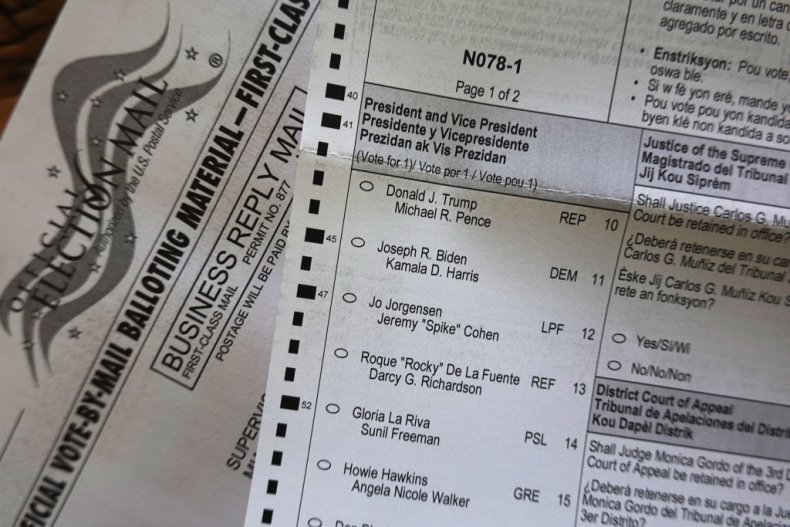 County Solicitor Melissa Guiddy also told TribLive that Midwest Direct were responsible for the failure to send out mail-in ballots on Tuesday as promised.
Newsweek has contacted the Westmoreland County Election Bureau and Midwest Direct for further comment. This article will be updated with any responses.
The ballot delay in Westmoreland County is not the first time an issue with mail-in votes has been reported in Pennsylvania in the lead up to the 2020 presidential election.
Details from an FBI investigation released at the end of last month found that nine discarded mail-in military ballots from Luzerne County had been cast for President Donald Trump. U.S. Attorney David Freed added that the investigation was still ongoing and said it was "the vital duty of government to ensure that every properly cast vote is counted."
Pennsylvania is widely considered to be a key battleground state in the coming presidential election following Trump's narrow victory in the state during the 2016 campaign. The president beat then-Democratic nominee Hillary Clinton by 0.7 percentage points in the state.
But FiveThirtyEight's 2020 election forecast shows him trailing former Vice President Joe Biden by more than seven points in the state on average, with less than a month to go until polling day.
One recent Quinnipiac University poll of likely voters in the state found Biden leading Trump by 13 percentage points, with 54 percent of Pennsylvanians saying they would vote for the Democratic nominee on November 3.
Another survey released by Emerson College on October 5 showed Trump trailing Biden by a slim four percentage points in the state. Fifty-one percent of respondents told the pollster they would be voting for Biden, while 47 percent opted for the incumbent.