Pennsylvania, Michigan Officials Say No Proof Dead People Voted in Election
There is no evidence to claims made by President Donald Trump and some key Republicans that dead people voted in Pennsylvania and Michigan, officials in those states have said.
Trump has said without proof that the election in which President-elect Joe Biden has been projected as the winner, had been undermined by fraud because a number of people voted using the identities of the deceased. Trump's lawyer Rudy Giuliani and Sen. Lindsey Graham have also repeated the claims.
The theory has also been amplified by social media as exemplified by a tweet shared over 18,000 times repeating the unfounded claim stating people who lived through the Civil War had voted.
"A similar complaint was brought before a PA court—and soundly rejected," a statement by the Pennsylvania Office of the Attorney General said, according to the Associated Press.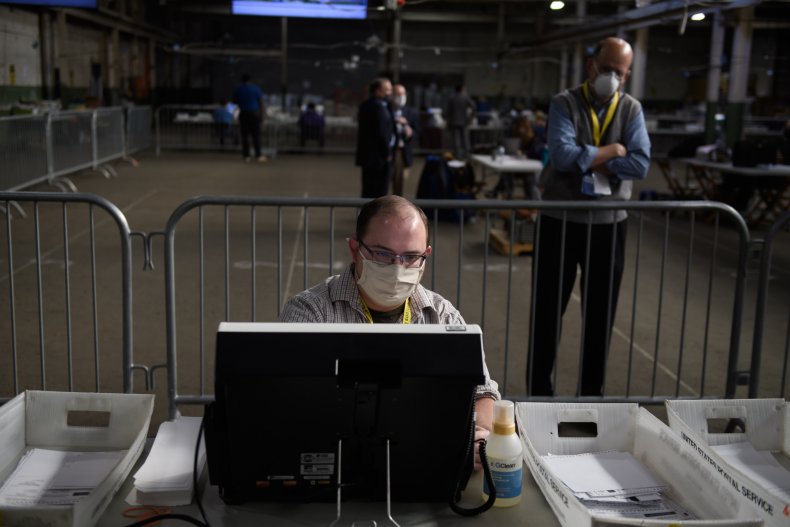 "The court found no deficiency in how PA maintains its voter rolls, and there is currently no proof provided that any deceased person has voted in the 2020 election," it added.
On Wednesday, the Philadelphia city commissioner, Al Schmidt, said that his team followed up claims that dead people had voted in the Keystone State's biggest city. "We looked it up, each one of them, to see what their vote history was. Not a single one of them voted in Philadelphia after they died," he told CNN. His comment sparked a rebuke from Trump.
Experts have said that unusual birth dates on voter rolls appearing to belong to people who are dead is not evidence of voter fraud. A simple explanation can be that year was mistyped, or a default year of birth was recorded if forms with no year on them had been moved from paper to computer.
A spokesperson for Michigan's secretary of state, Tracey Wimmer, told the AP that if an incorrect birth year is entered onto voter rolls, a ballot received from a voter may be recorded as though that person is too old to be alive.
Wimmer told the Detroit Free Press: "Lists of unknown origin circulating on various social media channels do not constitute credible evidence."
"Especially when there is often not enough information contained within these lists to conduct a reliable comparison between an allegedly deceased individual and an individual who has returned a ballot," she added.
Last week, officials in Michigan rejected a claim which went viral on social media that a ballot for a 118-year-old man had been received or counted.
A spokesperson for Michigan's secretary of state Jocelyn Benson told WDIV "on rare occasions, a ballot received for a living voter may be recorded in a way that makes it appear as if the voter is dead." Newsweek has contacted the Trump campaign for comment.
The graphic below provided by Statista shows the tightest U.S. presidential races in history.