Pennsylvania SC Rejects GOP Effort to Block Election Certification, Says It's Too Late in Latest Trump Defeat
The Pennsylvania Supreme Court on Saturday night rejected Republican efforts to block the state's certification of election results in the latest blow to President Donald Trump's campaign to overturn his defeat.
The highest court in the Keystone State was unanimous in dismissing a lawsuit from Congressman Mike Kelly and other Republicans that sought to invalidate absentee voting and halt the certification of votes.
In an order, five out of seven judges said that the lawsuit was filed too late—after procedures for mail-in ballots had been confirmed and millions had already voted.
"It is beyond cavil that Petitioners failed to act with due diligence in presenting the instant claim," the judges wrote. "Upon consideration of the parties' filings in Commonwealth Court, we hereby dismiss the petition for review with prejudice based upon Petitioners' failure to file their facial constitutional challenge in a timely manner."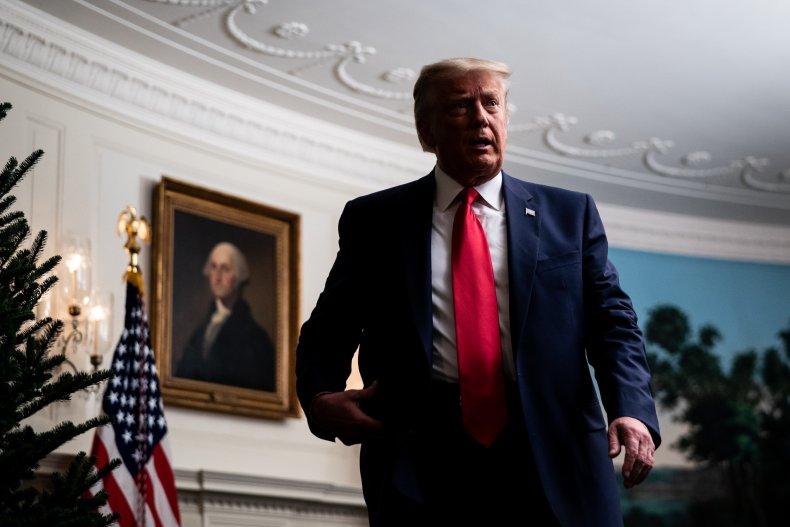 The decision comes days after Pennsylvania Commonwealth Court Judge Patricia McCullough ordered officials to stop the process of certifying election results for President-elect Joe Biden. Pennsylvania Secretary of Commonwealth Kathy Boockwar and Democratic Governor Tom Wolf immediately appealed McCullough's ruling, advancing the case to the state's Supreme Court.
Kelly and the Republican plaintiffs argued in the suit, which was originally filed in state court last weekend, that a mail-in voting policy passed by the GOP-led state legislature last year was unconstitutional.
Newsweek reached out to the Trump campaign for comment.
With Pennsylvania counties having certified their votes, Biden defeated Trump in the state by about 80,000—a margin of more than one percent. The lawsuit is part of efforts led by Trump and his Republican allies across numerous key states to reverse his election defeat.
Biden has secured 306 Electoral College votes in the aftermath of Election Day, but Trump, with 232 Electoral College votes, has refused to concede. In an attempt to flip the election, his campaign has filed nearly three dozen lawsuits in Nevada, Georgia and other states alleging widespread voter fraud and seeking to halt certification of results.
But the lawsuits have almost been uniformly tossed out in court, and Saturday's decision in Pennsylvania now adds to a growing number of losses for Trump's legal team.
On Thanksgiving Day, Trump took one step closer to conceding by committing to leave the White House if the Electoral College—set to meet on December 14 to cast their ballots for the next president—certifies Biden as the winner. His remarks came after GSA administrator Emily Murphy informed Biden on Monday that the Trump administration was ready to formally begin the transition process.
Trump thanked Murphy and affirmed her decision, but he also promised to continue his lawsuits and maintained that his campaign "will prevail."