Trump Takes Step Toward Concession, Says He Will Recognize Electoral College Vote
On Thanksgiving Day, President Donald Trump took one step closer to conceding by confirming that he would leave the White House if the Electoral College certifies President-elect Joe Biden as the election winner.
The Electoral College will meet on December 14 to cast their ballots for the next president and vice president. Trump's comments, made at the White House and reported by Reuters, marks the closest he's come to a concession since Election Day.
Most media outlets called the election for Biden more than two weeks ago. The Democratic president-elect has secured 306 Electoral College votes, but Trump—with 232 Electoral College votes—has declined to concede.
The Trump campaign filed nearly three dozen lawsuits in Nevada, Pennsylvania, Georgia and other key states this month alleging widespread voter fraud in an attempt to reverse his defeat. The contents and claims of the suits have been narrower than Trump's recent public claims of a stolen election and widespread fraud, and largely unsuccessful in court so far.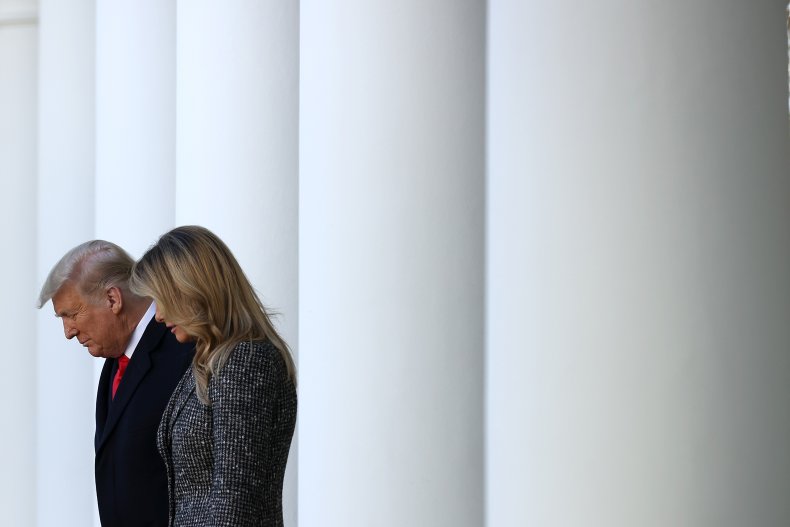 If Trump leaves the White House in January, when Biden is due to be inaugurated, he will lose protection from criminal prosecution provided to a sitting president by a longstanding Department of Justice (DOJ) policy. With a number of lawsuits awaiting the president when he returns to private life, Trump on Thursday retweeted a call from Republican Congressman Matt Gaetz to consider granting a pardon to himself.
The retweet came one day after Trump pardoned Michael Flynn after the former national security adviser, who worked on the president's 2016 transition team, pleaded guilty to making false statements to the FBI before moving to withdraw his plea earlier this year.
"It is my Great Honor to announce that General Michael T. Flynn has been granted a Full Pardon," he tweeted on Wednesday. "Congratulations to @GenFlynn and his wonderful family, I know you will now have a truly fantastic Thanksgiving!"
The Trump administration's first acknowledgement of his defeat came on Monday, when GSA administrator Emily Murphy informed Biden that they were ready to formally begin the transition process. Murphy's letter to Biden came shortly after Michigan Republican officials resisted intense White House pressure to certify Biden's election victory in the state.
Trump thanked Murphy and affirmed the decision to start the transition process, but he also promised to continue his lawsuits and insisted that his campaign "will prevail." In a statement to Newsweek, senior Trump campaign legal adviser Jenna Ellis said she intends to "continue combatting election fraud around the country as we fight to count all the legal votes."
Newsweek reached out to Biden's transition team for comment.