Pennsylvania Police Searching for Man Who Urinated on Target Starbucks Items and Fled the Store
Police in Pennsylvania are hunting for a man who allegedly urinated on merchandise in a Manheim Township Target coffee shop last weekend.
The man—who has not yet been identified—allegedly walked behind the employee counter of a Starbucks before urinating into a sink and onto several pieces of merchandise. Police said the incident occurred Saturday at 9:45 p.m in the Target at 1589 Fruitville Pike, Lancaster.
The male suspect then fled the store, the Manheim Township Police Department said in a news release that also contained a still image from the retail store's surveillance system. Police said it was easy to identify the culprit: "Note the wet spot observable on the male's shorts."
Officials appealed: "Any person knowing the identity of the depicted male should contact the Manheim Township Police at 717-569-6401 or anonymously by clicking "Submit a Tip."
The investigation continues.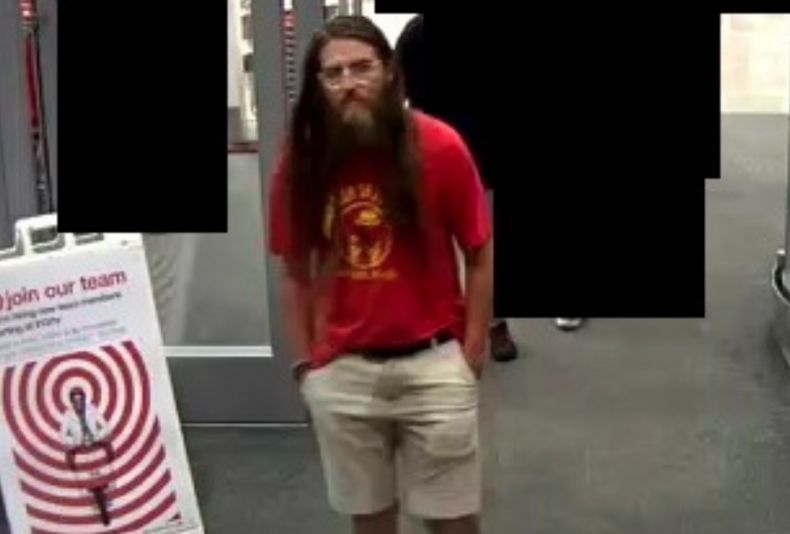 Last month in Pennsylvania, police responded to a West Mifflin Walmart after a woman was seen urinating in the potato bins. The suspect was identified as Grace Brown and later charged with Criminal Mischief, Lewdness, Disorderly Conduct and Public Drunkenness.
The West Mifflin incident occurred at roughly 22:10 p.m. on July 24. A loss prevention officer contacted local police after an employee noticed urine on the floor close to the food items. The woman, who admitted the act, was recorded on the store's surveillance cameras.
In response, a Walmart spokesperson said: "The safety of our customers is a top priority for us. This type of obscene conduct is outrageous and we immediately disposed of the affected products and sanitized the area to ensure its cleanliness and safety for our customers."
On July 29, Texas police said an investigation had been launched after a video surfaced on social media which purported to show a teenager urinating on a Walmart shelf. The "vulgar" incident occurred two days earlier, when a group of three young suspects also attempted to steal a case of beer, police said.
Charges were sought against a 15-year-old male, whose name was not released due to his age, the Montgomery County Sheriff's Office noted at the time. "Perpetrators of these type of acts will be caught and all applicable charges will be filed against them," authorities said.
And in Florida last month, a woman was arrested after allegedly tampering with food items and machinery owned by a St. Petersburg ice cream shop. Jung Soon Wypcha, 66, was accused of spitting in tubs of food and urinating in a bucket used to churn the ice cream products. She was charged with criminal mischief and tampering, the Pinellas County Sheriff's Office said.