Pennsylvania's Tom Wolf Pitches Path to $15 Minimum Wage as Congress Considers National Jump
Pennsylvania Governor Tom Wolf announced a proposal this week to raise his state's minimum wage to $15 an hour over the next six years, as the debate over a higher minimum wage continues in the nation's capital.
Pennsylvania currently matches the federal minimum wage requirement of $7.25 an hour. Under Wolf's proposal, minimum wage employees would start receiving $12 an hour in July, and the state wage would increase annually until it reaches $15 an hour in 2027.
"The COVID-19 pandemic has made raising the state's embarrassingly low minimum wage more crucial than ever as thousands of essential workers are struggling to buy food and avoid homelessness," Wolf said in his proposal. He added that 29 other states and Washington, D.C., already pay their minimum wage workers more than the federal wage requires.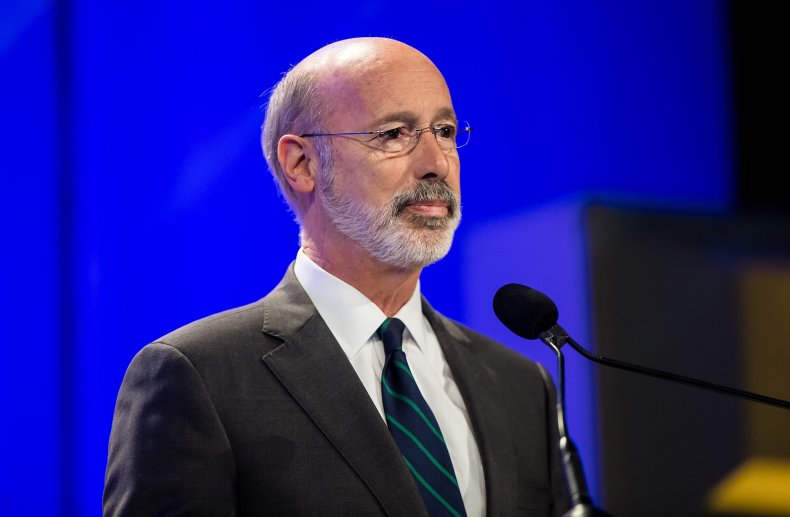 "Putting Pennsylvania on a path to $15 as other states are doing, including red states like Florida, will provide a living wage so workers can afford basic needs—housing, groceries, transportation, and child care. Hardworking people, especially essential workers, should not have to struggle with low wages," Wolf's proposal said.
Wolf said more than 1 million people in Pennsylvania would be on the path to earning $15 an hour under his proposal.
According to the National Employment Law Project, the minimum wage is expected to increase in 24 states before the end of the year. In the meantime, congressional Democrats are pushing a proposal to increase the federal wage to $15 an hour. Progressives like Vermont Senator Bernie Sanders, a longtime advocate for increasing the federal wage, are hoping to include the raise in the $1.9 trillion relief package under consideration in Congress.
If Congress does pass a minimum wage increase, that change would alter the timeline for minimum wage earners in Pennsylvania. But Marc Stier, the director of the Pennsylvania Budget and Policy Center, said Wolf's plan would be a notable improvement for Pennsylvanians even without an increase at the federal level.
"We think it's a great idea, and it's coming at the right time," Stier told Newsweek. "If we get this new injection of money into the economy at a time when people are getting vaccinated, I think we'll see the Pennsylvania economy return to health fairly quickly."
Stier said that some business owners are hesitant to support a minimum wage increase because of the strain of that added cost. But all business owners would face the same new requirement, he said, and making the shift to $15 an hour gradually over the next six years would help make the transition smoother.
"I think it's about right," he said about Wolf's proposed timeline. "We think it makes sense to get to $15 over a few years."
Stier told Newsweek the state was close to increasing its minimum wage to $9.50 two years ago, but the move did not have support from the Pennsylvania House leadership. This time around, Stier said, he believes there are enough moderate Republicans in the Legislature who might support Wolf's proposal.
This isn't the first time Wolf has proposed a minimum wage increase in Pennsylvania. The Democratic governor pitched a similar path to a $15 wage last year and pushed for a higher minimum wage at least five times before that, according to a January 2020 press release.