Pentagon Insider Warns Joe Biden Against 'Major War' With China in Open Letter
A Pentagon employee under investigation for penning op-eds in a Communist Party newspaper has written an open letter to Joe Biden warning against "entangling America in a major war with China" over Taiwan.
Franz Gayl, the 64-year-old former U.S. Marine once praised by then-Senator Biden for his whistleblower efforts in 2007, told Newsweek he approached China's state-owned tabloid Global Times "as a last resort" after his articles were rejected by other media outlets.
"My audience is American foreign policy decision makers," Gayl said in an emailed response on Thursday. His two opinion pieces, which ran on April 27 and May 27, included sharp criticisms of U.S. policy on Taiwan—including the officials and institutions that facilitate Washington's unofficial relationship with the democratic island.
Gayl is particularly opposed to the Taiwan Relations Act (TRA), the keystone legislation that has guided U.S. engagement with Taiwan since 1979, when Washington switched formal ties from Taipei to Beijing.
His arguments against continuing U.S.-Taiwan relations center on the prediction of heavy loss of life in a conflict with China, which he says America will lose. Gayl also believes the People's Republic of China has a rightful claim over the sovereignty of Taiwan—and that it will "employ any necessary means" to bring the island under its control.
This is also the view shared in Beijing.
"From the time of its enactment the TRA has placed us on a path to eventual war with China," Gayl said in his response.
Biden, then a Democratic senator for Delaware, voted in favor of the legislation more than four decades ago.
In his open letter to the president on Wednesday, Gayl suggested he was punished by the Defense Department for publishing his views in Global Times.
"Predictably, I paid a price as my security clearances have been suspended for cause, and I am now the subject of a counterintelligence investigation," he wrote.
In a statement to Newsweek, Marine Capt. Andrew Wood said the "proper approval process" for the publications was not followed.
"[T]he views expressed by Mr. Gayl are his own and are not representative of the United States Marine Corps," Wood added, identifying Gayl as a science and technology adviser currently employed by the Marines.
Both Wood and Pentagon spokesperson John Supple offered no further comment about the ongoing investigation.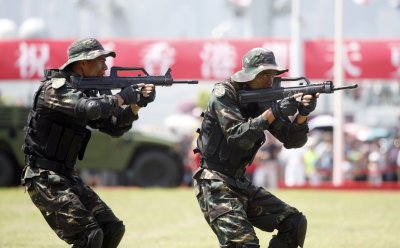 In Gayl's 1,000-word letter, he warns Biden he is "at risk of entangling America in a major war with China over the status of the island of Taiwan."
The Biden administration is in an "echo chamber created by a Taiwan Caucus-led groupthink," he says, referring to the 163 lawmakers who make up the Congressional Taiwan Caucus in the House as well as the upper chamber's Senate Taiwan Caucus—both bipartisan and established in the last two decades.
"If by accident or design the Chinese civil war reignites and threatens to escalate," Gayl advises Biden, the U.S. should "refrain from militarily intervening."
"We should learn from our history in Southeast Asia and not shed American blood for another lost cause," he concludes.
Gayl first revealed he was under investigation during an interview with The Washington Post published on June 11. The U.S. government was seeking to determine whether the Pentagon insider had been "compromised," The Post reported.
He told Newsweek he could provide no further details about the inquiry.
Gayl said he turned down compensation from Global Times for the op-eds. The Communist Party paper ran an article about his open letter to the president on Wednesday.
The letter to Biden may be his "last chance to have any impact on preventing war," he was quoted as saying. The Chinese government outlet said Gayl "is certain that he is now in big trouble, but he wants to do the right thing while still has the opportunity."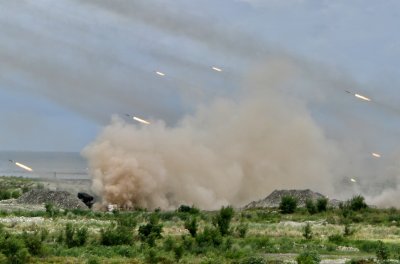 Following Gayl's Washington Post interview, a Global Times reporter asked China's Foreign Ministry about the Pentagon investigation.
Ministry spokesperson Zhao Lijian appeared to back Gayl, responding on June 15: "I think many people would want to ask: Isn't the United States a self-proclaimed champion of the freedom of speech and justice?"
"Franz Gayl is under investigation just because he wrote two articles expressing different position from the U.S. government. Why can't the U.S. allow two articles clearly marked to represent the author's personal opinion?"
The White House and the chairs of the bicameral Taiwan Caucuses did not respond to requests for comment before publication.
Taiwan policy experts who spoke to Newsweek said Gayl's op-eds aided the Chinese government's position.
The opinions "misconstrue U.S. policy towards Taiwan and China," said Jessica Drun, a non-resident fellow at the Project 2049 Institute.
The articles claim the U.S. is "deliberately fostering a policy environment conducive to Taiwan independence, whereas in actuality, the U.S. has not and does not take a position on Taiwan's sovereignty," she added.
"Chinese propaganda has worked relentlessly to try and reshape the narrative around U.S.-Taiwan policy and these assertions play in and must be dispelled," she said.
Michael Mazza, visiting fellow at the American Enterprise Institute, said Gayl's argument "evinces a lack of any understanding of China, Taiwan, or U.S. policy."
"The author argues that congressional support for a strong U.S.-Taiwan relationship is driven by profit motive. He provides no evidence for this claim, and fails to even consider the possibility that U.S. has real interests in the region," said Mazza.
"Mr. Gayl is actively aiding and abetting a foreign power that his own government has labeled a strategic competitor," he added, arguing the op-eds showed a "deeply flawed understanding of regional history and political realities on Taiwan."