Pentagon Mulls Using Elon Musk's Rockets to Deploy Troops From Space
The U.S. Department of Defense (DoD) has been in discussions with Elon Musk's SpaceX to potentially use rockets to rapidly deploy military personnel and cargo across the planet, documents reportedly show.
Specifically, the Pentagon has investigated whether it could use SpaceX's upcoming Starship rocket—a super-heavy lift vehicle designed to go on long-distance spaceflights—for point-to-point military transport direct from the U.S.
That's according to a research agreement between the U.S. Transportation Command (USTRANSCOM) and SpaceX that was obtained by The Intercept via a Freedom of Information Act request and published this month.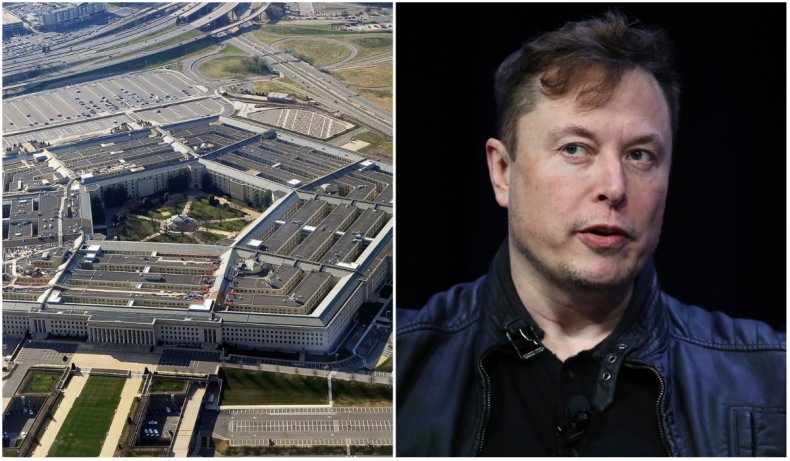 It's no secret that U.S. defense officials have previously looked into using SpaceX technology for military logistics missions.
In 2020, an Air Force press release said that USTRANSCOM had partnered with SpaceX to explore "the equivalent of a C-17 payload anywhere on the globe in less than an hour" according to U.S. Army General Stephen Lyons.
"For the past 75 years or so, we have been constrained to around 40,000 feet altitude and 600 miles per hour in our very fastest method of logistics delivery," said USTRANSCOM deputy commander Dee Mewbourne at the time.
However, the recently-released documents go into more detail on the possibility of using SpaceX rockets as well as the associated benefits, including that it could provide faster response times than using aircraft; support U.S. military presence in Africa; and "deter non-state actors from aggressive acts towards the United States."
Two of the objectives of the research agreement include: "Investigate the technical feasibility of using SpaceX's Starship launch system in the next five years to support DoD global logistics transportation requirements," and "project the costs of using the SpaceX Starship to deliver DoD cargo and personnel over the next 5 to 10 years and compare to current transportation capabilities."
Several sections of the report were redacted, including information on how much it might cost to use SpaceX's Starship for military purposes.
The report also noted problems with the nascent commercial space industry, including a lack of clarity over "whether and how vehicles are subject to established aviation laws and to what extent, if any, these laws follow them into space for point-to-point space transportation."
The report is largely devoid of explicit details of what Starship-based military transportation would look like and how it would work. In addition, it's unclear how far off such a possibility might be.
SpaceX has yet to carry out a test flight of the first full-scale version of Starship, with the Federal Aviation Administration only recently granting environmental approval for orbital launches from the company's site in South Texas. Earlier this month, SpaceX CEO Elon Musk tweeted that Starship would be "ready to fly" in July.