'People Are Going to Die': Sex Workers Devastated After Backpage Shutdown
Using the internet to buy and sell sex just got a lot harder after the federal government shut down classified ads website Backpage.com.
Some celebrate this development as a win against child trafficking and sex trafficking. But how is the community of consenting sex workers feeling in light of this shutdown?
"Devastated and terrified," a sex worker who asked to be identified as Mandie told Newsweek. "Because people are going to die. I know that sounds blunt and maybe a little alarmist, but it's not. The most marginalized of us are going to die. Trans people, people of color, poorer people are going to die." Mandie is a "full-service" sex worker, meaning that she has sex with her clients, as opposed someone who does camera work or fantasy roleplay.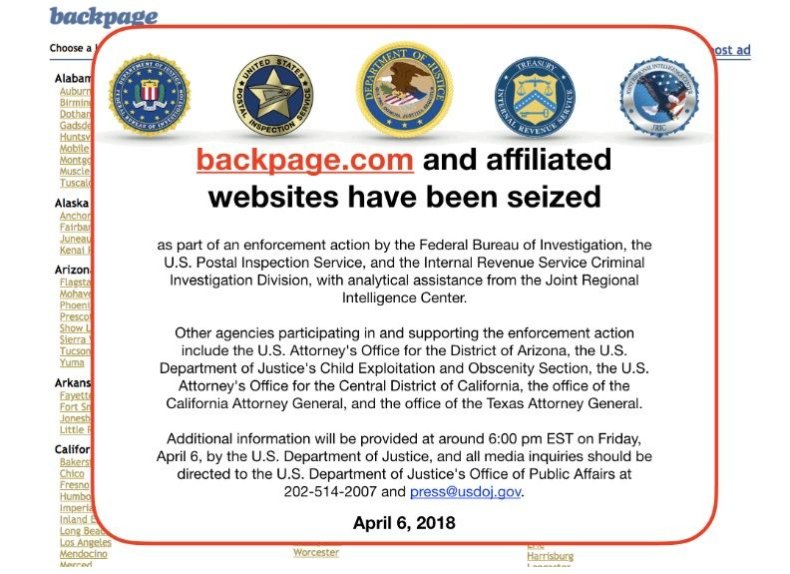 On Friday, the federal government shut down Backpage.com, a forceful move in the Department of Justice's fight to end sex and child trafficking. Backpage was the most popular ad site for sex work — sometimes called "the world's largest online brothel." But Backpage was only one of several websites that recently either closed an adult work or personals section, or shut down entirely.
While this move is meant to protect people from being sexually exploited, some sex workers fear that it will only drive the business into the shadows, or take away a source of income that some desperately need. The organizers of the Women's March on Washington expressed dismay over the shutdown as well, tweeting that "sex workers rights are women's rights."
Dulcinea Pitagora, a therapist who estimates that 20 percent of her clients are sex workers, is worried for her patients. "It's really scary and some people don't eat," she told Newsweek. "This is what it's coming to for some people."
Pitagora, a former sex worker herself, believes that while the industry will survive, there will be tragic consequences.
"The world and New York City and the United States want sex workers and need sex workers, this is not an industry that is going to fold," she said. "This is temporary, but for some people 'temporary' is a life or death situation. Some people will ride it out, some people will be supported by their regulars, and some people will die."
Other sites that recently shut down include the subreddit r/hooker, Eccie, MyProviderGuide, and certain advertisement sections of Craigslist and the fetish profile website Fetlife. But there are alternatives to Backpage. Sex workers are considering using offshore ad websites, personal offshore websites, encrypted emails, relying on their regular clients, sharing lists of safe clients privately with the community, or even doing street work, Mandie says. The dark web is also an option, and while Mandie says that sex workers could use it, clients probably won't want to figure out something so complicated.
Mandie says that simply leaving sex work isn't an option for many. "A lot of us don't have that luxury," she explained. "And if we do, we might be out so publically that there isn't any going back. For me, there's no going back."
Yet the move to shut down Backpage had vocal allies. National Center for Missing and Exploited Children and the Polaris Project, which works to combat modern-day slavery, put out statements celebrating the shutdown.
"The seizure of Backpage.com and its affiliated websites is a major victory and milestone in the fight against sex trafficking," Polaris Project CEO Bradley Miles said in a statement. "Shutting down the largest online U.S. marketplace for sex trafficking will dramatically reduce the profitability of forcing people into the commercial sex trade, at least in the short term."
The Polaris Project has been criticized for lumping consensual sex work in with human trafficking. Neither the NCMEC nor the Polaris Project responded to a request for comment. California Attorney General Kamala Harris, who had filed several lawsuits against Backpage, also did not reply to a request for comment.
South Dakota Representative Kristi Noem was co-chair of the Bipartisan Women's Caucus as it passed the Justice for Victims of Trafficking Act, which was designed to make it easier for prosecutors to charge websites that knowingly advertised sex with minors, specifically naming Backpage in the bill. "Backpage facilitated and profited from the buying and selling of our children for sex," she told Newsweek in a statement. "It needed to be shut down."
Some statistics show that Backpage was widely used for child sex trafficking. In fact, Senator Robert Portman reported in 2017 that the NCMEC said that 73 percent of child trafficking reports from the general public involve Backpage. Opponents point to heartbreaking cases of kidnapped children as young as 13 pimped on Backpage.
However, Mandie says that those children would never have been reported if they weren't on a public website like Backpage. Mandie, Pitagora and Vee Chattie, another sex workers all argue that closing Backpage is only going to make life worse for both trafficked people and consenting sex workers just trying to make a living. Pitagora argues that traffickers have the resources to find other outlets to commit their crimes. The Red Umbrella Project, a nonprofit that advocates for sex workers, did not immediately respond to a request for comment.
With increasing legislation cracking down on internet sex services and the prospect of more to come, some sex workers are running out of options.
"It kind of feels like there's just kind a Sword of Damocles," Chattie told Newsweek. "Like there's a sword hanging over your head and any moment it could chop your head off."