People Baffled To Learn Joe Rogan, Dana White Aren't the Same Person
Dana White and Joe Rogan have so much in common, many social media users thought they were the same person.
The common threads between both men's lives appear to have bamboozled some into a comical misunderstanding. Both are heavily involved with the Ultimate Fighting Championship (UFC), both are bald, and both are in their fifties.
While some joked that they've never been seen in the same room, there is actually plenty of photographic evidence to categorically prove that Rogan and White are not the same person.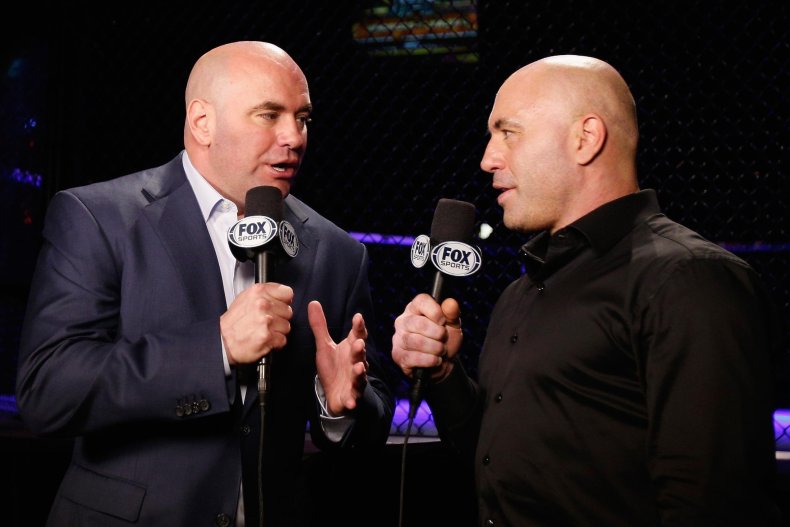 "I used to think Joe Rogan and Dana White were the same person," @hamophobic wrote on Twitter in May. But as many other tweets across the month proved, they weren't alone in their thinking.
"I thought Joe Rogan an Dana White from UFC was the same person," @tooflyboi wrote with a mind blown emoji. Twitter users @nkateko_nkosi21, @manlikemoabbii, @_Lubandz_, @realsakbaby all independently of each other also tweeted the same sentiments across the month of May.
Another user, @ai_junior4, said he's "baffled I've not processed it before," that the two weren't the same person. "Bald celebrities are so confusing which ones Dana White and which ones Joe Rogan?" @omar_swelam_ asked.
The confusion crosses social media platforms, with multiple Reddit threads created over the years relating to the same subject. "How the hell are you supposed to tell the difference between Joe Rogan, Dana White and Alex Jones," @Zalbu wrote, drawing in controversial conspiracy theorist Jones.
"Wait, you mean to tell me Joe Rogan and Dana White aren't the same person?" Twitter user @Eric_S_Thomas wrote. "Cuz I swear I've never seen them in the same place at the same time."
Despite this Twitter user's claim, there is plenty of photographic and video evidence of the two together at the same time. Below they're pictured play-fighting at the Video Game Awards in 2006—back when Rogan had hair and it was easier to distinguish the two.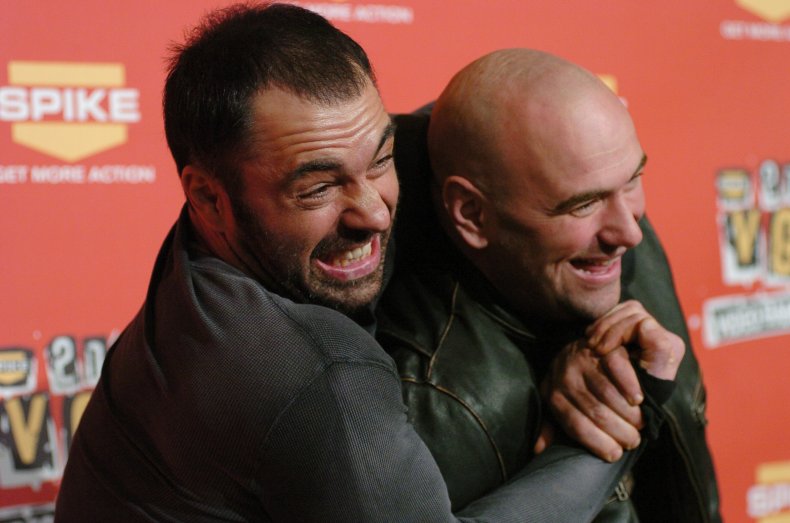 People may have the two confused as White is the president of the UFC, while Rogan is a commentator and interviewer for the UFC. Both men have physical similarities too in that they have a similar build, lack of hair, and they're only two years apart in age—Rogan is 55 years old and White is 53.
While they're play-fighting in that photo, a number of social media users have started circulating an image which shows Rogan and White as playable characters in a video game. "The fight we all need," wrote @Domino_McCloud, while verified Twitter user Collin Thomas Everett said it would be "an epic battle."
Rogan's involvement in UFC actually predates White, as Rogan acted as a back-stage interviewer in 1997, while White acquired UFC in 2001 and subsequently became president.
Outside of UFC, Rogan is famous for hosting his wildly successful but controversial podcast The Joe Rogan Experience. Before the podcast's lucrative Spotify deal, White was a guest on Rogan's show back in February 2013, in episode #327.