People in Shock Over Cut Scene From 'The Parent Trap' Featuring the Queen
A scene cut from The Parent Trap (1998) has gone viral, almost 25 years after the premiere of the Disney film.
In the scene, Hallie Parker—disguised as her twin sister Annie James—meets Queen Elizabeth II as she drives through the gates of Buckingham Palace. Although it is not an actual cameo from the monarch, the clip is making the rounds on TikTok after her passing on September 8.
Shared by user @2000spophits on 9 September, the clip has so far received over 220,000 likes and over 5,000 shares from movie fans.
'Stopping by the palace'
A remake of the 1961 film of the same name, The Parent Trap was released on July 31, 1998. The movie starred Lindsey Lohan as identical twins Annie and Hallie, who meet at summer camp after being separated at birth.
Realizing they're sisters, the pair concoct a plan to reunite their divorced parents—English mom Elizabeth (Natasha Richardson) and Nick (Dennis Quaid)—who live on different continents and have no idea their children have met. The twins swap identities and go home with the "wrong" parent, with Hallie ending up in London with their mom and Hallie returning to California with their father.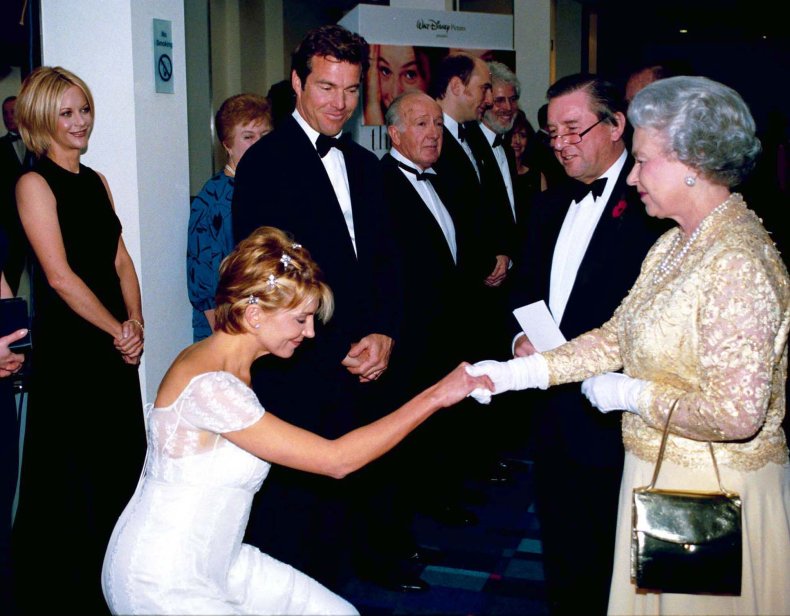 In the deleted scene, Hallie asks her driver to pull over so she can see the palace guards "up close." After talking to a guard who doesn't respond, the queen (played by Jeannette Charles) pulls up to the gates and has a brief conversation with Hallie and thanks her for "stopping by the palace." Unfortunately, the scene was left on the cutting room floor, likely due to pacing issues.
She may not have appeared on screen, but Queen Elizabeth II did attend the film's premiere, with footage showing her shaking hands with Dennis Quaid and Natasha Richardson curtsying to the queen.
The film was a big hit for Disney and would go on to earn over $92 million worldwide.
'Why would they cut the queen?'
Many fans of the film were shocked to discover the scene existed. However, some users didn't realize that wasn't actually Queen Elizabeth II in the clip.
"Are you telling me that this scene with the queen was cut and that she still went to the premiere to see the movie?" asked ANDRES0RTIZ. "Why would they cut the queen?"
"Oh may good I watched this movie 10000 times and i didn't expect there is a deleted scene with queen .!!!!" wrote user MA.
"U don't know how happy this makes me," commented Hènri_deane.
Unfortunately, Natasha C had to break the news, writing: "that's obviously not the actual queen people."
Newsweek has reached out to @2000spophits and Disney for comment.