People's Bank of China Says Evergrande Debt Situation Is 'Controllable,' Market Is Stable
The People's Bank of China said on Friday that the Evergrande Group's debt crisis was an "individual phenomenon," declaring that its real estate sector as a whole is stable.
Positioned as the nation's second-largest property developer, Evergrande employs roughly 200,000 people and said it creates 3.8 million jobs a year. Analysts fear the company could soon crumble under its over $300 billion of debt and create an economic fallout akin to the collapse of Lehman Brothers bank in the U.S. that precipitated the Great Recession.
Recently, a number of smaller, but nonetheless significant firms, have shown signs of severe financial struggle. Greenland Holdings, E-house, Fantasia, and Modern Land have all seen their credit ratings drop with Fantasia being downgraded to near default status. Zou Lan, director of the People's Bank of China's financial markets department, insisted the situation is fine.
"China Evergrande Group's problems in the real estate industry are an individual phenomenon," he said, during a press conference translated by CNBC. "Most real estate businesses are operating stably and have good financial indicators, and the real estate industry overall is healthy."
Zou said that the risks associated with an Evergrande collapse were "controllable" and pointed to the country's stable property prices as evidence.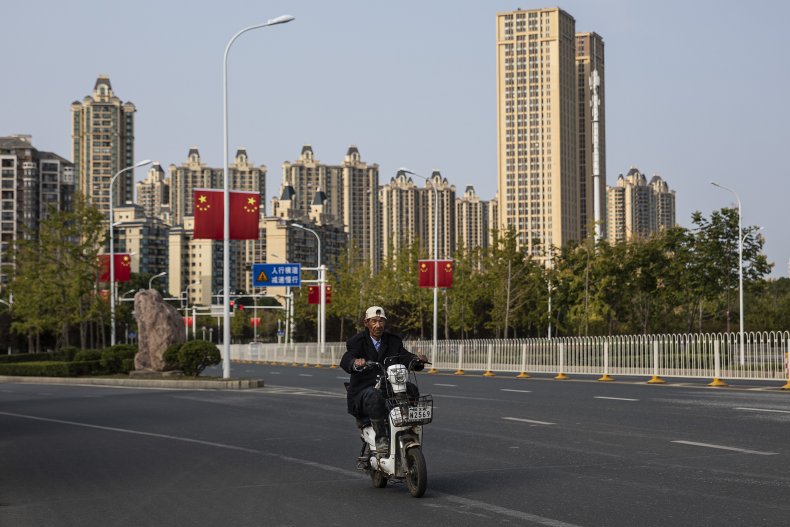 Earlier this week, Newsweek spoke with Logan Wright, director of China markets research at Rhodium Group and an adjunct fellow with the Center for Strategic and International Studies. He warned that because of the significance of the real estate sector in China's economy, this situation could be hard to offset, holding the potential to spill outside Beijing's regulatory powers.
"It's one thing to say that the problem is controllable, it's another to control it," he told Newsweek. "At some point, waiting too long to respond to this market turmoil can become a policy mistake."
With some economists estimating real estate to account for as much as 28 percent of China's GDP, the sector plays a more significant role in China than it does in many other parts of the world.
Nonetheless, President Xi Jinping appears intent toward allowing the company to navigate its future alone. Beijing has directed local governments to prepare for the fallout of an Evergrande collapse. And as a matter of policy, Xi remains focused on diminishing the power of China's large companies as he seeks to root out traces of Western-style Capitalism.
While the party might allow its companies to succumb to debt, Zou signified that consumers would be protected. Zou said the government would ensure individual house purchases were safe and would provide financial support to resume construction, CNBC wrote.