Truckers protesting COVID-19 mandates with the People's Convoy in Washington, D.C., want to begin conducting "citizen's arrests" of Mayor Muriel Bowser and officers with the Metropolitan Police Department, one of the convoy's co-organizers said.
"We have to put a summons out to the Metro PD and Mayor Bowser.... We would do citizen's arrests [of] them," Ron Coleman told The Daily Beast's Zachary Petrizzo on Tuesday.
Tuesday marked the 27th day of the convoy's protests, which have persisted despite mass rollbacks of pandemic-related restrictions across the country. Over the past month, there have been reports that truckers have threatened to run over D.C. residents and commuters and to deface property.
Coleman, a trucker from Sun Valley, Nevada, told Petrizzo that he's been looking into whether it would be legal for him to arrest the people he named because of truckers' frustrations that they have been not been allowed to go to the bathroom while circling the D.C. Beltway. He said this has resulted in "people hav[ing] actually pissed their pants."
Last week, the convoy charged that "both the Metropolitan DC Police Department and the Maryland State Police Department...have blocked all entrances into the US Capital," calling the tactic a "deliberate abuse of power."
"Every American has a constitutional right to peacefully protest and visit our nation's capital," convoy co-organizer Brian Brase said in a March 17 press release.
He continued, "Threatening arrest and blocking access to DC is not going to stop us from making our voices heard. If we can't come to them, this is an open invitation to any lawmaker, any government official in the White House or on Capitol Hill, to join us here in Hagerstown [Maryland] and hear the demands of the people you work for."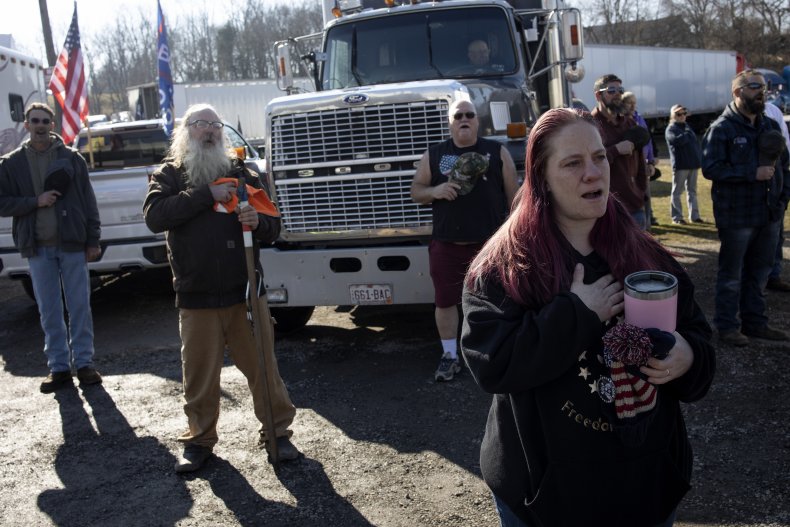 The convoy first arrived in Hagerstown—where truckers have set up a staging area—on March 4 after driving across the country from Southern California for 11 days.
While much of the convoy has been relatively tame, D.C. police are investigating an incident from last weekend after a resident filed a complaint alleging she was struck by a protest vehicle.
The protest was inspired by Canadian truckers who occupied the capital city of Ottawa for nearly a month earlier this year and forced Prime Minister Justin Trudeau to invoke the Emergencies Act to give the federal government temporary powers to deal with the blockades and protests against pandemic rules. Among other actions, the bank accounts of those involved in the demonstrations were seized.
The American People's Convoy has raised over $1.7 million in donations, according to the group's website.
Newsweek reached out to the D.C. Metropolitan Police Department and Bowser's office for comment but did not hear back before publication.
Update 03/22/22, 4:15 p.m. ET: This story has been updated with more background and information.