Perez Hilton's 'I Miss Rehab' Britney Spears Insults Remain on Site
Perez Hilton has counted himself among the scores of stars who have publicly expressed support for Britney Spears amid her conservatorship battle—though old posts in which he mocked her remain on his website.
Spears, 39, has received an outpouring of support after she spoke at a court hearing on Wednesday about her 13-year experience under conservatorship, with her father, Jamie Spears, controlling financial and personal decisions on her behalf.
And while Hilton—real name Mario Lavandeira, Jr.— has joined the chorus of public figures defending Spears, his site still hosts a post dating back to the summer of 2007, in which he scrawled "I miss rehab" onto the star's image.
The post in question discussed the reasons behind OK! magazine not releasing pictures from a photoshoot with Spears that ended when she exited abruptly.
While OK! cited "legal reasons" for not publishing the images, Hilton wrote in his post: "Perhaps Britney released (after the fact) that she looked cracked out and threatened to sue the mag if they ran the pics!
"Whatever the reason, this is just the latest disaster in a series of f***-ups the former pop star has had over the last couple of years."
The word "loser" can also be seen scrawled above Spears' head in another old post that discussed Spears' custody battle with ex-husband Kevin Federline.
In 2020, a Spears fan account on Twitter called @britmebaby shared a number of posts charting the trajectory of the pop icon's relationship with Hilton.
While the account charged that Hilton made "rude" and "misogynistic" comments about Spears on his website, it went on to point out how the star recruited Hilton to portray an "evil queen" on her Circus tour in 2009.
"In 2014, Perez bought a ticket and a meet and greet to Britney's Las Vegas 'Piece Of Me' show," tweeted @britmebaby. "Forgivingly, Britney even brought him on stage during one of her numbers."
For his part, Hilton has long since softened the tone of his coverage of celebrities, and on Thursday, he made appearances on U.K. TV to speak out in Spears' defense, while also expressing "deep shame and regret" for his past actions.
He told Kay Burley of Sky News: "I take full accountability for how I behaved in the past. I can't say, 'Oh, I was just young and dumb.' I think we know a lot more, and initially, many folks—myself included—were shocked and alarmed and especially concerned for her young children.
"And I know that I did not express myself as well as I could've. I didn't lead with empathy and compassion, which thankfully it seems that most people now are understanding the severity of Britney's situation. But I absolutely apologize and carry deep shame and regret."
When asked how he felt about Jamie Spears, Hilton said that he believed Britney Spears' father had saved her when he successfully filed for conservatorship amid her mental health troubles in 2007 and 2008.
"We forget, but she was really putting herself in dangerous situations," Hilton said. "It was a very scary time."
When contacted by Newsweek, Hilton said of his posts: "I have removed posts before that celebrities have reached out and said, 'That article caused me pain.' Or their reps have reached out.
"But, typically, I have left my past awfulness up to speak for itself and serve as a reminder and a warning. I am ashamed of my past but I'm not trying to scrub it from the internet or pretend it never existed.
"If I keep all my old posts up, I'm criticized. If I take them down, I'm criticized. I'm genuinely sorry for my behavior over a decade ago and I think my change and growth is obvious. I know I'm a different and better person today."
During her hearing on Wednesday, Britney Spears revealed that the conservatorship requires her to wear a contraceptive intrauterine device (IUD), which she wishes to remove in order to have a baby.
"I want to be able to get married and have a baby," Britney said while speaking at the hearing remotely, via the phone. "I have an IUD inside of myself so that I don't get pregnant, but [my team doesn't] want me to have any more children."
"They have me going to therapy three times a week and to a psychiatrist," she added. "I truly believe this conservatorship is abusive. I don't feel like I can live a full life."
In response, Jamie Spears' lawyers told the court, "He is sorry to see his daughter suffering and in so much pain. Mr. Spears loves his daughter very much."
Newsweek has contacted representatives for Britney Spears for comment.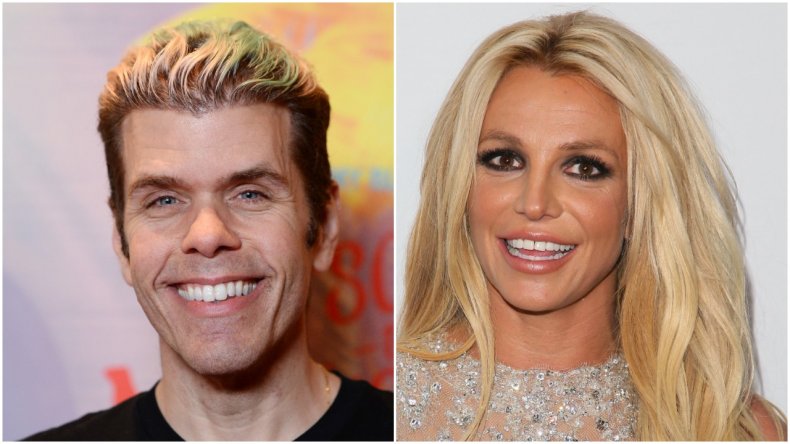 Update 6/25/2021, 5:25 a.m. ET: This article has been updated to include comment from Perez Hilton.