Peru Ambassador Intruder Appears to Be 'Isolated' Incident: Police
The fatal shooting of an intruder at the Washington D.C. home of the Peruvian ambassador appears to be an isolated incident, according to authorities.
Metropolitan Police Department Chief of Police Robert Contee III stated during a press conference Wednesday morning that a shooting resulted in the death of a man who broke into the home of the ambassador to Peru. Members of the United States Secret Service who responded to the incident had shot and killed the man early Wednesday morning.
When asked about whether more security would be added to the other homes in the area, the chief of police said that the incident appeared to be isolated.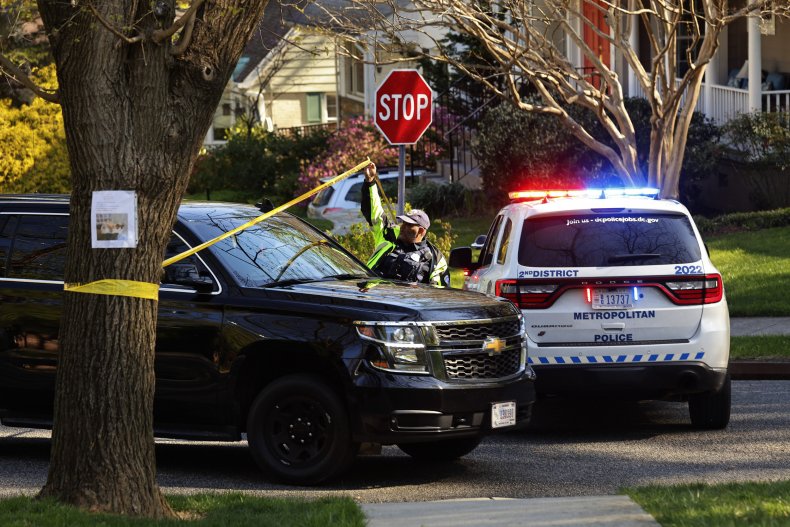 "I don't think so. This appears to be isolated to this particular embassy residence," Contee said.
Incidents of this nature in the area are rare, he added.
"We don't see these incidents around here. This is totally out of the ordinary. I can't recall the last time we had this type of incident on the property of the residence of one of our ambassadors. I just don't recall that any time in recent history," Contee said.
Just before 8 a.m. Wednesday morning, members of the Secret Service uniformed division responded to a home for a call for a burglary in progress. Once on the scene, officers encountered a man who had broken into the home of the Peruvian ambassador, police said.
The man, police said, gained entry into the home by smashing several windows in the back of the house. When they initially encountered the man, they spotted that he had a metal stake in his possession.
Police said that first, they attempted to use tasers on the man. However, that did not appear to subdue the suspect and instead fired shots at the individual, killing him.
As for why the man may have broken into the home, police are still investigating. The ambassador, his family, his staff, and Secret Service agents were not injured in the incident.
"Again, unclear as to why this person was here. We know that the person is deceased. We know that the person smashed out several windows. We know that the person was in possession of a metal stake but really not certain as to why, why we are dealing with this situation. Why he was here today.," Contee said.
The Secret Service provided Newsweek with the following statement: "This morning, following a confrontation, uniformed division officers shot a reported intruder at a residence in the 3000 block of Garrison Street NW. Public information officers en route to the scene. No injuries reported to officers."
The name and identity of the man shot and killed have not yet been released.
Newsweek reached out to the Metropolitan Police Department for further comment.