Pervis Payne's Attorneys Ask to Stop His Execution Over Intellectual Disability
Attorneys for Pervis Payne, a 54-year-old Tennessee inmate on death row, have asked a court to declare that he cannot be executed because he is intellectually disabled.
Their petition was filed in Shelby County Criminal Court on Wednesday—a day after Republican Gov. Bill Lee signed bipartisan legislation, inspired by Payne's case, that makes retroactive a Tennessee law that prevents death row inmates with an intellectual disability from being executed.
The Supreme Court ruled such executions unconstitutional in 2002, finding that they violate the Eighth Amendment's ban on cruel and unusual punishment.
The Tennessee Supreme Court in 2016 acknowledged that Payne had presented evidence of intellectual disability. But until this week, Tennessee law had no procedural mechanism for inmates to reopen their cases to press such claims in state courts if their death sentences had been upheld on appeal before the Supreme Court's ruling.
Payne, who is Black, was sentenced to death for the 1987 slaying of 28-year-old Charisse Christopher, a white woman, and her 2-year-old daughter, Lacie. Christopher's 3-year-old son Nicholas was also stabbed, but survived.
Payne, who was 20 at the time, has always maintained his innocence.
He has said he was at the apartment building to meet his girlfriend when he came upon the murder scene and tried to help the victims. Payne said he panicked and fled the scene when police showed up.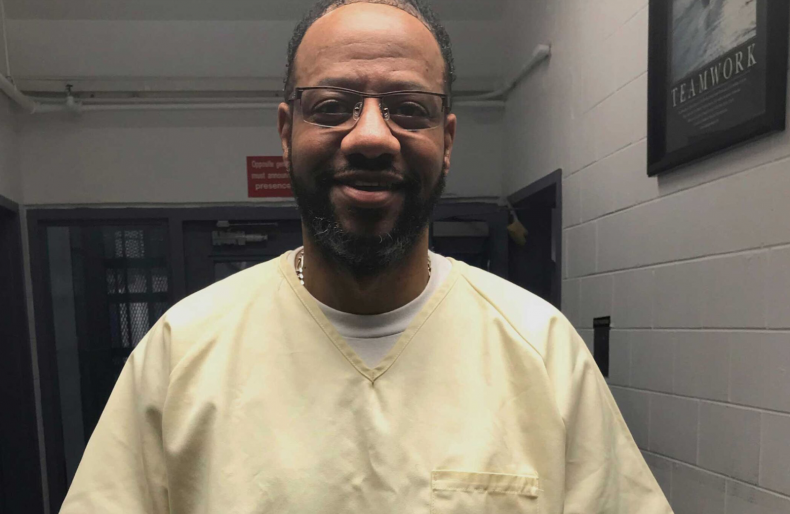 Payne's attorneys have also long argued that he is intellectually disabled, something they note the state has never denied or challenged.
"Pervis Payne is indisputably intellectually disabled," they wrote in the petition filed on Wednesday. "He has significantly subaverage intellectual functioning, significant adaptive deficits in each domain, and his disability manifested prior to age 18."
Payne's intellectual challenge includes IQ test results, educational records and expert findings, the attorneys say in the petition, along with declarations from family members, teachers, employers and others who have known Payne.
Payne's sister Rolanda Holman said he was unable to help her with homework growing despite being seven years older than her.
His father Carl Payne said he learned to walk and talk later than his siblings and stuttered into his late teens. A supervisor at a Pizza Hut where Payne worked briefly as a teenager described him as "slower mentally" and "mentally challenged," saying he struggled to follow simple instructions.
One teacher called Payne "mentally retarded," according to Wednesday's filing. He attended school through the 12th grade, but he failed the Tennessee Proficiency Exam five times and never graduated. His attorneys said the test was one an average ninth grade student would be able to pass on the first try.
Payne had been scheduled for execution in December last year, but Lee granted him a temporary reprieve due to the COVID-19 pandemic. The stay of execution expired last month, but a new execution date has not been set.
Payne's case has been taken up by The Innocence Project, which says his case bears all the hallmarks of a wrongful conviction due to racial bias and crucial missing evidence.
"He is a Black man with an uncontested intellectual disability who was accused of murdering a white woman in a county with a long history of biased criminal justice, and the State is unable to account for key missing evidence that could help prove his innocence," the nonprofit organization's website notes. A petition calling for Payne to be granted clemency has more than 740,000 signatures.
In September last year, a judge ruled to allow DNA testing in Payne's case. His attorneys noted in January that testing showed that Payne's DNA was found only on "items with which he came into contact after hearing cries of distress and entering the apartment of his girlfriend's neighbor."
Payne's DNA was not found on the handle of a knife, but partial DNA evidence from an unknown male was, his attorney said in January.
But there was not enough DNA material to enter it into a national FBI database and attempt to match it to someone else. Key pieces of evidence, including scrapings from Christopher's fingernails that were collected from the crime scene, could not be located for testing, the attorneys said.
"The DNA testing results are consistent with Pervis Payne's long-standing claim of innocence," Payne's attorneys said in a January statement.
"We continue to find it frustrating and disturbing that the State still has no explanation for how key pieces of DNA evidence that could conclusively prove who committed this crime—including the victim's fingernail clippings—have gone missing."
Tennessee State Rep. G.A. Hardaway Sr, the chairman of the Tennessee Black Caucus, was among those calling on Shelby County District Attorney General Amy Weirich not to fight Payne's intellectual disability claim.
Hardaway, who cosponsored the legislation that allowed Payne to petition the court, said: "The motto on the Shelby County District Attorney's website is 'Do the right thing every day for the right reason.' Well, now is the time to do the right thing.
"D.A. Weirich should join with the Memphis community—her constituents—and agree that Pervis Payne is a person with intellectual disability. As such, his execution would be unconstitutional."
Payne didn't claim an intellectual disability until after his appeals were exhausted, which involved reopening his case and required a change in state law.
In a statement provided to Newsweek, Weirich said Payne "could have filed a claim of intellectual disability during the period previously set by the legislature for filing such claims. Payne's attorneys chose not to do so.
"It was only after it was too late that Payne's attorneys decided to file. The new law signed by Governor Lee allows Payne to file the petition today, which he has done. It will now be up to the courts to decide, based upon the evidence presented and the law."
Payne is one of 49 inmates on death row in Tennessee, according to the state's Department of Corrections. More than half of them are Black, even though Black people make up around 17 percent of the state's population, according to the latest census data.
Lee's office has been contacted for comment.