Pet Costumes Are Halloween's Newest Cash Cow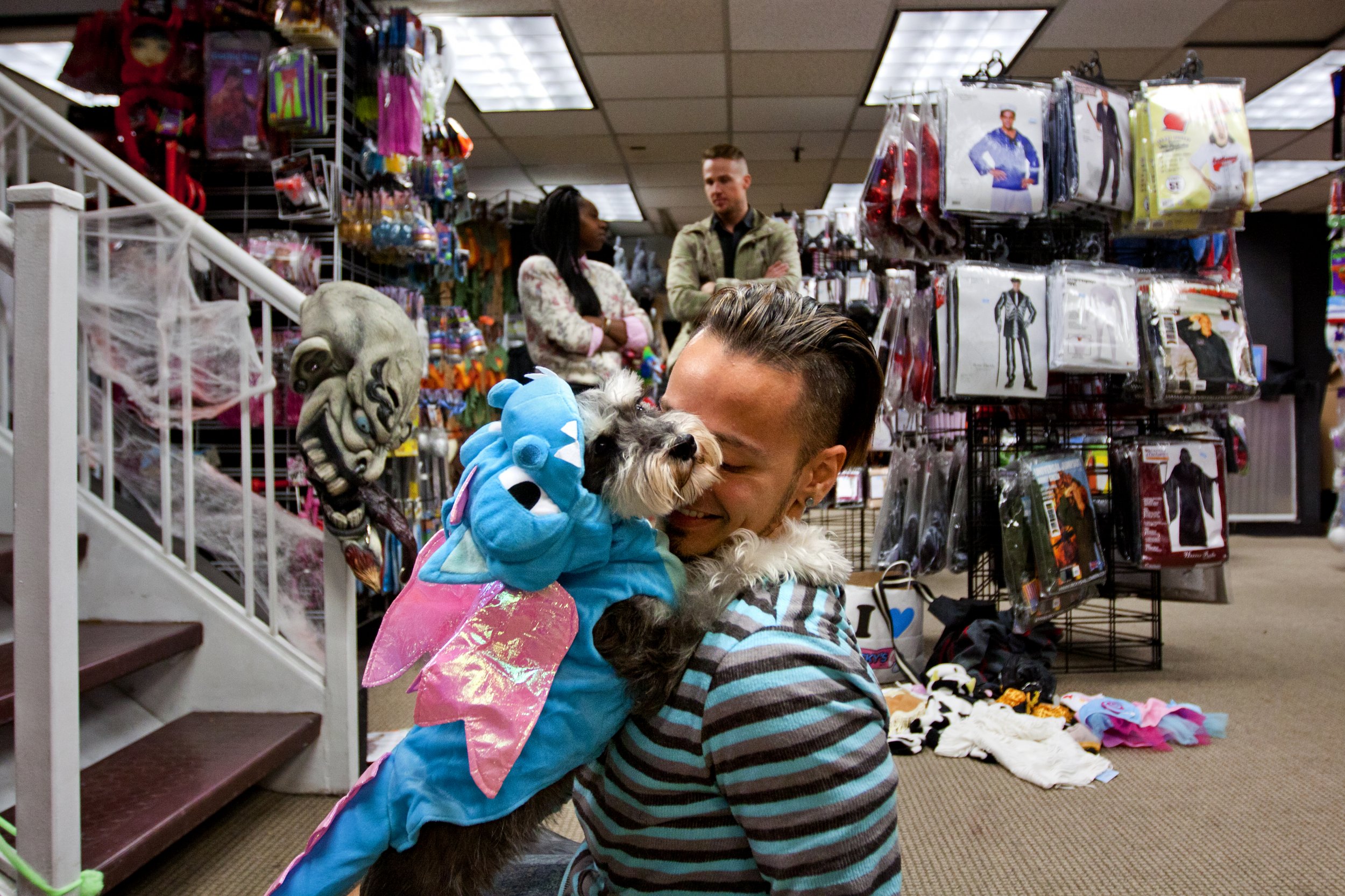 Each fall Americans are faced with the daunting (or exciting, or annoying) question of what to be for Halloween. Nurse? Slutty nurse? Bumblebee? Slutty bumblebee? Michael Jackson? Is slutty Michael Jackson even a thing?
Now we have a whole new challenge: how to dress our pets.
It's a serious question for the 22 million Americans who plan to doll up their pets this Halloween, according to the National Retail Federation's Halloween Spending Survey. This year alone, people will spend $330 million on costumes for their furry friends — a whopping 65 percent increase from what they spent in 2010. The most popular costume is a pumpkin, followed by a hot dog, cat and devil costume.
"Everyone is interested in how they look and how they accessorize themselves," Richard Parrott, president of Ricky's NYC, told Newsweek. "And pets, somewhat, are accessories. They're part of your life, but they're the next extension of an accessory."
Ricky's, which bills itself as a one-stop beauty shop, has had the lock on New York's Halloween costume market for years; with the addition of its first-ever Pup-Up Shop on the Upper East Side, the chain is going after everything that crawls as well.
The first thing you notice when you walk into the Pup-Up is a life-size human mannequin in black fishnet stockings, a leopard print leotard and matching cat ears. (Hello, Kitty.) At her feet sits a half-full doggie water bowl, and all around her, pet costumes hang from baby-sized hangers. Want your dog to dress up as a geisha? A banana? A slutty French maid or Dorothy? No? No problem. There are also outfits that read "Redneck and Proud" as well as celebrity ensembles that transform your dog into Elvis or Katy Perry (doggie push-up bra not included).
"Rats, rabbits, cats, anything that has four legs that's big enough to put a costume on, people will come and try to dress it up," Roger Quesada, manager of Ricky's Pup-Up, told Newsweek.
Most costumes range in price from $19.99 to $29.99, up to $250 for limited-edition outfits like a navy blue, velvet coat complete with Swarovski crystal buttons, hanging in a display case near the register (a steal at $219.99). The collar is faux fur 'cause, well...
"America is coming out of the closet on their love for dogs," celebrity pet groomer Jorge Bendersky told Newsweek. "It's no longer about a fluff and a trim for dogs. They get every service that we do," including spa treatments, mud baths, temporary glitter tattoos, hair extensions and pawdicures (what it sounds like).
But do pets actually want to be dressed up? Watching Quesada put a turquoise and pink monster costume on his two-year-old Mini Schnauzer, Nina, was an exercise in patience — both for pet and owner. Nina was remarkably well-behaved as Quesada strapped her into the getup; the moment he let go, she lurched forward, shaking her body as if she'd just come in from the rain. A few seconds passed. She shook again. And again.
"You're so unhappy!" Quesada sighed, looking at Nina. He blamed her discomfort on the hat.
"It's cute to dress your pet up like a monster," Dr. Stephen Zawistowski, science advisor at the American Society for the Prevention of Cruelty to Animals, told Newsweek. "The reality here is that pets are becoming much more integrated into our families… The people who take the time to dress up their pets are probably the ones who get good veterinary care [for their pets] and make sure they have good food, exercise and attention."
Almost three-quarters of United States households have pets, which translates to 218 million pets (excluding several million fish), according to the Bureau of Labor Statistics. Pets constituted a $61.4 billion market in 2011. Perhaps it's not so surprising, then, that each American household spent more on pets per annum than they spent on alcohol ($456), residential landline phone bills ($381) or men and boys clothing ($404). And married couples without children spent the most money on pets out of any household group that year.
"You used to find just a few costumes in Target or Walmart. But if you walk in there now you find an aisle devoted to pet costumes," Lauren Darr, founder of the International Association of Pet Fashion Professionals, told Newsweek.
Numbers are only part of the story. Paris Hilton helped spawn our cultural fascination with celebrity pets thanks to her affinity for purse-sized dogs that she carried down red carpets like diamond-studded accessories. The Kardashians' pet pig, Snow White, and Justin Bieber's monkey, OG Mally, have been written about extensively online; Hilton's Chihuahua, Tinkerbell, wrote a book. The Internet is bursting with animal memes. And while the Obamas' dogs, Bo and Sunny, offer more grounded versions of the celebrity pet, billionaire real estate tycoon Leona Helmsley notoriously left $12 million to her Maltese, Trouble, when she died in 2007.
The rise of social media and photo-sharing apps democratized this obsession for the masses. "People are looking for funny or cool things to post and tweet out as a tweetable pic. Pets and costumes are something that will get comments and likes," Darr said.
"People are waiting longer to have children or they are not having children at all. So the love and attention and money that we would have given to a child now is being showered on pets," she added.
As Bendersky put it, "Owners want their dogs to be their little girls or their little princes."
Waiting in line at the register at Ricky's Pup-Up, Luna Falquina, 19, stood with Nava, the nine-year-old she babysits.
"Most of the other costumes were only for the front [of the dog]," said Nava, who chose a devil costume for her Mini Goldendoodle. "We don't want to suffocate him!"
Falquina, who is from Spain, smiled at the girl. "This is more of an American thing," she said. "It's not regular to have a whole store for pet costumes."