Pet Dog Rescued From Frozen River by New York Firefighters After It Chased Geese Onto Ice
A pet dog had to be rescued from a frozen river in Plainville, New York, after it chasing geese out onto the ice and getting stuck.
Images taken at the scene of the rescue on Thursday (January 13) and posted by Plainville Fire Department to Facebook showed the small dog, reportedly a Shih Tzu, standing out in the middle of the Seneca River, which was partially frozen over with ice.
Subsequent photos taken during the rescue effort showed firefighters in specialist gear lying on the ice to spread their weight and minimize the chance of it cracking as they inched their way towards the dog.
Syracuse.comreported that the dog had become trapped on the ice after running onto it to chase a flock of geese nearby.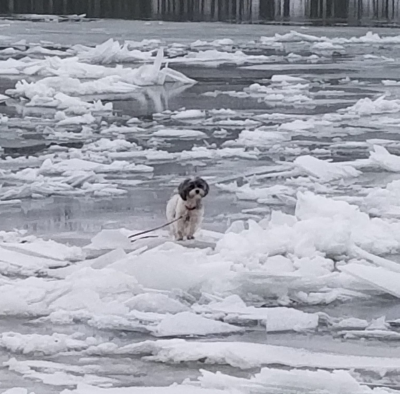 Winter Storm Izzy is currently blanketing much of the eastern U.S. with snow and causing freezing temperatures that have locked sections of water sources like the Seneca River in ice.
Members of the Baldwinsville Fire Department assisted their colleagues in Plainville achieve the successful rescue.
A statement posted to their Facebook page said: "This morning, our volunteers responded automatic aid to the Plainville Fire District for reports of a dog on the ice that couldn't get back to shore. Our members donned dry suits with our newly purchased inflatable ice rescue boat and with assistance were able to successfully retrieve the dog from the ice."
The National Weather Service (NWS) said on Monday (January 17) that Winter Storm Izzy would continue to bring cold temperatures to the eastern states.
A statement from the NWS said: "Heavy snow will continue across upstate New York and the higher elevations of New England ... Heavy snow rates combined with strong winds will likely produce dangerous travel and power outages.
"Re-freezing will likely lead to icy roads and hazardous travel ... from the Tennessee Valley northward through the mid-Atlantic states."
Winter Storm Izzy dropped more than a foot of snow on parts of New York state, with the NWS in Buffalo reporting record snowfall in some areas. "WOW! Lastest snow measurement at 1 a.m. was 4.6 inches in the last hour at the Buffalo Airport!," the organization posted to Twitter on Monday.
A later update posted 12 hours later said snowfall in the area had been almost double the previous record: "The snowfall total at the Buffalo Airport was 16.2 inches. This almost doubles the previous record daily snowfall total of 8.3" from 1958," a tweet from the weather service said.