An LGBT magazine has hit out at Democratic 2020 candidate Pete Buttigieg for volunteering with The Salvation Army, accusing the international church and charity group of being "homophobic."
Out magazine wrote that the mayor of South Bend, Indiana "should have supported an organization... created to cater to the needs of queer people" instead of The Salvation Army in a story resurfacing articles on the presidential primary contender volunteering for the charity.
It also reported that Buttigieg, who is himself a member of the gay community, received a "roasting" on social media Tuesday for his volunteering with the church group.
The 2020 Democratic candidate was pictured taking party in The Salvation Army's Red Kettle donation drive by WSBT 22 in November 2017, and seemingly held an open-invitation event at a Salvation Army facility in September last year.
A South Bend Tribune article from 2015, highlighted by Out, also reported Pete Buttigieg taking part in that year's Ring Off campaign.
"It's nice to see politicians using their platforms to give back to their communities during the holiday season—except when they do it with organizations that historically exclude LGBTQ+ people," Out magazine wrote on Tuesday.
The title later added that Buttigieg's volunteering would have been "super nice" were it not for Salvation Army having "a well-documented history of discriminating against LGBTQ+ people."
Supporting its claim that the charity was "homophobic," Out pointed to a 2012 Chicago Tribune story in which Salvation Army Maj. George Hood said: "A relationship between same-sex individuals is a personal choice that people have the right to make. But from a church viewpoint, we see that going against the will of God."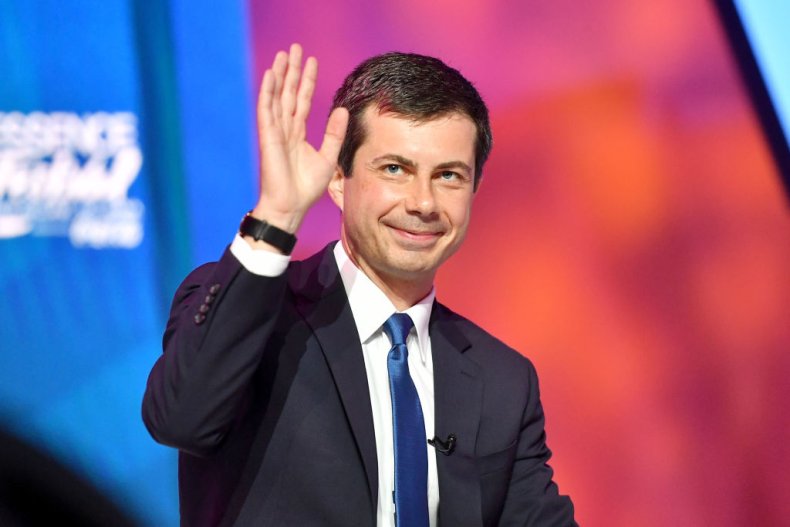 The church group found itself embroiled in another scandal around its position on same-sex marriage in 2015 after a leaked letter covered by The Mirror allegedly showed the organisation had an effective ban on gay members having sex as a result of its views on celibacy and what marriages were "ordained" by God.
Pink News also reported in 2016 that Salvation Army Commissioner Clive Adams confirmed that gay people could volunteer for the charity but not become members.
Newsweek has contacted The Salvation Army and the Pete Buttigieg 2020 campaign for comment but did not receive a response by time of publication.
In a section on the LGBTQ community, The Salvation Army's website stresses that "all people are deserving of Christ's love" regardless of their sexuality and gender identity.
The charity has also set up a shelter dorm in Las Vegas for members of the transgender community as well as a San Francisco detox facility catering for people with HIV and AIDS, according to Out magazine.
Earlier this year, the fast food chain Chick-fil-A said it would stop making donations to Salvation Army over public criticisms of its past stances on homosexuality.
The singer-songwriter Ellie Goulding also threatened to pull out of a performance set for the Dallas Cowboys' Thanksgiving halftime show organized by Salvation Army in November over concerns about its stance on the LGBTQ community.
But the musician eventually decided to she would go ahead with the performance, saying on Twitter it was her "passion to help the homeless and eventually eradicate it completely."