Pete Buttigieg: 'I Had to Google' Alfred E. Neuman after Donald Trump Used the Name to Insult Candidate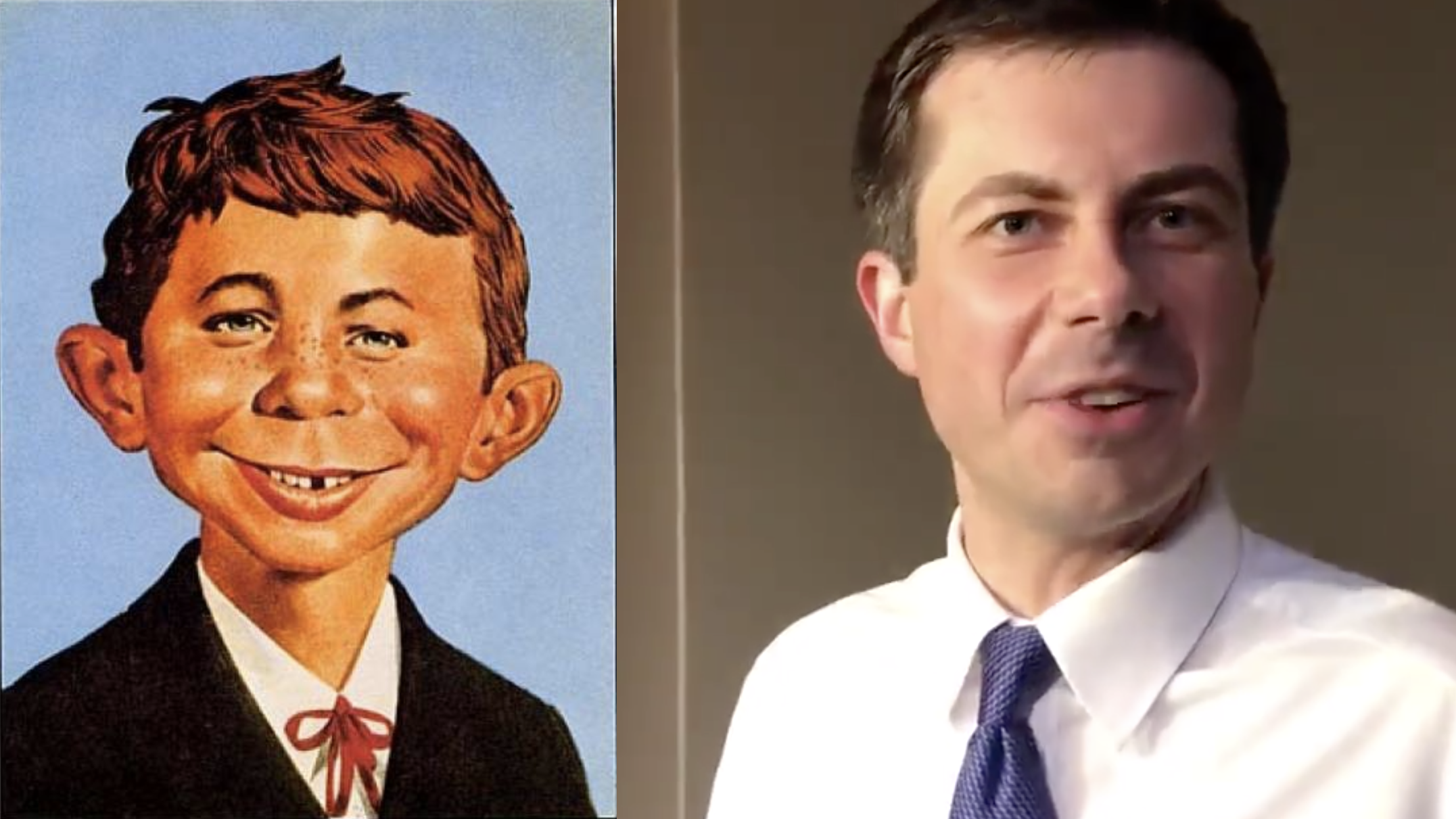 President Donald Trump on Friday reached into his big bag of insulting nicknames and christened Democratic presidential hopeful Pete Buttigieg as "Alfred E. Neuman." However, the South Bend, Indiana, mayor said he was probably too young to get Trump's joke.
"Alfred E. Neuman could never be president," Trump said during an interview with Politico in which he was asked about Buttigieg.
For those unfamilar with the name, Alfred E. Neuman has been the grinning, gap-toothed cartoon face of Mad magazine for some six decades. While Neuman's visage is known by millions around the world, Buttigieg was apparently not familiar.
When the 37-year-old Buttigieg was asked later about the president's efforts to include him in the rogues' gallery that includes "SleepyCreepy Joe" (Joe Biden), "Leakin' Lyin' James Comey," "Pocahontas" (Sen. Elizabeth Warren), and "Crooked Hillary" Clinton, he told reporters that he didn't get the joke at first.
"So, I'll be honest, I had to Google that, I guess it's a generational thing. I didn't get the reference," Buttigieg said Friday. "It's kinda funny, I guess, but he's also the president of the United States and I'm surprised he's not spending more time trying to salvage this China deal."
The mayor was referring to Trump's escalating trade war with China, which has seen the White House once again increase tariffs on billions of dollars in products imported from the Asian nation; a move that could end up costing U.S. households around $500 each, according to one estimate.
In response to Buttigieg's claim that he had to Google Neuman to understand the president's insult, Mad's twitter account asked, "Who is Pete Buttigieg? Must be a generational thing."
This was the second time this week that Trump had publicly mocked Buttigieg.
"We have a young man, Buttigieg," Trump said at a campaign rally Wednesday night. "Boot-edge-edge. They say 'edge-edge.'"
"He's got a great chance. He'll be great. He'll be great representing us against President Xi of China," the president added, drawing jeers and laughter from the crowd. "That'll be great."
Buttigieg shrugged off Trump's comment when asked about these remarks.
"You can't get too worried about the name-calling and the games he plays," Buttigieg said Thursday. "I was thinking of a Chinese proverb that goes, 'When the wind changes, some people build walls and some people build windmills.'"
"You gotta recognize that we need something that is completely different from what is in this White House," he added. "The negotiations that they are conducting, whether it's on trade or things like North Korea, are usually a personal high-wire act with no safety net."
The latest Hill/HarrisX poll on Democratic presidential candidates currently has Buttigieg running a distant third behind Biden and Senator Bernie Sanders, but in front of more prominent names like Warren and her fellow Senators Kamala Harris and Cory Booker.