Pete Buttigieg to VP Mike Pence: Marriage to Husband Chasten Glezman Has Moved Me 'Closer to God'
Presidential hopeful Pete Buttigieg opened up about the inner turmoil he faced as a young gay man growing up in Indiana while speaking at a brunch for the LGBTQ Victory Fund on Sunday.
"If you had offered me a pill to make me straight, I would have swallowed it before you had time to get me a sip of water," he told the audience.
Reflecting on that period in his life is difficult, the South Bend, Indiana, mayor admitted, because had such a pill existed he would have missed the opportunity to fall in love with his husband, Chasten Glezman. The two married in 2018.
"The main reason it's hard to think about is that if I had had that opportunity, I would never have found Chasten. That the best thing in my life would not have happened at all— my marriage," he continued. "The thing that I can't even describe without lapsing into clichés."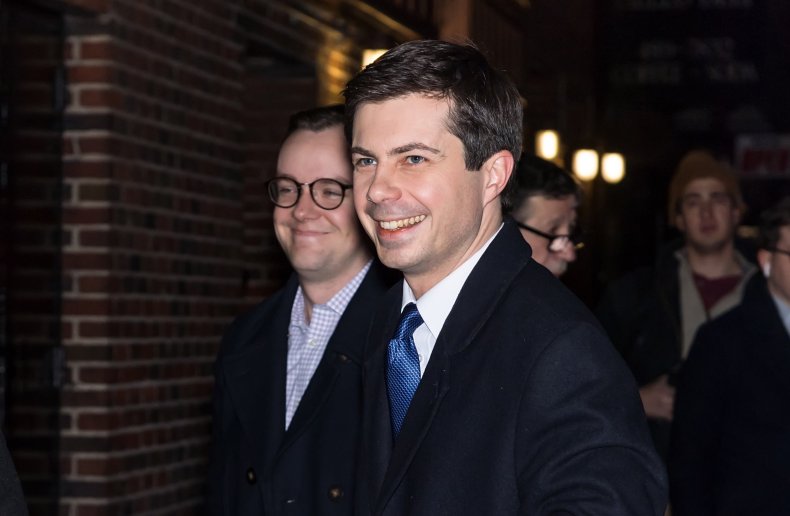 He then referenced Vice President Mike Pence, also from Indiana, who has staunchly opined that marriage should only be between a man and a woman. In 2006, while serving in the House of Representatives, Pence spoke out in support of a constitutional amendment that would have banned gay marriage. Later, as Indiana's governor, Pence supported HJR-3 in 2014, a bill to add an amendment banning same-sex marriage to the state' Constitution.
"People often talk about things like marriage equality as a moral issue," said Buttigieg on Sunday. "And it is certainly a moral issue in my personal life. It's a moral issue because being married to Chasten has made me a better human being. It has made me more compassionate, more understanding, more self-aware and more decent. My marriage to Chasten has made me a better man."
He continued: "And yes, Mr. Vice President, it has moved me closer to God."
Buttigieg, who is still in the exploratory stage of his candidacy, is expected to kick off his official run next week in South Bend.
Unlike some of his competitors for the Democratic ticket, the 37-year-old has yet to unveil many detailed policy positions. Instead, he's spoken more broadly about his fight against climate change, and his support for LGBTQ rights, criminal justice reform and election reform — all positions held by many of his fellow hopefuls, including Senators Cory Booker, Kamala Harris, Bernie Sanders and Elizabeth Warren.
During an appearance on NBC earlier Sunday, Buttigieg made the argument that his lack of experience in Washington D.C, is an advantage
"It just might make sense for somebody my age, coming from experience in the industrial midwest, nonfederal, different background, bringing something that will actually help Americans envision the world as it will be in 2054, the year that I will be the current age of the current president," he said in the conversation with host Chuck Todd. "And just change the channel from this mesmerizing horror show that's going on in Washington right now."