Pete Buttigieg Beats Biden in Democrat Voters' Pick of 2024 Candidate: Poll
Transport Secretary Pete Buttigieg is the top choice of Democrat voters in New Hampshire for the party's 2024 presidential nomination ahead of Joe Biden.
A Granite State Poll, conducted by the University of New Hampshire Survey Center, of likely Democratic primary voters found that 23 percent want Buttigieg to be the party's next presidential candidate.
Biden and Massachusetts Senator Elizabeth Warren are both tied in second place at 18 percent, and Vermont Senator Bernie Sanders at 15 percent.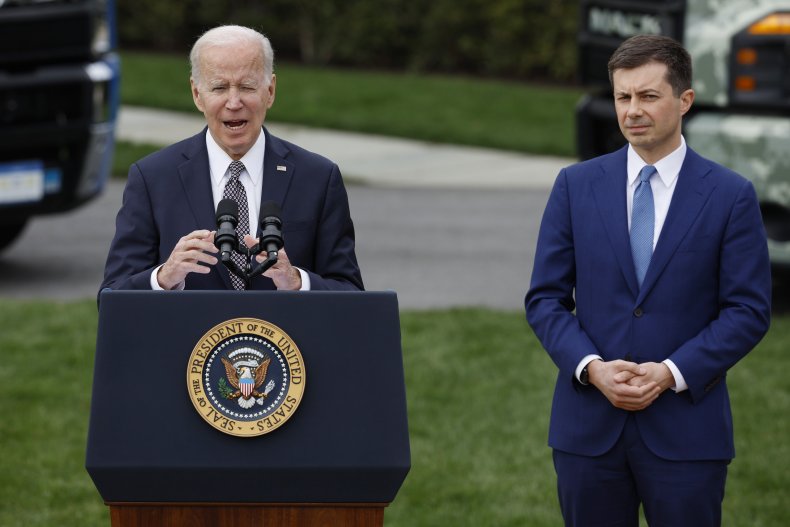 The poll also found that 66 percent of Democratic primary voters do not want Biden to run for office again, with more than quarter (26 percent) believing that the president should "definitely not" run in 2024.
Buttigieg, a former South Bend mayor, gained national prominence during his 2020 presidential run, including winning the Iowa caucuses, with the 41-year-old frequently being tipped as a potential future candidate.
His reputation did take a hit recently, due to the crisis at Southwest airlines resulting in thousands of canceled flights and many left stranded in airports across the country.
The chaos left many questioning whether Buttigieg was suited for the role of transport secretary, and criticism that he is only using the role as a stepping stone for his own presidential ambitions.
However, the latest poll suggests Buttigieg is still popular among Democrat voters.
The survey showed that he has a 69 percent approval rating, second to Warren on 71 percent and way ahead of Biden's 49 percent.
Those who mentioned Biden or Warren as their first choice for the 2024 nomination also frequently named Buttigieg as their second choice.
Respondents who said their top pick was Buttigieg mostly added that Warren or Vice President Kamala Harris would be their second choice for the candidacy, rather than Biden.
Biden is expected to confirm soon that he will run again for the presidency in 2024, dismissing concerns about his age and, at times, poor approval ratings.
In September 2022, Buttigieg answered "who knows" when asked during a speaking event at Vox Media's Code Conference in Beverly Hills if he is considering running for the White House again.
"You run for an office because you notice something about the office, and something about yourself, and something about the moment that adds up," Buttigieg said.
"And that process has been one I have used to decide to run for office several times, and it's a process I've used to decide to not run for office several times. So who knows what the future is going to call me."
The Granite State Panel poll was conducted between 346 likely Democratic primary voters between January 19 and January 23, 2023, with a margin of error of +/- 5.3 percent.