Pete Buttigieg, Beto O'Rourke Respond After Protesters Hurl Anti-Gay Slurs at South Bend Mayor During Texas Speech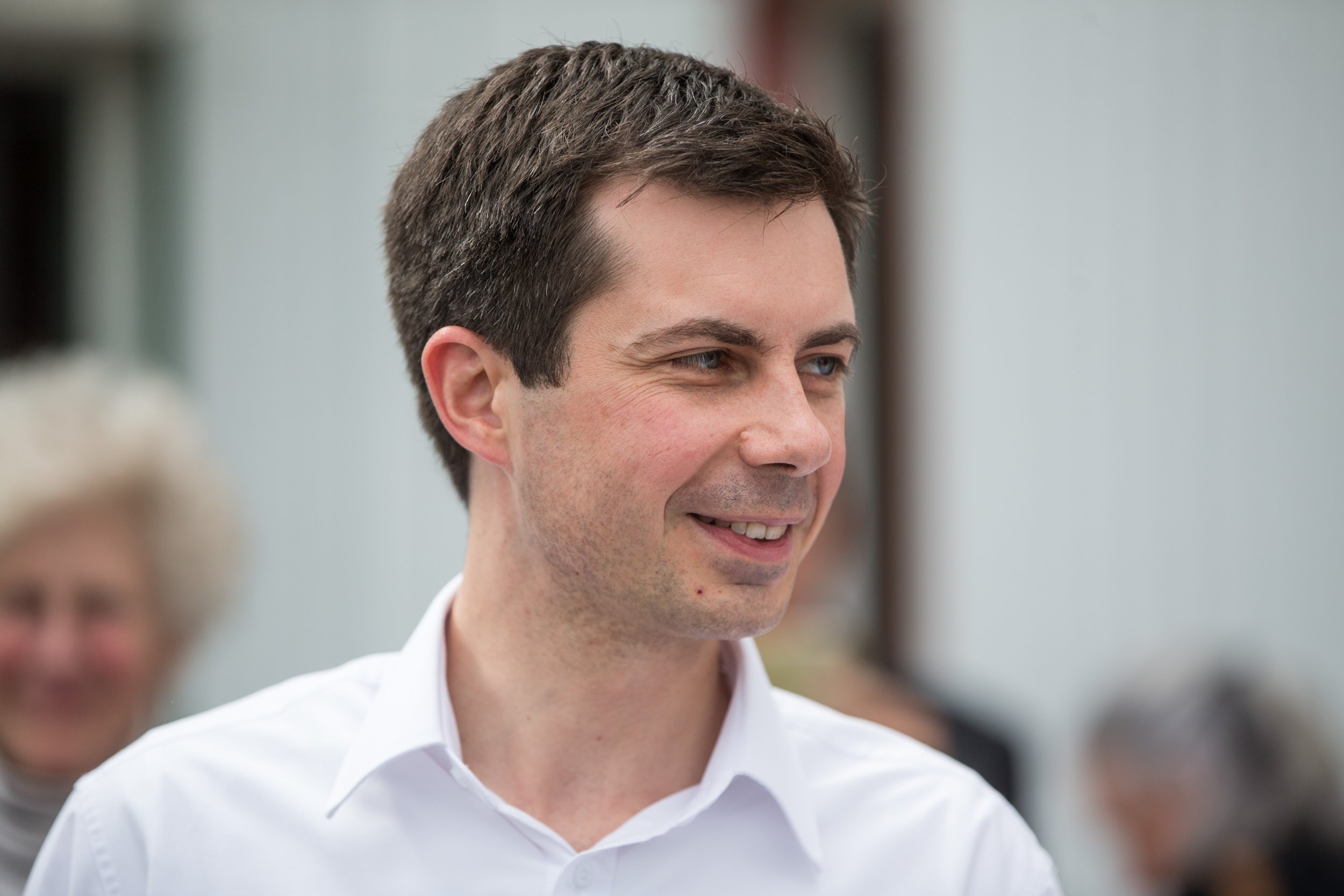 Presidential hopeful Pete Buttigieg did his best Friday night to ignore a small but vocal group of protesters who yelled anti-gay slurs and told him to "repent" during a speech in Dallas, Texas.
Buttigieg, the openly gay mayor of South Bend, Indiana, was speaking at an event for the Dallas County Democratic Party when he was interrupted several times by a handful of protesters who hurled, among other anti-gay remarks, "marriage is between a man and a woman" and "what about the babies?" Part of the interruption was caught on video by CNN reporter DJ Judd.
Rather than confront the protesters directly, Buttigieg — who served overseas with the U.S. Navy Reserve — joked that it was a "lively room" and recalled shipping out to Afghanistan with the Navy to defend the country's values, including freedom of speech. The crowd of supporters eventually drowned out the protesters with supportive cheers.
The fracas was also quickly denounced by former Texas Rep. Beto O'Rourke, who is running against Buttigieg for a spot on the Democratic ticket.
"Texans don't stand for this kind of homophobia and hatred," O'Rourke tweeted. "Mayor Pete, we are grateful you came to Texas and hope to see you and Chasten back again soon," he said, referring to Buttigieg's husband. The pair wed in a 2018 ceremony.
It's not the first time anti-gay protesters have crashed one of Buttigieg's political events. While speaking in Iowa to a crowd of about 1600 on April 16, a handful of protesters shouted references "Sodom and Gomorrah" and decried Buttigieg's pro-choice stance on abortion. The same group appeared to be following Buttigieg on the campaign trail and included radical anti-abortion activist Randall Terry, who dressed in a devil costume.
Right-wing trolls have also attempted to weaponize Buttigieg's identity. Conspiracy theorist Jacob Wohl reportedly attempted to launch a smear campaign against the presidential hopeful by using false allegations of sexual assault—a foiled plan that echoed Wohl's attempts to undermine Special Counsel Robert Mueller during his investigations into 2016 election meddling.
Buttigieg and husband Chasten have, for the most part, brushed off the homophobic attacks as the mayor continues to make small but consistent rises in national polling. He currently trails Former Vice President Joe Biden, Vermont Sen. Bernie Sanders and Massachusetts Sen. Elizabeth Warren in a crowded field of 2020 hopefuls.
"The good news is, the condition of my soul is in the hands of God, but the Iowa caucuses are up to you," Buttigieg quipped when interrupted in Iowa.
While speaking at a brunch for the LGBTQ Victory Fund on April 7, Buttigieg, an Episcopalian, responded to those who attempted to delegitimize his campaign and marriage based on religious arguments.
"People often talk about things like marriage equality as a moral issue," said Buttigieg at the event. "And it is certainly a moral issue in my personal life. It's a moral issue because being married to Chasten has made me a better human being. It has made me more compassionate, more understanding, more self-aware and more decent. My marriage to Chasten has made me a better man."