Pete Buttigieg Responds to AOC Calling $2.2T Biden Infrastructure Plan 'Not Nearly Enough'
Transportation Secretary Pete Buttigieg on Sunday defended the breadth of President Joe Biden's American Jobs Plan, a $2.2 trillion bill that aims to improve U.S. infrastructure and revitalize the economy as it works to recover from COVID-19.
The proposal, which Biden unveiled last week, was met with criticism from Republican and some Democratic lawmakers over its size. While conservatives, such as Senate Minority Leader Mitch McConnell, argued against the plan because of its spending goals, progressives, such as New York Rep. Alexandria Ocasio-Cortez, suggested that additional funds are necessary to truly realize the bill's intended impacts.
Speaking to ABC News host George Stephanopoulos during an appearance on the network's This Week program, Buttigieg acknowledged the emerging partisan divide. A Democrat and former presidential candidate, Buttigieg served as mayor of South Bend, Indiana, for eight years before assuming his leadership role at the Department of Transportation under Biden's administration.
"There are obviously a lot of people on the other side of the aisle saying, 'This is too big, too bold.' And then, some of our friends on our side of the aisle are saying, 'It should be even bolder,'" said Buttigieg, referencing the competing critiques from prominent congressional figures in both major parties.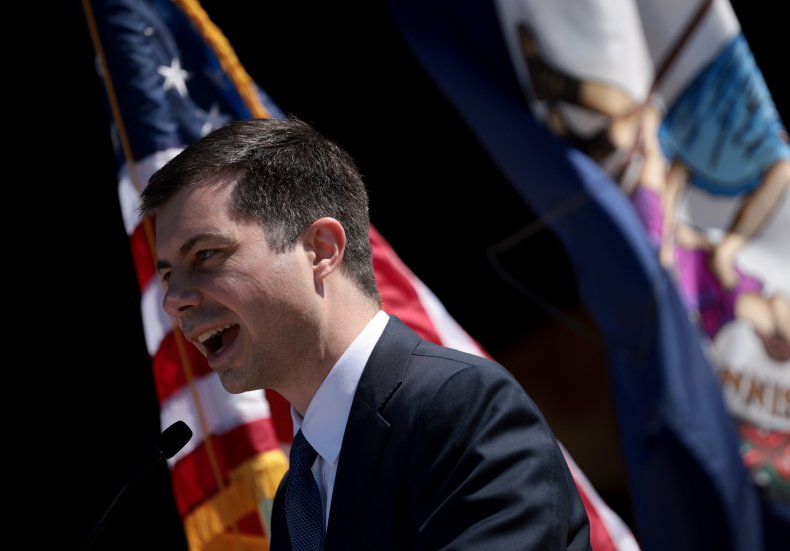 "Again, that's a natural part of this conversation and this process," he continued. "But let me stress, this is the biggest investment in American job creation proposed or, if achieved, since World War II. This is a huge deal."
Buttigieg pointed out that the American Jobs Plan seeks to better various overarching elements of national infrastructure, beyond the traditional conception of the term. In addition to rebuilding roads and bridges, the legislative proposal outlines federal objectives to improve broadband access, ensure drinking water supplies are uncontaminated, expand workforce development efforts, further an ongoing transition toward clean energy, and revamp ports, waterways and airports.
"What it would mean to have 10,000 bridges around America replaced, what it would mean — or improved — what it would mean to get broadband out to every single American, what it would mean to have zero lead pipes remaining in those water service lines is absolutely enormous, as is that 19 million job figure," the transportation secretary said.
Ocasio-Cortez has urged an expansion of Biden's infrastructure bill on more than one occasion since its recent unveiling. Her critiques have predominantly focused on the cost, noting that more funding might allow the proposal to achieve its goals.
"If we're looking at ideals and what we think is the actual investment that can create tens of millions of good union jobs in this country, that can shore up our health care, our infrastructure, our housing—and doing it in a way that draws down our carbon emissions, to help us get in line with the IPCC standards—we're talking about, realistically, $10 trillion over 10 years," the congresswoman said during a Wednesday interview with MSNBC political commentator Rachel Maddow.
She highlighted similar concerns about the bill on Twitter the previous day, suggesting that its logistical strategies were "not nearly enough" to support the changes it summarized.
"This is not nearly enough. The important context here is that it's $2.25T spread out over 10 years," the representative wrote. "For context, the COVID package was $1.9T for this year *alone,* with some provisions lasting 2 years. Needs to be way bigger."
Newsweek reached out to Ocasio-Cortez's office for further comment, but did not receive a reply in time for publication.