Pete Buttigieg Explains How Serving in Afghanistan Helped His Rise to Improbable 2020 Presidential Contender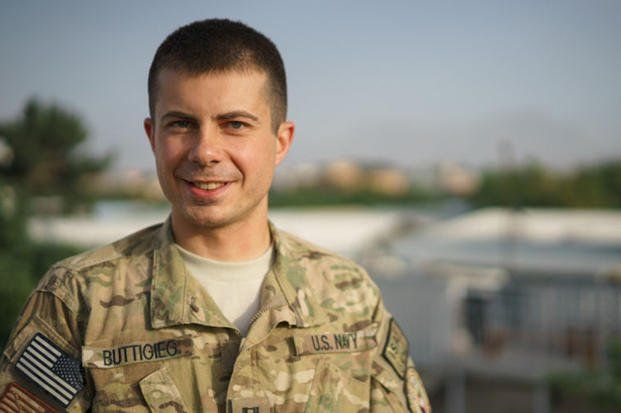 There are movie wars, full of fire and fury, and then there are the real wars familiar to anyone who's served in a combat zone: 85 percent routine, even boring, duty, interrupted by moments of gut-churning terror.
So it was with Pete Buttigieg, the South Bend, Indiana, mayor making an improbable presidential run, who served nine months in Afghanistan as a Navy Reserve intelligence officer. As a low-grade ensign, Buttigieg was assigned to the NATO coalition's Afghanistan Threat Finance Cell in Kabul that tracked the enemy's money. Sure, he handled secret intelligence, but the rest of the time he basically served as his boss's armed chauffeur, he says—albeit in life-threatening conditions. Think NCIS, in rebel-infested Kabul.
"It's funny, the way it worked out," Buttigieg said in a Newsweek interview. "I'd get up, maybe I'd do a little bit of work with some documents or [reports] traffic. Then I would be asked to drive the boss over to maybe an Afghan counternarcotics cell that we were working with. And I'd just be Uber, basically, driving or guarding that vehicle."
The terror came whenever he went "outside the wire," exiting the heavily guarded, high-walled headquarters compound. Buttigieg's training with the Army before he deployed taught him to take note of "a suddenly empty neighborhood. A nervous-looking lone driver of a vehicle with a heavy trunk load. An obviously male hand coming out from underneath a woman's blue burqa," he wrote in his book, Shortest Way Home, published in February. He carried a locked and loaded M4 carbine on over 100 of such forays across the capital, which has been wracked by frequent terrorist assaults involving masked gunman, suicide bombers and Taliban agents dressed in Afghan military uniforms.
"I was a little jumpy at first when I came back," he told Newsweek, "but in the longer run, I think knowing the difference between an emergency and an emergency, I think has served me well, coming back into the political space."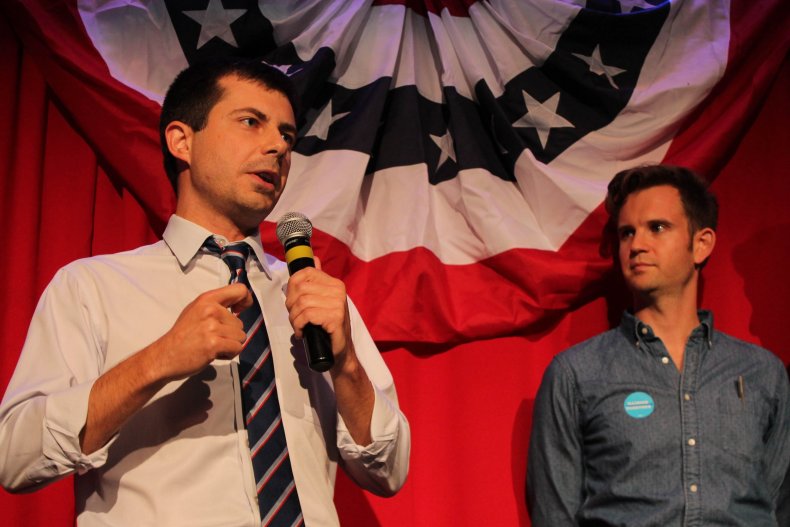 Men who served with then-32-year-old Buttigieg said he never advertised that he had graduated with honors from Harvard, won a Rhodes scholarship to Oxford and been elected mayor of South Bend—much less that he was gay.
"He just told me he worked for the government," recalls Chuck Murray, his intelligence training officer. That was "not a big deal," Murray says, because the reserve unit was filled with FBI agents, cops and city and state employees from around the Great Lakes area. Only when Buttigieg had to fill out a form did Murray learn that he was a mayor.
"Somebody said there was a mayor among us. So I looked him up on the internet, and there he was," says Jason McRae, a "battle buddy" of Buttigieg's during combat readiness training before both shipped out to Afghanistan. But he doesn't remember talking much about that. "We just focused on family and so on."
During intelligence training, though, Buttigieg stood out. "He was astute, he asked great questions, and he was able to put together the [intelligence] linkages really well, figure out what the information gaps were and what we needed to know," Murray said by phone. "If somebody asked a question, he was able to assemble what we did know and what else we needed to know quickly."
He seemed to have preternatural skill at seeing patterns, Murray and others who served with him told Newsweek. That included a facility with languages. His mother, Anne Montgomery, is a linguist who taught at Notre Dame for 29 years. Buttigieg, who spent the summer of 2005 studying Arabic in Tunisia, answered questions from an Oslo film crew in Norwegian and offered condolences in French to a Parisian news outlet after April's fire at the Cathedral of Notre Dame. He's also familiar with Dari.
A typical day in Kabul, he told Newsweek, included "some video teleconferences, and maybe checking in with one of our allied countries or another agency that we were dealing with. There was a lot of interagency stuff because the Threat Finance Cell was commanded by a DEA agent, partly housed within Treasury," he says. "I was in the military element. And then we were working with everybody across the civilian spectrum in the intelligence community"—the CIA, NSA and Defense Intelligence Agency. Buttigieg's military record was first obtained by reporter Clifton French, an Iraq war veteran at South Bend's ABC-57 TV station.
The long-ago war in Vietnam colored his views on Afghanistan. He devoted his 2004 Harvard honors thesis to the Vietnam War, using Graham Greene's The Quiet American, a brooding novel of spies, war and politics set in mid-1950s Saigon, to examine the messianic streak in U.S. foreign policy. The novel features a recklessly idealistic CIA agent who thinks he can derail the coming communist overthrow of the corrupt regime through a poisonous brew of foreign aid and covert action. He gets people killed.
"It's brilliant," Buttigieg says of the novel. "To me, it's about how Americans can persuade ourselves to do all kinds of things, based on the idea that our interests by definition are good, and morally good. And it just doesn't work that way. Even for an exceptional country like us, it is not true as a matter of course that anything that appears to make America better off is the right thing to do."
In Buttigieg's view, American foreign policy has to be "one, grounded in core American interests, two, vetted against American values." But how would that play out in regard to Saudi Arabia, a corrupt theocracy that murders dissidents? "I get that you always can find yourself in complicated alliances," he tells Newsweek. "After all, this is a country that teamed up with Stalin in order to deal with Hitler. So you don't have to do a purity test on your values to ever do business with a foreign country. But...put it this way: When you do that, you gain a certain amount of leverage that you ought to use in the defense of your values."
Same goes for China's brutal repression of its Muslim Uighurs, he says: The U.S. is losing a chance to put Beijing on "its back foot" when it looks the other way, as the Trump administration has. "Look, we're going to have a lot more moral authority when we're calling for human rights if we're doing it in a consistent way," he says. "We can be selective about how hard we push it and when, but we should never be at cross-purposes with our own values."
As for Afghanistan, "I think we had to act after 9/11 and so the authorization for use of military force in Afghanistan made sense, to a point," he told Esquire in a March interview. "I think the open-ended commitment did not." But from Vietnam onward, he says, successive American administrations have tended to look for quick, opportunistic fixes to complicated problems. "You could argue there's a pattern," he says, "from the unsavory friends we were making in Vietnam, because we thought it was the lesser evil...to the way that we took steps that helped unleash al-Qaida a generation later." (That's a reference to the Ronald Reagan administration arming Islamic jihadis, including Osama bin Laden, to fight the Soviets in Afghanistan in the 1980s.)
Why, then, did Buttigieg volunteer for the Navy, and then Kabul? No draft boards were breathing down his neck, the way they did in the 1960s. By 2009, when he was commissioned an ensign, Americans' interest in, much less enthusiasm for, the war in Afghanistan had evaporated. Did he enlist to shore up a future political career?
"No," he maintains. "I'd always had this vague idea that I would serve." Poor eyesight clouded his teenage dreams of being a pilot, he says. But at Harvard, he felt pulled to follow in the footsteps "of John F. Kennedy and these other figures who had Ivy League educations."
When JFK graduated in 1941, of course, America was plunged into an existential struggle with Germany and Japan. Ducking service then was tantamount to cowardliness. Today, any such sense of a military obligation is even more rare than it was in the 1960s, when a Yale grad, John Kerry, signed up and went to Vietnam. (Buttigieg volunteered on Kerry's 2004 presidential campaign.) But Buttigieg insisted that "the thing that really put me over the top" to enlist "was seeing how some of these communities in rural Iowa were emptying out their youth."
Buttigieg is wary of what roles the military is asked to play, as when the president threatened to send 120,000 troops to the Middle East to square off with Iran. "It certainly doesn't seem it's being driven by a coherent regional security strategy," he said as the warlike rhetoric ballooned in mid-May. "So it makes you wonder whether it's being driven by a domestic political strategy. If so that's extremely upsetting. Yesterday I was at a ceremony where we were acknowledging South Bend high school students who were committing to go in the military. And the idea that they might be used as props, as has already happened at the border, is really disturbing to think about."
Navy buddies respected Buttigieg's authenticity.
"From the first I sat down with him," said Edwin Exum, who commanded the Naval Reserve's Midwest region when Buttigieg enlisted, "you could tell that there was a genuineness that not everyone had." Exum eventually nudged later recruits to emulate him. "I would always say, 'Hey if you want a good example of a smart, genuine, thoughtful human being, not just a military professional, but somebody you really need to meet, Pete was that guy.'"
"Pete just seems like the real deal," said Murray, his intelligence training officer. "Unless he's really good at hiding stuff, I think what you're seeing is what you get."
In fact, Buttigieg was hiding his sexuality. Failure to do so back then, during the military's "Don't ask, Don't tell" era, could have resulted in a less than honorable discharge, likely damaging, if not entirely crippling, his political aspirations.
"I didn't know Pete was gay until he came out. I didn't care," said Murray, who calls himself a Republican with a libertarian side. "It had no bearing on my relationship with him. He was a damn good analyst—still is—who came in, took care of his people, did his job, and went home to his day job. That's all I look for."
Another navy intelligence colleague, Thomas Gary, said he immediately reached out to Buttigieg when he heard the news he was gay. "I emailed him, 'Dude! Hey, I wished I'd known!'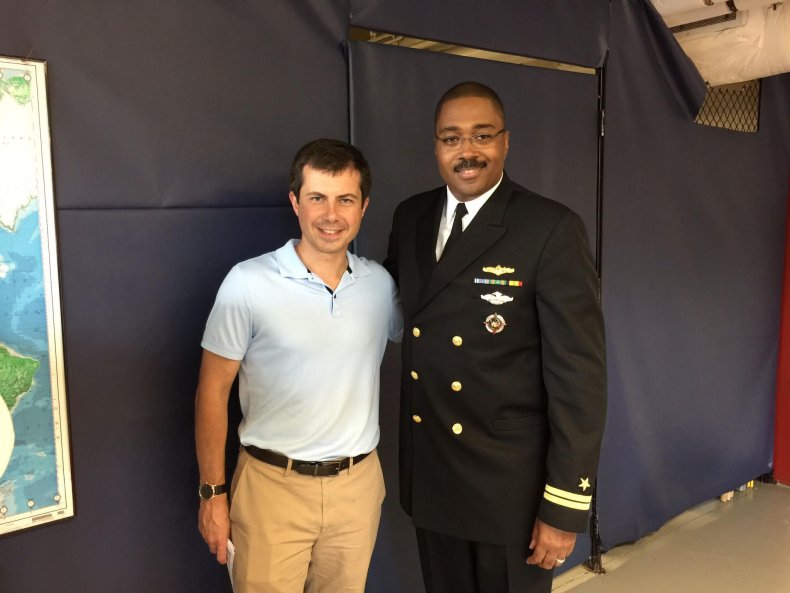 "We were all very supportive of each other as a unit," Gary tells Newsweek. "We cared about each other in our other lives." They attended each other's wedding and funerals. "He was there for me with the death of our daughter," from cancer.
Most men and women come home from war zones irrevocably changed, but not always for the worst. Often enough, it's for the better.
"I don't think you ever come back the same," Buttigieg said. "I think it made me feel more connected to more different kinds of people, because of the range of people and styles and political values that I've been exposed to.
"It's one thing to meet somebody who's very different from you," he added. "It's another to learn to really trust and like somebody, and still have them be so different from you."
Corrections: An earlier version of this story misspelled Jason McRae's name. It listed John Kerry as a Harvard grad; he graduated from Yale. And it said Pete Buttigieg was referencing the George W. Bush administration arming Islamic jihadis; that reference was to the Ronald Reagan administration.