Pete Davidson's Kim Kardashian Tattoo Edited by Fan Goes Viral Post-Split
"My girl is a lawyer" are the words Pete Davidson got tattooed on his shoulder during his relationship with Kim Kardashian and now that they've split, fans have been coming up with creative ways for the comedian to cover it up.
Kardashian and Davidson reportedly announced over the weekend that they're splitting up after nine months of dating.
The unlikely pair struck up a romance after the reality TV star hosted Saturday Night Live back in October 2021.
After months of speculation, Davidson and Kardashian went Instagram official in March 2022, shortly after she was declared legally single from her ex-husband Kanye West.
According to reports, the couple decided to go their separate ways earlier this week due to their demanding work schedules.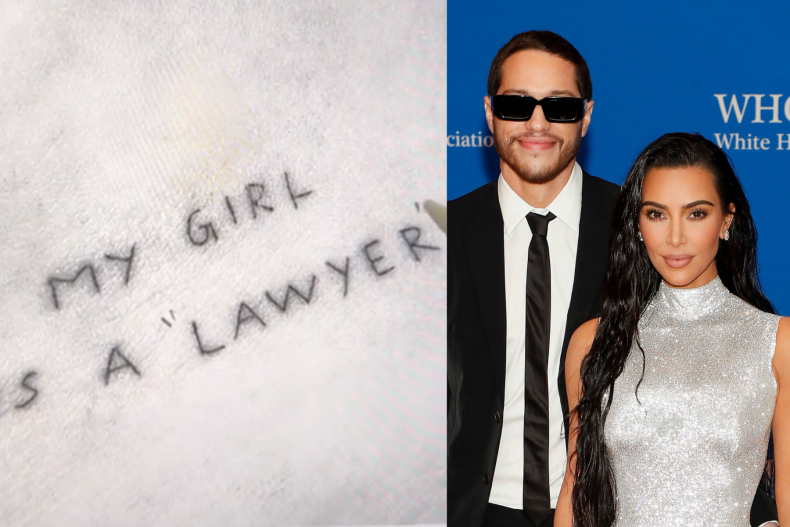 Now fans have been guessing how Davidson plans to cover the ink up and one suggestion has gone viral.
"This is a problem but I know how to fix it. Don't worry, I got you Pete," a voiceover on the viral TikTok said.
The video, posted by user @SweetAdeline on the platform, then goes on to show the tattooed phrased edited from "My girl is a lawyer" to "Rudy Giuliani was a 'lawyer.'"
The clip has since clocked up more than 7 million views on TikTok, and inspired a number of other potential fixes for Davidson's tattoo.
Some other suggestions include "my squirrel is a lawyer," "my giraffe is a lawyer," and a Pokemon reference with "my Squirtle is a lawyer."
Kardashian previously discussed Davidson's tattoos in her honor, calling them "really cute."
"My girl is lawyer," is a reference to the star's passing the baby bar earlier this year in her pursuit of becoming an attorney.
"That one's really cute," Kardashian said during an interview on The Ellen Show.
She also revealed that Davidson got her first name tattooed on his chest, but not with ink.
"The 'Kim' one isn't a tattoo. It's actually a branding," she explained, which means he had the tattoo burned into his skin, rather than a regular ink tattoo.
"I just think he was like, 'I want something that's there, that I can't get rid of [like] my tattoos,'" the Skims founder explained.
He told her that he didn't "want to be able to get rid of it or to cover it up [he] just wanted it there like a scar."
Davidson also reportedly got a tattoo with the initials of Kim's four children with Kanye West, which reads "KNSCP."
Another of his tattoos, that reads Jasmine and Aladdin, is also believed to be a reference to their magic carpet skit on SNL.
Following the breakup, fans have been frantically trying to guess who could be Davidson's next romantic partner with Miley Cyrus, Julia Fox, Jennifer Coolidge and Martha Stweart named as potential suitors.
Newsweek has reached out to representatives for Davidson and Kardashian for comment.