Pete Dunne is Ready for His Next Chapter as NXT Tag Team Champion
There are almost 7,000 miles between Birmingham, England - the hometown of Pete Dunne - and Orlando, Florida, the home of NXT. But that's just a number to the former UK Champion who is building his legacy on the black and gold brand.
Starting his training at the age of 12, the 26-year-old brawler cut his teeth in the independents for promotions like Chikara, Progress and Revolution Pro Wrestling before participating in WWE's UK Tournament to crown the first NXT UK Champion.
While Dunne wasn't crowned in that tournament - he would lose to Tyler Bate in the Finals - his performance led to a WWE contract and the start of a new chapter for the "Bruiserweight."
It wouldn't be long until Pete was appearing on NXT and in live events. In that case the extensive travels across the pond while competing on two continents, while not something Dunne thinks about too much, make him admire the wrestlers before him who did it regularly.
"I have a soft spot for those wrestlers who used to bounce around different territories, if you want to use that word, or different parts of the world," Dunne told Newsweek. "You obviously have the William Regals of the world who really bounced around, and wherever they went they brought that British wrestling style that was unique. I've always had this fondness toward them. I feel like now is really the first time you're able to do that within one company, within the WWE, and I'm lucky that I've become the guinea pig for that in a way. Being the first one to come through that system and being featured heavily on NXT and so on and so on. I've been able to travel the world and represent WWE, and have that stability of being part of that one company. But [also] do what the people I look up to most did to build up their careers."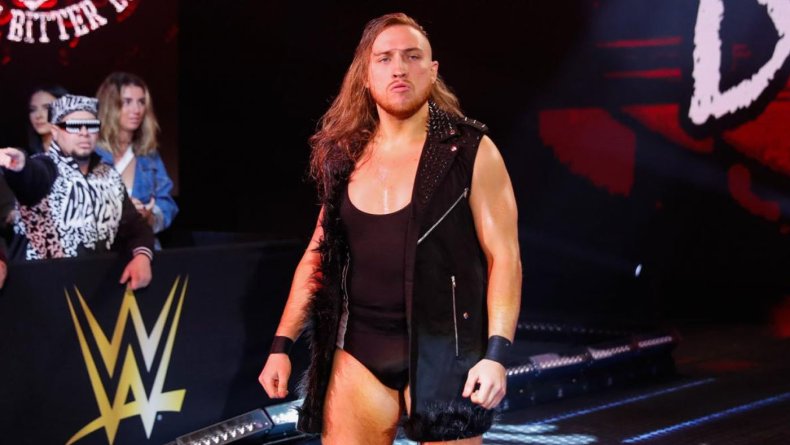 At NXT Takeover: Chicago in 2017, Dunne would defeat Bate in a match-of-the-year candidate to become the second NXT UK Champion, starting a monstrous 685-day reign. During his reign, Dunne would appear at independent shows wearing the title and appear regularly on NXT in Orlando ,often being featured in some of the top stories on the show.
While all of this was happening, WWE was launching its new brand, NXT UK, in July 2018 with Pete, Tyler Bate, Trent Seven and more as its foundation.
Dunne would become the face of NXT UK as its dominant champion, defending it against all comers including Zack Gibson and Joe Coffey. With the bulk of the show's episodes taped en masse, this allowed Dunne to continue appearing on NXT, getting into feuds with The Undisputed Era and whoever crossed him. That would later translate to main roster appearances on Monday Night RAW and pay-per-views like the Royal Rumble and Survivor Series.
Dunne would lose his NXT UK Championship to Walter at Takeover: New York and find his way back to NXT on a full-time basis. This, in turn, has opened the door for other competitors from the brand like Toni Storm, Imperium, The Grizzled Young Veterans, Kay Lee Ray and Moustache Mountain to appear more regularly on NXT television.
"I'm lucky to have this career where I haven't spent time nailed down to one brand," Dunne said. "I've been able to do other stuff like NXT UK, NXT in the states, being a part of RAW and various main roster tours, building up to the Survivor Series match with Adam Cole and being a part of the Royal Rumble... I've had this career where I come up unlike the stereotypical way most WWE talent do, and I'm grateful for that. And because of that I've become this sort of bridge between the UK and the U.S. NXT brand."
Now a full-time competitor of NXT, Dunne is preparing to move his family to Florida and start the next chapter of his career, which to him began with the 2020 Dusty Rhodes Tag Team Classic Tournament, named after WWE Hall of Famer and former NXT coach Dusty Rhodes who passed away in 2015.
The "Bruiserweight" paired up with Matt Riddle, a former MMA fighter, as the "Broserweights" to compete against three other teams en route to winning the cup and an NXT Tag Team Championship match.
"I've been doing a lot of great things over the past three years in the WWE, but the bulk of that was based in the UK. So it really feels [like] the new chapter of my career started finally," Dunne explained. "I never got to meet Dusty, but I knew how much he means to everyone in WWE, especially at the Performance Center. All the people I respect the most in wrestling respect him. And for both of those reasons it's great to have won the cup."
Not only did Dunne and Riddle's in-ring prowess make them a dream team of sorts, Matt's surfer-dude demeanor coupled with Pete's no-nonsense attitude endeared themselves with the NXT faithful.
An "unlikely pairing" as Dunne puts it, but it's a big reason why Pete feels the audience likes it so much. The two worked briefly in the independents and live events as a tag team, but their chemistry in and out of the ring propelled the duo to their NXT Tag Team Championship match against Kyle O'Reilly and Bobby Fish at Takeover: Portland. At that event the "Broserweights" captured the titles - the first for either wrestler on the NXT brand.
And while the chemistry with Riddle continues to be there, it wasn't always easy to establish outside the ring.
"The main challenge is being put into a tag team, where you've never done any tag team stuff before, even coming up with new moves and ideas," Dunne explained. "Also a challenging part is those vignettes. I've never been known for my talking, so it's been exciting to be challenged in both of those areas. Having said that, it's also come together kinda easily. As soon as we had that first tag team wrestling match, for us and the overall opinion seems to be, it felt like we were teaming for a long time.
The benefit of being on television is not just the matches we put together, not just the Takeovers the championship match or the Dusty Classic stuff, but to have those vignettes go out to show a different side of yourself, especially for myself. Since I've been in the company, I've been having those big title matches in the UK or showing the more serious side of wrestling. But to show that we can do both, we can make people laugh and get people invested in our matches as well, it's been a great experience."
A part of being champion is defending the titles, and the next challenge for the Broserweights is a rematch with The Undisputed Era on Wednesday night.
O'Reilly and Fish want to prove their loss at Takeover was a fluke, as Dunne and Riddle stand accused of being two singles stars thrown together. Pete has a lot of history with the UE, going into battle with them on multiple occasions, and he expects the match to be violent because of their shared past.
"The story for us is our tag team is a little thrown together. We don't want to be a short- lived thing. We want to be around for a long time, and it's sort of a changing of the guard in NXT. Undisputed Era had a great run, but now it's our time to build the tag team division behind us," Dunne said.
In the past, tag teams in NXT have come and gone. They were either singles stars that split, like Finn Balor and Samoa Joe, dissolved like DIY or moved to RAW or SmackDown like AOP, The Street Profits and The Revival. However, Dunne feels that, with this new era of NXT, things are different.
"People come in and move on, but now it doesn't feel that way anymore. We officially have our own TV show, so whether it's being a long-term tag team or singles wrestler or whatever, it's going to be about building this division behind me and Matt, and it's not necessarily moving on to the next thing right away," Dunne said. "It's about how long we can spend time here and build this tag team division so it's memorable."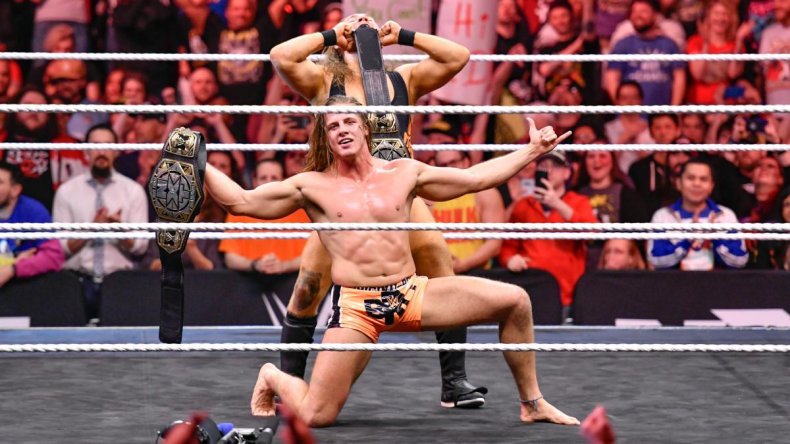 Dunne admits he still has singles aspirations, but he's enjoying tag team wrestling more right now because it's a new challenge for him. With WrestleMania season upon them and a spot at Takeover: Tampa in the balance, retaining the NXT Tag Team Championships on Wednesday is very important.
With that said, Dunne knows other teams like the Grizzled Young Veterans (Zack Gibson and James Drake) from NXT UK have their eyes set on the NXT Tag Team Championships as well, and he's happy to see those two getting a bigger spotlight on NXT television regularly.
"As soon as NXT UK became a thing, even before the UK Tournament was going on, one of our goals was to make other people in the UK bigger," Dunne said. "So I try my best to forge my way through, whether it's coming through a place like Progress or Over the Top (OTT), all these companies in the UK, and to forge a way. And to go from there to NXT UK to NXT to maybe being a part of the Royal Rumble or doing various main roster stuff... Having a clearer path for others to follow behind that makes it a little bit easier for something that's notoriously hard, to come from the UK and make a name worldwide in wrestling."
And if Dunne had it his way, that path would possibly go through WrestleMania. When asked if he and Matt Riddle could defend the NXT Tag Team Championship at WrestleMania like Rhea Ripley is with the Women's title, Dunne was quick to respond.
"If I had it my way it would be Moustache Mountain. To share a moment like that with those lads, or with anyone from the UK whether it's the Grizzled Young Vets or people like that, being able to share the success that comes with the growth of NXT UK with lads from over there that I grew up with either helped train or wrestled a million times, that's what's special."
The BroserWeights defend their NXT Tag Team Titles against Undisputed Era tonight at 8pm ET on USA Network.