Bianca Belair Says She's Not The Underdog at NXT Takeover: Portland, Talks Royal Rumble & Charlotte Flair
One of the most compelling storylines in NXT revolves around the black and gold brand's Women's Championship.
Currently held by Rhea Ripley, the brutal Aussie defends her title against Bianca Belair, someone who is no stranger to the title scene. The 30-year-old from Knoxville, Tennessee has had multiple opportunities to win the NXT Women's Championship against Shayna Baszler but was thwarted each time. Heading into NXT Takeover: Portland things are different.
After a star-making performance at this year's Royal Rumble, Belair has so much momentum that fans are beginning to question who will win on Sunday.
"This Takeover is going to be the first where I can say for myself and the audience that I'm not considered the underdog in any shape or form," Belair told Newsweek. "This Takeover is the first time when everyone has finally caught on and sees me as a true competitor."
Newsweek caught up with Belair to discuss her recent wave of momentum, past experiences and her upcoming match at NXT Takeover: Portland.
Note: This interview has been lightly edited for clarity and length.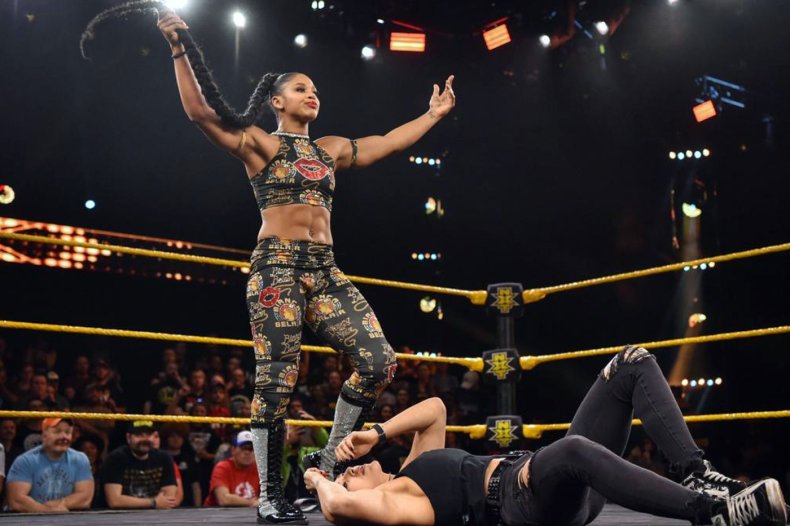 Since Survivor Series you've been on a tear, getting lots of fan support. How have these past few months been for you?
It's been great. I couldn't ask for it to be better in NXT. I'm going on three or four years [with NXT] in April, and I feel I've been here proving myself over and over. I'm the girl who came in who didn't know anything and was a little bit of the underdog. Now, everything is paying off, and I get to showcase my skills on a bigger stage like Survivor Series and the Royal Rumble. I am the best, I'm the "EST of NXT," and I'm grateful that I finally have those opportunities to show everyone that I'm not the underdog, I'm not the next star. I am the star, and I am the future.
Is there anything that's changed to your approach this year as opposed to past years?
I think it's always been the same. With my character, Bianca Belair, she's always super confident. I think it's confidence, others think it's cockiness, but I feel like I'm the best and I don't have a problem telling people that, so it's always been the same. I'm always trying to show everyone who I am. The only difference now is that people are finally starting to catch on and starting to see exactly what I've been saying. I approach all my matches and my training the same, and I'm a whole lot smarter. Things are picking up now because there is more traveling, more shows and opportunities, but my motto is to stay ready so I don't have to get ready. I'm always ready for every opportunity, I've been ready since day one, and I'm ready now.
Has the main roster exposure been more beneficial to you?
I think it's been very beneficial to me and to everyone here in NXT, especially with us getting on the USA Network. We've felt like we've been in NXT putting on these great matches and Takeovers, and you have all this talent. All we needed was the spotlight to shine. So when we got on the USA Network, we were going to do what we've always been doing. The NXT fans have always been behind us, but now everyone gets to see it. And [it's] the same for me, people finally get to see me. I've always been like "all I need is that spotlight" and I can shine. And that's all I've wanted to do, and I'm finally getting it. I feel like everyone is catching on, and Bianca Belair is nothing to mess with, so it's just me dealing with that. But it's been good. It's been a fun ride, and now it feels like everything is paying off.
You had a star-making performance at the Royal Rumble. Can you walk me through that experience?
The buildup was the hardest for me. The easiest for me is when I get in the ring and my music hits. That's the fun part. The hard part are the parts people don't see. Getting into the arena early and hanging out hours before the show starts. But I had to make the most out of this opportunity. I knew this was going to be a make or break moment for me. Once I got in there I was fine. I just let my body take over and let it do what it does. Afterwards I remember having a huge sigh of relief that everything went well, and it didn't hit me until the next day. First I was it's over with, I'm glad I'm healthy, I think I did very well. I was in front of thousands of people, [laughs] and how I got highlighted. It was validation for me and everything I put into Bianca Belair in NXT and WWE, and it's finally paying off. That's the best feeling in the world. And it gives me more confidence than I already had.
Do you remember the match at all, or were you on auto-pilot? What was your favorite elimination?
My entrance was the funnest part [laughs]. When my music hit and hearing the crowd, because it was such a long walkway, I had the most fun there. I remember bumping to my music and that was the funnest part. In the ring, being with Alexa Bliss was fun. Alexa Bliss is fun. She's great to work with, it's a great dynamic. My size to her size, my skill set to hers, we really created magic in just those two minutes. I'm really excited to work with her someday.
And my elimination of Alexa Bliss was my favorite. I was also excited to get in the ring with Charlotte and Naomi. I think we spoonfed everyone, and I'm excited to get in the ring with those girls again.
Charlotte has given you high praise in past interviews. How did it feel to work with her?
That's a feeling. Coming into NXT I didn't know anything. I didn't watch the business growing up, so I was playing catch up from the very beginning. I remember starting to watch and following everything, and the first person who caught my eye was Charlotte Flair. She had that "it" factor. Her moveset, her presence, everything about her had that "it" factor. She was the one person that, if you saw her, that's what you need if you want to be a superstar in this business.
Four years later I have that same person talking about me and saying all these good things. It gives me confidence, but, at the same time, I'm ready to be in the ring with her now. I want to be in the ring with the best, and doing that brings out the best of me. It's crazy to think that the person I looked at when I first got to NXT is now talking about me. I don't want to say validation again, but that's a feeling of "you know what you're doing, and you're ready." And I'm ready.
You then had a segment with Charlotte and Rhea on NXT about being overlooked. What was it like being in the ring in that moment?
When I get in the ring, I don't know what happens. Something just takes over and Belair does her own thing. That's the best way I can describe it. I don't plan on being a certain way. It's Belair's natural reactions, and, if I feel like I'm being looked, over and I'm just reacting "for real? That's what you're trying to do?" And Belair just takes over in the ring. She's her own person, and she's a character. I just feed into whatever is happening, and it's natural.
Does that include the "You don't even go here" line?
That's from Mean Girls. That's one of my favorite movies that we used to watch all the time when I was younger. That was the first thing that came to my mind, first with Toni Storm and then with Charlotte. I'm sitting here, having all these matches and putting on shows and showing Belair is the best.I'm waiting in line trying to take this title, and you don't even go here.
That's the first thing that came to mind. It's something that's been there since the movie came out.
You've been saying that your whole life then?
Yeah. It's always in my head, and it came out in the perfect opportunity and [at] the perfect time.
This is not your first opportunity for the NXT Women's Championship. What have your past experiences done for you leading up to this match?
This Takeover is going to be the first where I can say for myself, and the audience, that I'm not considered the underdog in any shape or form. When I first fought against Shayna a lot of people didn't catch on to what I could do, and some people even questioned why I was there. I proved myself in Phoenix, and then I had Takeover New York in the Fatal Fourway with Baszler, Io Shirai and Kairi Sane, and I was the least experienced girl in that match.
I was the least experienced and the underdog and fighting to keep up with the girls. And at the end I proved that, not only can I keep up with them, but I can shine in the ring even amongst them.
This Takeover is the first time when everyone has finally caught on and sees me as a true competitor. They see Rhea Ripley who is a powerhouse in NXT. She's brutal, dominant, strong, and you have Bianca Belair: the strongest, fastest, toughest, roughest, she's the "EST of NXT." And these two girls who don't have a problem with each other. These are two girls who could and should be champions, and they are competitors. We just want to win. I think that, coming off the other Takeovers, I learned to adapt, take my losses and use them as motivation. I have a whole lot more confidence going into this match. I have a lot more grit, will and there's nothing on the line besides winning. I want to become the NXT Women's Champion. Everything has been happening for me this year, and it's a perfect opportunity for me to win and become the NXT Women's Champion.
In the past you weren't able to defeat Shayna. Would winning on Sunday put that behind you, or is there unfinished business?
It's always going to be unfinished business [laughs]. I never feel like I have to stop proving myself, because there is always going to be someone who challenges me. But even if I win the title, yes there will be some validation, but when you're the top dog, there's always going to be a target on your back. That's when it gets even harder. I haven't held gold yet, but I've always managed to be in the conversation. Biance Belair is always in the conversation, always in big moments. Regardless of how Sunday goes, Bianca Belair will always shine.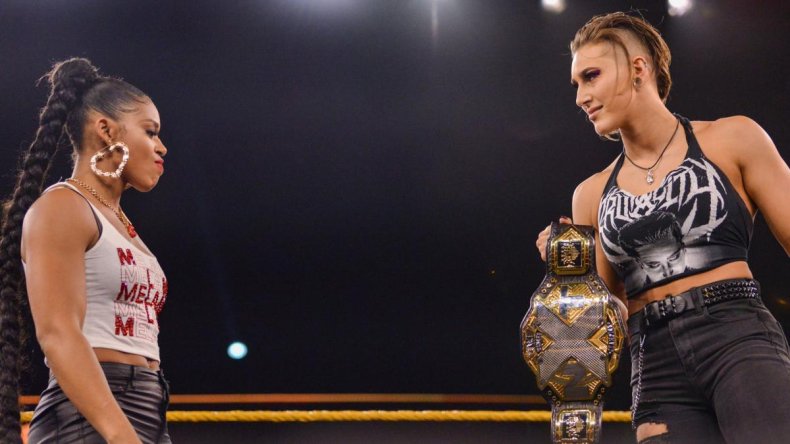 Shayna appearing on RAW this past week puts in perspective how talent can move. With all the talk that talent can move and your husband [Montez Ford] on RAW, is that something you think about it?
I focus on the things I can control. Right now I'm in NXT, and that's what I'm focused on. I feel like I stay in my lane. I don't worry about what's going on with everyone else. I just worry about what's going on with me in NXT. With that said, NXT is very close to my heart because I am NXT. I'm a homegrown talent. I'm a product of NXT, and their training and the facility, so being in NXT I love it. It's my home, it's my family. I love my journey. I have so much that I can do here. So, regardless if I stay in NXT or not, it doesn't matter to me because I have a lot I can do here. And yes, my husband is on RAW, so, if it does happen, I'll be happy if I go to RAW or SmackDown. Belair will shine wherever she is. But I feel I have unfinished business here.
When you talk about people finally realizing what you can do, there's a huge wave of support for you going into Sunday. How do you feel having all this momentum of people wanting you to win?
I don't know how it makes me feel. On one end it makes me feel like, now that people are behind me and want me to win, is a good feeling. On the other hand there's some bitterness. People are like "oh I'm finally on the Bianca Belair bandwagon," it's kind of a thing that if you're with me or not, I'm just going to do what I do. But it's best that you're with me.
NXT Takeover: Portland streams live Sunday, February 16 at 7 p.m. EST on the WWE Network.