Rhea Ripley Talks Becoming the NXT Women's Champion and Defeating Shayna Baszler
Rhea Ripley arrived at Full Sail University - the site where she would dethrone Shayna Baszler and become the new NXT Women's Champion - around 10:30 Wednesday morning. She wasn't supposed to arrive for another four hours.
"I was legit sitting around all day just freaking out," Ripley tells Newsweek. "I'm just sitting there watching everyone do their thing and thinking to myself 'when is it my time,' but that never came."
Ripley explains that her early arrival was a result of a lack of sleep caused by nervousness. It's not everyday you're main eventing one of the biggest matches of the year. The 23-year-old Aussie woke up Wednesday at 7:30 that morning, and she knew something was off when she took longer than usual to pick out her outfit for Full Sail. To her own admission, Ripley's closet is full of similarly styled black clothes, so for it to take awhile to get dressed made her realize she "wasn't with it."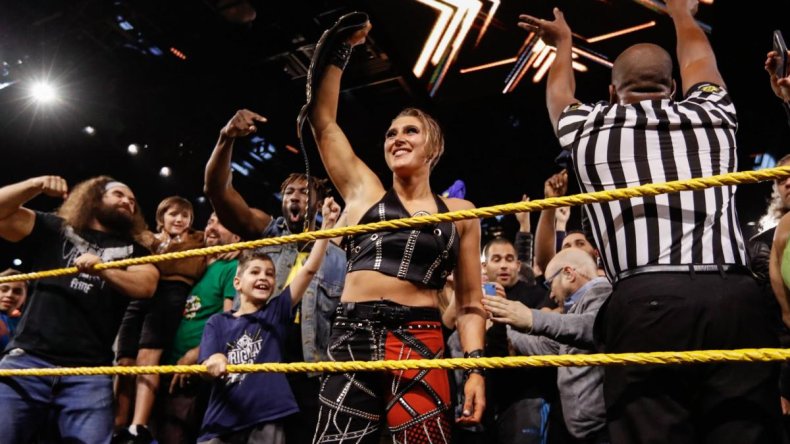 After hours of waiting and living off snacks, the NXT team was finally ready for her. Ripley filmed arrival shots, two videos for the Performance Center YouTube channel and dressed into the same gear she wore at WarGames. The Nightmare on Elm Street-inspired getup tore during that brutal match, but seamstress Sue Kotulski fixed it up and got it ready for "The Nightmare's" title fight.
Ripley would have her first meal at 5:30 that evening before being forced to wait around again.
"I was left with my thoughts sitting there for all those hours, and I had no idea what was going on. I have bad anxiety sometimes, and it was kicking in at that point," Ripley thought. "I was just like oh my God, should I start stretching now? It's too early, I don't go on until like 9:30."
Shayna Baszler and Ripley's match was announced as the main event earlier this week on what's essentially the final NXT episode of 2019. WWE booked Wednesday's show with two title matches. The Adam Cole and Finn Balor match for the NXT Championship was scheduled to start the show, which itself has gained a lot of praise from fans. It was a testament to both competitors, and the storytelling of the feud between Ripley and Baszler, that NXT would situate the women's championship as the main event over a match between one of the promotion's best performers and a returning champion.
"It's a feeling that I can't really describe or match, but for them to have that much faith in me is absolutely incredible, and I'm honored to be trusted with that spot," Ripley explained. "And Shayna and I didn't hold back. We definitely went to town and beat the crap out of each other. We owned that spot, and we stole the show."
And steal the show they did. The Full Sail crowd was at a fever pitch for the majority of the match, cheering and chanting for Rhea to conquer Baszler, whose reign seemed never-ending. The Queen of Spades had enjoyed a 416-day reign going into Wednesday's bout.
Ripley says there are moments during her matches that she is locked in with her opponent and drowns out the crowd, but Wednesday there was no stopping her from feeding off the Full Sail faithful.
"Every now and then I'd snap into just me and Shayna, and that's all I'm thinking about. But sometimes I can hear everything the crowd is saying and I feed off of that a lot," Ripley recalled. "But there's one part of the match that really got me, and that was when [Shayna] DDT'd me on the chair."
At that point in the match, referee Antrone Brewer took an inadvertent bump that allowed Shayna to introduce a chair. Ripley pointed out that when she and Baszler had a one-on-one match a few weeks prior to WarGames, Shayna introduced a chair then as well. In that fight, Ripley took the chair from the champ and used it on her, disqualifying herself. This time it was a different story.
"When Brewer finally woke up and I still kicked out, everyone went bloody ballistic," Ripley said. "When I was laying there I was tired and sore, but I thought, 'this is really cool and amazing right now. We got them.'"
Rhea felt equally dialed in when she was trapped in Shayna's signature submission, the Kirifuda Clutch. Feeling herself slip into a sleep, she had to grab Brewer to stop him from ending the match.
"I'm a very sassy sort of character, so when I grabbed Brewer I was feeling it. I was totally in that moment," Rhea said with a laugh.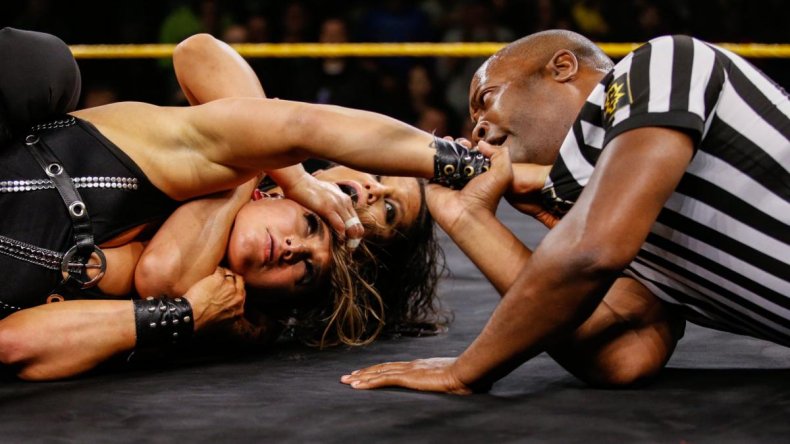 Ripley also recalls a part of the match that fans watching from home didn't get to see during an ad break. Baszler's friends, Marina Shafir and Jessamyn Duke, put Rhea's shoulder into the corner on the outside. A doctor would come down from the back to check on the challenger.
"The doctor comes near me and when I'm in the match. I feel like I'm in the match. It feels so real to me," Ripley explains. "So when the doctor asks me 'are you ok? Can you continue? I legit grabbed him so hard, and I was like 'get...off of me. I'M FINE,' and I pushed him." The doctor even approached Ripley backstage after the event to comment on the strength of the grab, and she was kind enough to apologize.
The doctor wasn't the only talent who met Rhea backstage after her monumental victory. Triple H, William Regal, trainer Sara Amato and the other women in the locker room gathered around to applaud the match and her win.
"It makes me so happy to make everyone proud. I think I did my job right, and this is what I've been working for my whole life," Ripley said. "I've been wrestling for seven years now, and this is why I do it. This is the feeling I love to get from wrestling."
A lot has been said about Shayna Baszler's reign as NXT Women's Champion. She's the longest-reigning champ in the promotion's history, in terms of combined days, and her star continues to rise after high-profile matches during the build to Survivor Series against RAW and SmackDown Women's Champions, Becky Lynch and Bayley.
"Taking the title off of Shayna after she held it for such a long long time, it's a frightening feeling," Ripley said. "At the same time I'm confident I can fill her shoes, take over her role and make her proud, because Shayna is such a great competitor and such a dominant force."
Ripley's mood changes as she talks about some of the comments she sees online about Baszler.
"I read a lot of things on Twitter, and I see a lot of things about Shayna and about me. I absolutely hate it when they rag on her and say she's boring," Ripley says. "She's a heel, she's not supposed to be exciting. She's not supposed to make you like her. She's not supposed to do any of that stuff. She's doing her job right. And I hate when people disrespect that fact. So to go out there and put on a match like that with Shayna and prove to everyone how wrong [they are about] not only me but her as well,it's a feeling that can't be matched. I just love proving people wrong."
Ripley knows about being a heel, as she was "the bad guy" when she was in NXT UK. "The Nightmare" was the promotion's first women's champion and was the foundation for its women's division. Her character has shifted since coming over to NXT stateside, but her time in the UK has prepared her for this new chapter in her life.
Ripley attributes learning how to carry herself as a champion, becoming more confident in herself and growing as a performer to her time as NXT UK Women's Champion. Now she's ready for 2020 and anyone who is willing to step up to her.
"I'm just feeling excited for whatever comes next. I just want to fight. I grew up wanting to be a professional wrestler, and that's exactly what I'm going to keep doing," Ripley said. "If people want to challenge me for the NXT Women's Championship I'm ready. I haven't gone with Dakota yet, so I'm looking forward to kicking her if she ends up coming for me. If Mia [Yim] wants to go, let's go. Candice [LeRae], anyone. I'm ready."