Shayna Baszler Talks NXT Invasion, War Games and the WWE Universe Not Being "Prepared" For Her
This year's Survivor Series pay-per-view changes up the formula a bit. NXT, the once developmental brand, is "going to war" with SmackDown and Monday Night RAW to determine which show is the best.
NXT invaded Friday Night SmackDown following Crown Jewel and continued its assault a few days later on RAW. At the forefront of it all is NXT Women's Champion Shayna Baszler.
Not only is she one of the most dominant champions in NXT history - man or woman - she is also challenging the top women of both brands at Survivor Series.
Oh, and let's not forget she's captaining one team of the first-ever women's War Games match at NXT Takeover against Rhea Ripley and her team. So to say Baszler has had a wild week is an understatement.
Newsweek caught up with the NXT Women's Champion to talk about the invasion of RAW and SmackDown and preparing for War Games.
Note: This interview has been lightly edited for clarity and length.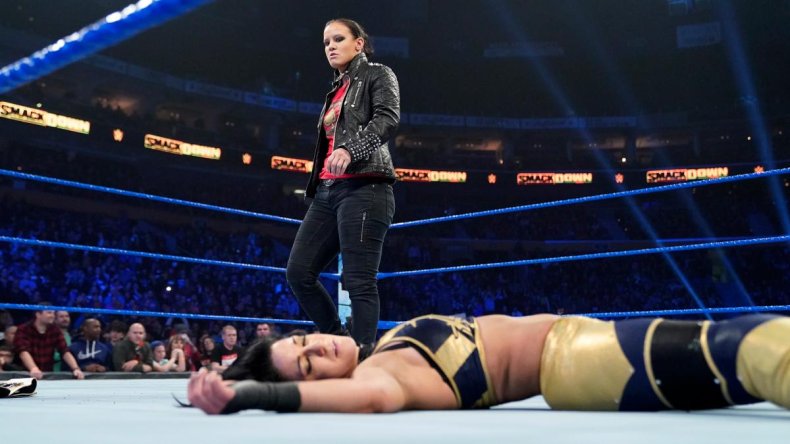 Your arrival on Friday Night SmackDown marked the start of this NXT takeover. What was your mindset going into Friday?
It's what every athlete in any sport dreams about. Us getting called and showing up on SmackDown is the equivalent in our world of the pinch hitter getting called in the ninth inning with a 3-2 count with two outs and is asked to deliver. Or the starting quarterback goes down and we have to go in there and put together a game-winning drive. This is everything that you dream about when you're doing sports. It was pretty wild.
What were you hoping to accomplish in that moment?
We wanted to put everyone on notice. We are very aware that NXT has a dedicated fan base and its very popular with the hardcore audience. But I think all of us going in on Friday knew that we were going to be exposed to a much broader audience, a more mainstream audience, and we had to make this count. We had to deliver because this is the first time a majority of that audience is going to see us. I think we knew that, and the pressure was on. It goes to show you the type of training, and not wrestling itself at the Performance Center, but the training to be in front of an audience and cameras. We were ready [for it].
Speaking on debuting in front of a mainstream audience. On Monday you made the point of saying to Becky Lynch, "I'm not Ronda Rousey." How important was that to get the point across?
We talk about the mainstream audience maybe not knowing exactly who we are. But [if] there's one thing that people who do watch RAW and SmackDown know it's that I'm Ronda's friend. And believe me, we share in each other's success and celebrate with each other like normal friends do. But I've always wanted to make it very clear that she does her thing I do mine. I just want to make it clear from day one that we're friends, but you're dealing with a whole different animal. Just because you're prepared for one doesn't mean you're prepared [for the other]. And I don't just mean Becky, I mean the audience. Just because they know [Ronda] doesn't mean they are prepared for me.
In your own words, how would you describe your style compared to Ronda's?
Just in a pro wrestling sense I have a different pace to how methodical and strategic I am. I think Ronda, and if you follow her MMA career she's the same way, but she goes for the quick kill and does as much damage at once. And I'm going to pick you apart piece by piece and get enjoyment out of solving the puzzle that is a human. You're just going to see a different pacing and a different form of viciousness.
Would you say that makes you more dangerous?
It makes me a different type of dangerous.
You arrived on SmackDown and had that moment with Bayley and Sasha. Their contributions to NXT are well-documented. How do you feel getting in the ring with them?
Bayley and Sasha really put eyes on the NXT Women's division and the women's division as a whole. And Bayley has won every woman's title that's available right now. So getting in there and making a statement right off the bat was what we needed.
I arrived in the arena and I ran. No exaggeration, I left my bags in the shuttle and ran to the ring. So, as stressful and nerve-wracking as that was, it was a blessing because I didn't have time to think. Before I knew it, it was over. So yeah, it was a double-edged sword there.
We're talking about Survivor Series, but there's War Games to be had. How do you feel being a part of the first women's War Games match?
Throughout my sports career been involved in these pivotal, history moments and not just be a part but active. It's just crazy because you hear these mumblings of "when is Shayna going to RAW or SmackDown," but I'm so thankful that I haven't because when the women's War Games match was announced you saw a bunch of former NXT women superstars tweeting that they wish to be a part of it or saying, "hey I'm available for this match." And I'm glad that I'm here being a part of it and not saying, "man I wish I was a part of that." I'm a part of all this stuff right now and it's crazy. It's a really cool time to be a part of it the way that I am.
Rhea Ripley is the captain of the team you're going to face. What can you say about her?
It's always a fun challenge when you go against someone new. The energy of a War Games match, we're very similar in our ring styles. We're not going to do a bunch of flashy stuff. We're just going to bring violence, and I think for this sort of match that's what you want from your captains. We're going to see what happens.
Shayna, the character, has made a lot of enemies in the NXT locker room. Would she be wary of who she picks?
I'm coming into this at a lucky time because everyone hates everyone. Sure, I'm not here to make friends. I'm here to defend the title, and I've put myself in a position that I've done that very well. I have a few cards to play to give people what they've been wanting in terms of the locker room, so we'll see how that goes.
Note: Following this interview, Shayna announced on WWE's The Bump that her first two picks are Bianca Belair and Io Shirai.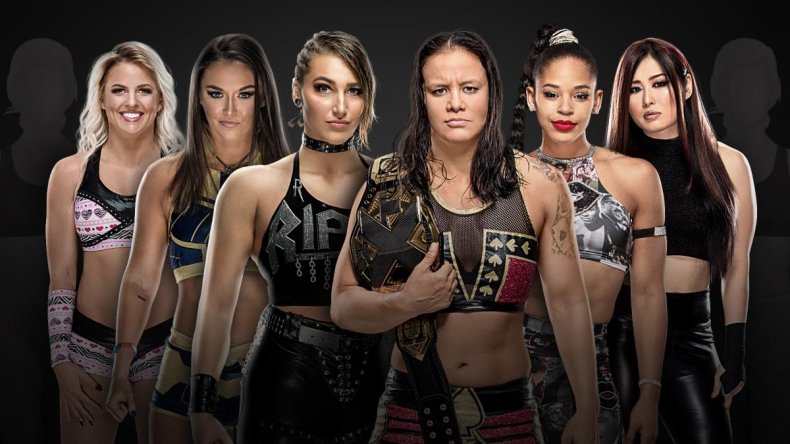 How do you prepare for a War Games match?
The thing you take from War Games is that there is not a real way to prepare for this. The nature of it, two rings the weapons involved, you can't watch a War Games match and say you're ready. You have to understand that everyone is going to be limping out, and that's the one thing you can prepare for. With that being said, the time I've spent being locked in a cage with people with the intent of hurting, I won't be as intimidated by the steel structure itself than some of the other girls will. I have that going for me, but this is an expect the unexpected type of thing.
You're becoming one of the greatest NXT superstar of all-time, man or woman. What do you hope your legacy is?
In regards to NXT and the women's title and the division. NXT is a place where the emphasis is heavy on the women. And every time the women are called to perform and push passed their comfort limits and take it to the next level they deliver. I just really hope people can look back at my legacy and say, "yes she was a part of that lineage that always delivered when asked."
NXT airs live weekly on USA Network at 8 p.m. EDT.