Shayna Baszler Talks NXT's Transition to Live Television and What She Can Still Bring to Women's Division
While the NXT Women's Division has become deeper and more accomplished, there's been one constant: NXT Women's Champion, Shayna Baszler.
The "submission magician" has become one of the most dominant wrestlers in NXT history, becoming the first two-time NXT women's champion. She holds the title, and the division, on her shoulders as the promotion starts a new era on the USA Network.
Newsweek spoke with the NXT Women's Champion ahead of her match against Candice LeRae to talk about the transition to live television and what she has planned for NXT.
Note: This interview has been lightly edited for clarity and length.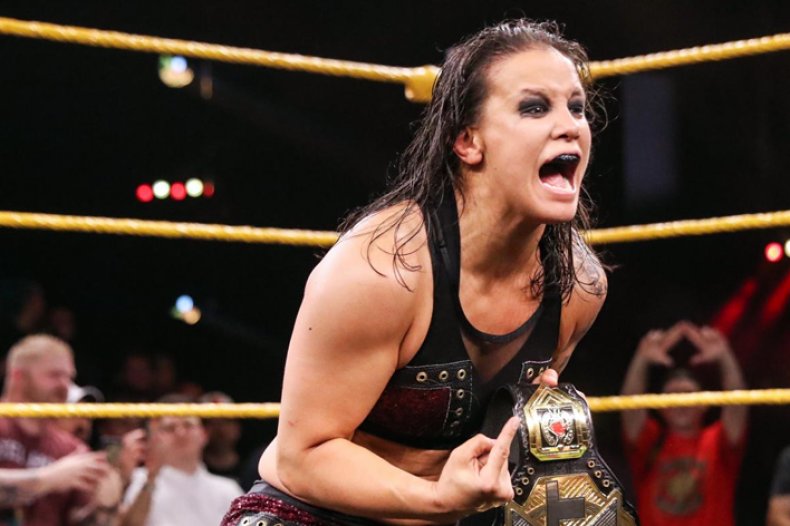 Feelings going into this week's episode?
I feel great. I've always been a gamer in any sport I've done. When the pressure is on, I perform a lot better.
This is a great time to show the world, and with an opponent as experienced as Candice, to not just show the world what I can do but to show the world what our women's division can do. The girls did a good job of that on the first episode. Just to show the [viewers] that that's the norm and it's not an anomaly. That was the norm for us.
Is there a pressure to be the face of this division since you've been on NXT television longer than many of the women in the roster?
There is a pressure just because. Not so much put on me because I'm "the face" and I have to act a certain way, but because of the history of what the women's championship means to this division. NXT has always placed a high value on the women's division and the women's title, so to just be a part of that legacy there's pressure regardless. We have the best coaches in the world, and I'm pretty lucky since the beginning, even before I was signed, to have the best coaches in the world. I've gotten lucky.
Those coaches helping your transition from MMA to wrestling?
I think my MMA background is very much in catch wrestling in a nutshell. Catch wrestling is pro wrestling, so it's basically MMA. It's very translatable. So I think just being very much brought up in the catch wrestling background, even more so than say someone with a brazilian jiu jitsu background... And there's guys like Matt Riddle with MMA backgrounds that are super successful. I'm not saying that's not it, but it definitely helped with my transition. And Josh Barnett and Billy Robinson being my coaches in MMA, [they] are pro wrestlers themselves. They are the type of old-school coaches that are going to train me for here, so it's easier.
How has your transition been going live?
It's been an interesting thing to have to worry about different TV aspects like watching your mouth or something like a t-shirt you wear. I don't know if this is a story I should tell, but I have a 1969 Mustang, and it's my prize possession. I have a shirt that says "I heart 69 mustangs," so I was going to wear it and I put it on social media but just the camera shot showed "I heart 69" and they were like, "No we are on tv now, so you can't." It's stuff I didn't think of because I'm just all about my car. The point of [the performance center] is to groom us for TV, so when it was time to pull the trigger, we found that we were more ready than we thought. It was scary until we got in there, and then it was "OK, we got this."
What's next for Shayna Baszler in NXT?
I just want to bring back that grimy, no-nonsense realism that the women's division has been lacking. And as long as I can stay true to that, the rest will take care of itself. I'm from the midwest, so I believe as long as you put your nose in the dirt it all comes out in the wash. It might take you a couple years longer than someone else, but I'm fine with that, and I think I'm finally seeing the fruits of that.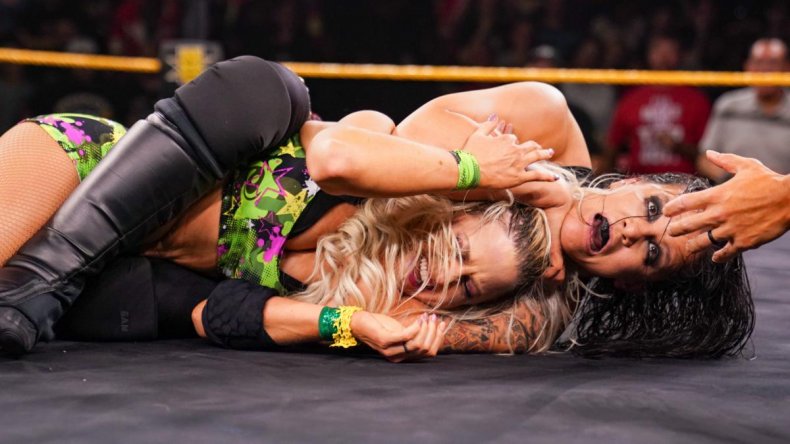 You can call yourself a veteran now. Have you found yourself in that role to mentor other women?
Obviously you have to step into these roles. This isn't the type of sport or place where they assign those roles. You step into the roles as they present themselves. We are getting new talent all the time, so helping them not just in the ring but with stuff around the PC. I'm in charge. I gotta make sure things are in order.
Have you thought about your legacy and the women who came through and what it means for NXT going live?
The girls that came through here from the beginning have all set the tone for how great this division has been. And if people are ever interested in watching that they can, and they'll see that it's been this great. The thing I keep saying is we aren't holding back. It's not like all of a sudden the reins are off. We've been doing this. Now everyone gets to see it on a bigger stage. It's not a case of "when we get on TV now we're really going to have good matches." It's not any different from us. The groundwork was laid out for us, and we are just continuing what we came into.
Even if the time comes you have to leave NXT, do you feel this place is in good hands?
Oh yeah this place is in good hands no matter who is coming through here. The bad apples weed themselves out. This is not a business you can't be in if you don't truly love it, and if you truly love it that encompasses everything.
NXT airs live every Wednesday at 8 p.m. EDT on USA Network.