The NXT Women's Division is the deepest it's ever been. With bona fide stars like champion Shayna Baszler, Io Shirai, Mia Yim and Bianca Belair, the NXT faithful have been treated to some amazing stories and matches in recent months.
One member of the Women's Division that has seen her star rise in recent months is Candice LeRae. The California firecracker made her name in the independent circuit before signing with NXT in early 2018, and, while she was a fixture on television, she wouldn't truly burst onto the scene until her Takeover: Toronto match against Io Shirai, one of the best women's matches in WWE this year.
Candice's momentum would continue despite the loss. As she would win the Fatal Fourway match on the NXT premiere on USA, she would finally get her first NXT Women's Championship opportunity against Baszler. While she would lose her shot, the match and her performance has put LeRae at the top of the card for good.
Newsweek caught up with Candice LeRae before her match against Baszler to talk about her sudden rise up the card and how she prepares for big matches.
Note: This interview has been edited for clarity and length.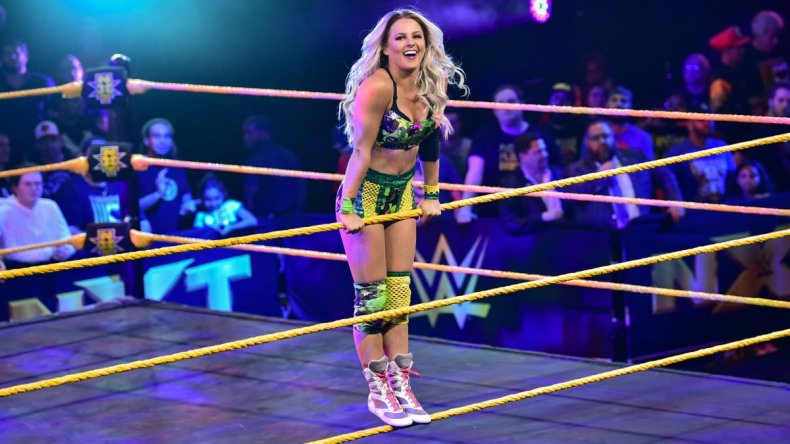 How was the transition for you going live?
The commercials at first scared me. I was going "oh no, if commercial break happens and something crazy is happening what do we do?" But that's what makes this brand so special. We are going to be us, and we are going to do what got us to this point. And it wasn't worrying about the commercial breaks, it was "go out there and do your thing" because that's what got us all here. I love that we are straying true to what the brand is, and we're not going to do anything different.
How did you react finding out your Fatal Fourway match was going on first?
I didn't believe them at first. I thought it was going to change. There was a rumor going around, and they told us the first match might be the girls or the first match might be something else. And then they told us, and I'm going "oh....are they sure?" This locker room of women is phenomenal. They are the best I've been around. They are so amazing, but then I'm going," but first? The show is starting and Triple H is doing his thing and then it's us? Huh?"
Then I started to think that it will change like they'll have Johnny [Gargano] go out and do this or have Undisputed to that instead. And then the day of the show they haven't changed it yet. Hearing them give all the info that day , I felt pressured and we are going to stack this on top. "No pressure, go out and kill it guys." You can't say all those things. It doesn't work [laughs].
When we were backstage and we were getting ready, Hunter came over to talk to us and it was supposed to hype us up, but I felt like a horrible person when he walked away. He needs to stop talking to us I'm so nervous and I know he's trying to encourage us, but it's making it worse. I don't know how it was for the other girls, but for me, I felt like this person I watched as a child and respected is coming up to me and is now my boss and is like "oh you guys are going to do great, and you are the first thing they are going to see." And he's pumping us up and he walked away and I was like "oh my god."
If I do a bad job he's going to be so disappointed. He told us so many times "you ladies are in this position for a reason, and you wouldn't be here if we didn't have all the faith in you guys. That's something that is so cool. They are so encouraging of everyone, and I feel ,especially in NXT, we are not treated differently because we are women. We are treated equally because we are humans, and I love that.
After you were done and went backstage what was the reaction?
[Triple H] was so happy. We did an all hands in type thing and hugging and stuff. It was unreal.
Your rise to the title scene sort of came out of nowhere -
It was a bit abrupt. [laughs] I will say I kind of thought that it would be more of a journey to get to this point. And not to say it wasn't a journey, it's been a 17-year journey for me to get here today. But now, I feel that I didn't have time to mentally prepare for this. I'm just going to wrestle and climb my way up this ladder. But it was like someone threw me halfway up the ladder and I'm at the top.
You match with Io Shirai at Takeover was a coming out party for you to many fans, how did you feel after that match?
When I got [to NXT] I felt I was sacrificing who I was for no rhyme or reason. I think then I was being insecure. The match with Io forced me to deliver and be myself. And now I feel like I'm wrestling like I always had before coming here. And now I'm able to give fans the me I've always been and should never sacrifice that again, because I want people to see the me that they liked before me getting here, and I want the people who don't know who I am to see that version of me too because that's who I truly am. I want them to feel the love for wrestling that I feel.
What do you mean by sacrifice?
I think I just hadn't been myself when I got here. I didn't feel confident in anything I was doing basically, [laughs] so when I'm not confident in it, I'm like "do I want to spring off the ropes and flip on somebody? Or do i want to fly in the ring and crash and burn?" The thing is, a lot of the things I do are so risky. The willingness to risk my body for these matches is what I sacrificed the most. And it's not the fans fault. It's just I felt insecure with what I was doing, and I was fearful to do it. And now I'm like, "you know what, if I'm not going to give it my all and do me, then what am I doing?"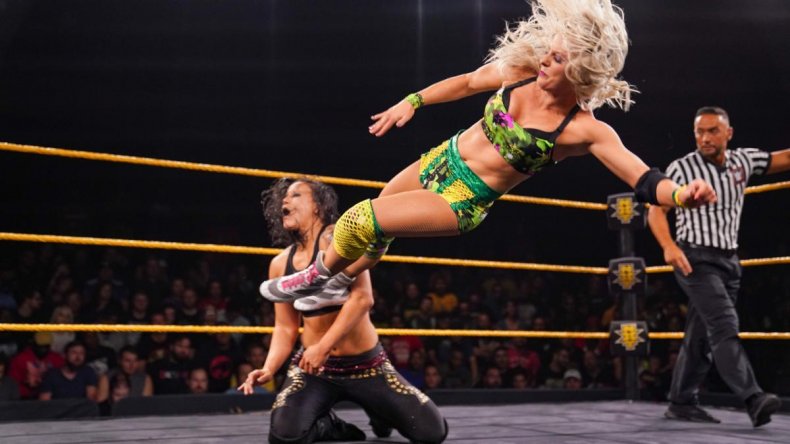 Talk about Shayna Baszler and her reign as champion and what you can bring to the title that's different.
She's definitely had a lot of success here and for a good while. She definitely deserves it and she works hard and earns it. There's a part of me that says, "man I've been doing this for so long and have so much to offer than she does." we are such different kinds of competitors. She has this MMA background, and I just throw my body at people and see what happens. She has a tough-guy demeanor about her, but I'm tough too in a different way because I can endure the beating. We have so many differences, but I feel maybe we need a change.
How do you prepare for your big matches? Are you constantly talking with Johnny?
The morning of Takeover, I hardly spoke to him, and I felt so bad. He kept saying things to me because he's very calm and collected on Takeover days, big events and pressure situations. And not to say that I freak out or panic, but I handle them differently. I'm very focused and in my own world. And it's not that I'm mad at him or not paying attention to him, I'm just in the zone. And then he's like "are you ok?" and I'm just very nervous and don't want to sacrifice anything. I want to be in the right place. The only thing he has told me, especially with the first week I was so nervous at being live, he said, "but you've been wrestling live shows your whole life," and he's right.
NXT is live every Wednesday night at 8 p.m. on USA Network.
Uncommon Knowledge
Newsweek is committed to challenging conventional wisdom and finding connections in the search for common ground.
Newsweek is committed to challenging conventional wisdom and finding connections in the search for common ground.
About the writer
Phillip Martinez is a game and culture reporter for Newsweek. Prior to joining Newsweek in 2018, he was a reporter and editor for iDigitalTimes and Player.One. A Bronx native, he graduated with his Bachelor's degree in Journalism from St. John's University in 2010. An avid Nintendo fan and wrestling mark, he's always looking to become a Pokémon Master while fantasy booking this year's WrestleMania. You can contact him at p.martinez@newsweek.com