The rise of NXT is the biggest takeaway from this year's Survivor Series pay-per-view, and a large part of the black and gold brand's dominance is Rhea Ripley.
The 23-year-old Australian has asserted herself as the top face of NXT and a dominating enough force that even the women of RAW and SmackDown have taken notice. It's not everyday that Charlotte Flair is pinned or that RAW Women's Champion Becky Lynch is taken to the limit.
Ripley also had one of the biggest weekends in WWE history, winning the first-ever women's WarGames match at Takeover - pinning NXT Women's Champion Shayna Baszler - and winning the traditional Survivor Series match for NXT by pinning Sasha Banks.
Newsweek caught up with Rhea Ripley ahead of this week's match with Dakota Kai to talk her journey toward being the most talked about superstar in WWE.
Note: This story has been edited for clarity and length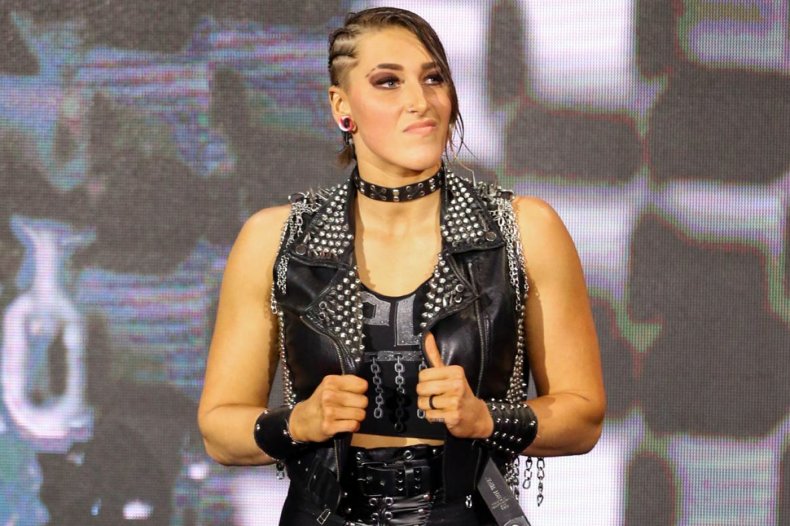 A year ago you were at Evolution defending the NXT UK Women's Championship, and now you're the talk of the company. How are you feeling?
It's incredible to be honest. I can't put it into words how happy I am about everything, and to even get my name out there, let alone be one of the top stars at the moment. It's absolutely insane, and I can't wait to keep going out on Wednesday night to show them what I can do.
Your journey being the foundation for an entire division in NXT UK to the centerpiece of what's going on in the main roster of NXT is fascinating.
It's insane. How far that I've come even from the first Mae Young Classic to now it's insane to see myself become who I know I truly am. And even from Evolution to now, going into work every single day, giving it all I have and working my ass off there and in the gym lifting weights. It's insane to have people recognize me for my work and get behind me. And I couldn't do it without the support behind me from the fans. It's been such a tough journey, but it's also been rewarding at the same time. I can't wait to see where it all takes me, From going to the Performance Center every single day and not giving up on what I truly knew what I was worth or knew what I can do, to now going out there for WarGames, it's absolutely insane. And then going out there the next night for Survivor Series and winning for team NXT. It's t been a wild wild ride and I hope it never stops, but we'll see where it goes.
A few months back when you first appeared on NXT were you nervous?
Oh definitely. I went out there to confront Shayna who has been the champion for so long now. She's been dominating the women's division here on NXT, and to go out there just for being in NXT UK, it was like my first appearance since I changed my look and get up and my attitude. I was going out there blind. I didn't know how the crowd would react, especially from being such a heel in the UK, but once my music started playing yeah [the crowd reaction] was so loud from back there. I was trying to fight the smile off my face because I knew I wasn't going to be smiling out there. That's not the goal or what I had to do. It was just so amazing to hear and see everyone get behind me, and I'm never going to forget it. Without that crowd reaction, the support that I got and love from the fans I wouldn't be in the spot I'm in now. All I can say is thank you to everyone who was there that night for getting behind me.
You alluded to being a big heel in NXT UK and now you're the top face on NXT. How is it going back and forth?
It's been weird. It's been so strange. I would go out there and try and be the biggest prick I can be. And everyone seems to get behind me. I don't know what it is, I don't know why. I started to embrace it a little bit, and now it's definitely weird because how can you guys like me? [laughs]
I just go out there and give them the show they deserve to see, and being heel or face doesn't matter to me. I'm just going to go out and be myself, and if they like me they'll like me and if they don't they don't. There's still a lot of people who don't like me, but they are now overshadowed by the people who do like me.
Is there an inspiration for your current character?
I guess from being in Australia and moving over here. I was like this in Australia and also the biggest babyface in my company, which was strange as it is. But then coming over here and trying to fit the mold that everyone wanted, I became someone else and I didn't like it. I wasn't comfortable in what I was doing or who I was. I think I just had enough of everything. I had enough of never getting an opportunity, never getting booked for anything, so when it came to the second Mae Young Classic and I had the chance to show everyone what I got, I didn't really tell anyone. I just had to get permission to cut my hair. I just rolled up in my new attire and attitude and I was doing what I want. If it doesn't work then you guys can make me do whatever you want, but right now I'm doing me. So I was just myself. The person you see in the ring is me in a mosh pit, pretty much. I am that character, I don't even like calling it a character. It's just me. So I had to tune into that when I pull back the curtain, which is why I always have to have a theme song that I can get into and behind as well. Luckily Ash Costello sung my theme song, so it's really easy for me to turn into Rhea Ripley.
Watching you it feels like you've been doing this for so long even though you're so young. What do you attribute that to?
Luckily for me I have been wrestling for seven years. And for me, even though I'm so young, the experiences I had, a lot of people haven't experienced at my age. Starting at 16 in Australia at Riot City Wrestling, I learned a lot about myself and wrestling in general. I went to Japan for three months and I learned a lot about strong style over there. So I just kept evolving and moving into what I am today.
From your current run in NXT to being able to take on Becky Lynch, Charlotte, Sasha where do you go from here?
[Laughs] It's been a crazy month to say the least. Everything that was on my bucket list is pretty much ticked off within three to five days. Oh my god, what do I do now? I'm just excited to go on the ride.
Talking about that Survivor Series week. How much of a toll was it on your body?
It was tough definitely. It was travel that got to me. Sitting on the bus and airplanes it just messes you up a little bit. But I was just living in the moment and not thinking about l that stuff. I think the worst thing that happened was when I went to get the trash cans and chairs at WarGames I broke two of my nails. And that hurts, you know? I broke them right down the middle, and I legit started bleeding everywhere. And I'm like "Damn, I didn't even step in the cage yet. I didn't know that's why they call it WarGames, my God." [Laughs]
I remember going to the back afterwards and people saying "Did you flip Bianca off?" And I'm like, "What do you mean did I flip Bianaca off? No. What did I do?" And they told me that I started shaking my hand and put my middle finger up.
And I was so confused, but it was because I broke my real fingernails and I was shaking it in pain. So it looked like I was flipping her off [Laughs].
It worked into the story of WarGames for sure. Why does NXT do such a great job of storytelling, from Dakota Kai's turn to the in-ring story?
Everyone is coming into their own and what they are destined to do. Whether it's a heel turn or babyface turn like me. Everyone is playing their part to make NXT the number-one brand. We proved to everyone every single time that we go out there that we are not developmental any more. We are the main roster. If you see the talent that Dakota Kai has, Tegan Nox, Candace LeRae, Shayna, Mia and everyone has, its the next level of superstars and that's what we are. Everyone is playing their part to the T and to what they know and think that they are. And I don't like calling it character stuff, because everyone I know is just them times 10. I don't even put it into characters. I just put it as them lifting themselves up and getting what they think they deserve. There's a time and place for everything, and Dakota picked her time well.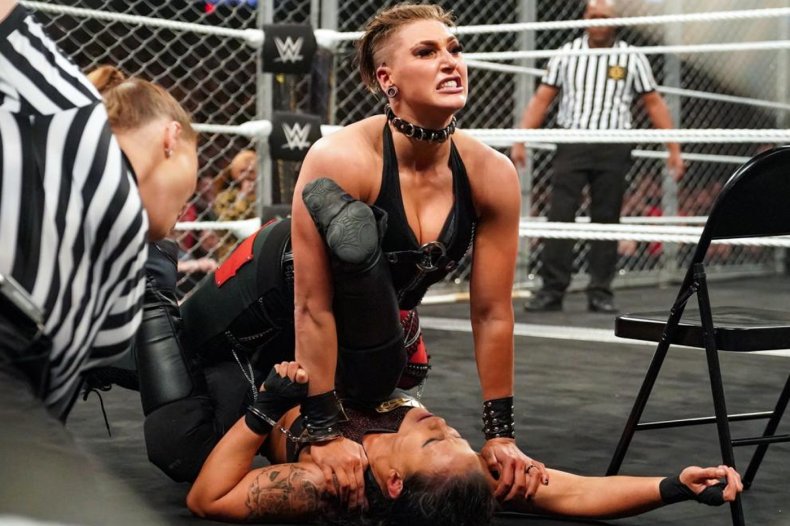 Survivor Series week gave NXT a lot of main roster exposure from fans who may not watch the product. Is there a new pressure post-Survivor Series?
It was definitely pressure that comes with that just by going live. It was pre-recorded before, and if you mess up you get a second shot. There are edits and stuff that can be done. Now, you better know what you're doing because we're putting you out there in front of the whole world. So there's definitely a pressure that comes with that.
I remember the first time I went on live TV I had to cut a promo, and I spoke about this on Lillian Garcia's podcast Chasing Glory, but I'm not very good at public speaking. I'm talking fast and stumbling over my words, and that's because I'm not very good at speaking in public or to people in general. So going out there and having to cut a promo in front of a live crowd and in front of an audience at home as well, it was terrifying to me. But we are now showing people that we are not below RAW or SmackDown we are better.
You're on a collision course with Shayna. What would it mean to become NXT Women's Champion?
It's such an honor, in my opinion, to be the person who defeats Shayna Baszler who had been such a dominant champion here in NXT. It would be absolutely incredible, and it's just something I can put under my list of achievements. If I can be the one to dethrone Shayna Baszler you will be seeing a very cocky Rhea Ripley. If I can be the champion of NXT I don't even know how to put it into words. It would be so humbling and appreciative, but also I would prove to everyone why I should be NXT Women's Champion.
NXT airs live every Wednesday at 8 p.m. on USA Network.
About the writer
Phillip Martinez is a game and culture reporter for Newsweek. Prior to joining Newsweek in 2018, he was a reporter and editor for iDigitalTimes and Player.One. A Bronx native, he graduated with his Bachelor's degree in Journalism from St. John's University in 2010. An avid Nintendo fan and wrestling mark, he's always looking to become a Pokémon Master while fantasy booking this year's WrestleMania. You can contact him at p.martinez@newsweek.com