Republican Lawmaker Slams 'Treacherous Snakes' Who Want Civil War on Memorial Day
A Republican lawmaker on Monday night hit out at "treacherous snakes" eager for a civil war as he complained about "stupid hot takes" and urged Americans to remember service members on Memorial Day.
Rep. Peter Meijer (R-MI), a U.S. Army veteran who served in Iraq, tweeted that those "waxing patriotic while salivating for civil war" were intent on destroying the country in the "ultimate betrayal of oaths sworn."
The freshman congressman also said he struggled with "brow-beatings from the holier-than-thous," and told his followers to remember what it was that fallen service members sacrificed their lives for.
Posting on social media, Rep. Meijer said: "I struggle with Memorial Day. Stupid hot takes + brow-beatings from the holier-than-thous. Memories + knowledge that for too many it's a reminder of a father, mother, wife, husband, son, daughter gone. Our shared obligation to make this nation worthy of their sacrifice.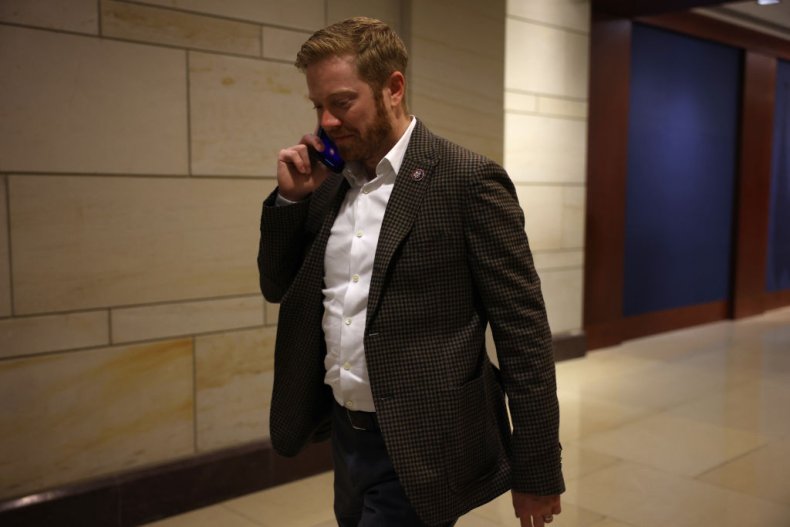 "And then there are those who take this sacrifice for granted, waxing patriotic while salivating for civil war. Claiming they need to destroy the Republic in order to save it in the ultimate betrayal of oaths sworn. Those treacherous snakes can go straight to hell."
He then called on Americans to "remember the fallen" and their loved ones, as well as "what it was they sacrificed for."
"And remember the need to protect it from the greedy delusions of craven demagogues who'd burn it all down if it meant more power or profit for them," the Michigan Republican added.
Newsweek has contacted the congressman's office for further comment.
The Republican lawmaker hit out at those "salivating for civil war" a day after the former National Security Adviser Michael Flynn appeared to back the idea of a Myanmar-like coup in the U.S. at a conference.
During a Q&A session at the "For God & Country Patriot Roundup" conference in Dallas, Texas, on Sunday, one attendee asked the panel: "I want to know why what happened in Myanmar can't happen here?"
"No reason. I mean, it should happen here. No reason, that's right," Flynn replied after a pause."
However, the retired U.S. Army lieutenant general told his Telegram followers on Monday night that there was "no reason whatsoever" for a military coup in America, and added that it was a "boldface fabrication" to suggest he felt otherwise.
"Let me be VERY CLEAR—There is NO reason whatsoever for any coup in America, and I do not and have not at any time called for any action of that sort," he said.