Michael Flynn Backtracks on Myanmar Coup Remarks, Blames 'Twisted Reporting'
Former National Security Adviser Michael Flynn on Monday night claimed that he had never called for a Myanmar-like military coup in the U.S. after he appeared to back the idea at a conference.
The retired U.S. Army lieutenant general told his Telegram followers that there was "no reason whatsoever" for any coup to take place in America, and claimed it was a "boldface fabrication" to say otherwise.
He backtracked on his earlier remarks as he faced criticism from various commentators and lawmakers, including Rep. Liz Cheney (R-WY), the former House GOP conference chair.
Posting on the social media channel, Flynn said: "Let me be VERY CLEAR - There is NO reason whatsoever for any coup in America, and I do not and have not at any time called for any action of that sort.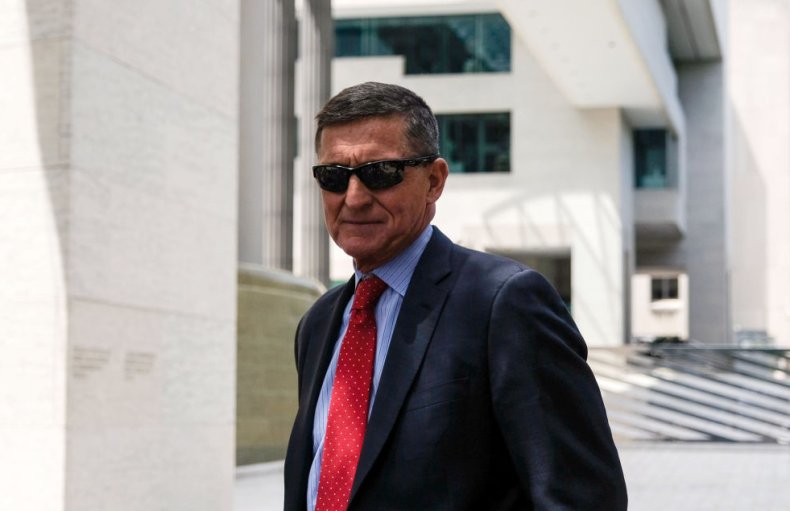 "Any reporting of any other belief by me is a boldface fabrication based on twisted reporting at a lively panel at a conference of Patriotic Americans who love this country, just as I do."
Newsweek has contacted Flynn for further comment.
He added that he was "no stranger to media manipulating my words" and repeated that he believed there was "no reason" a coup should happen in the United States.
The ex-national security adviser appeared to say a Myanmar-style military coup "should happen" in the U.S. during a Q&A session at a conservative conference called the "For God & Country Patriot Roundup" in Dallas on Sunday.
"I want to know why what happened in Myanmar can't happen here?" one attendee asked the panel to loud applause in a clip posted to social media. "No reason. I mean, it should happen here. No reason, that's right," Flynn said after a pause.
Myanmar was the scene of unrest earlier this year after the military seized power in a coup on February 1. The ousted leader Aung San Suu Kyi, a Nobel Prize laureate, was arrested at the time.
She appeared in public for the first time in several months during a court appearance on Monday last week. A number of armed civilian groups have cropped up since she was ousted.
Some believers in the QAnon conspiracy theory are reportedly eager to see former President Donald Trump reinstated in the White House through a military coup. According to a Media Matters analysis, some are also fans of Myanmar's coup.
Former President Trump pardoned Flynn in November last year after he pleaded guilty to lying to the FBI. "It is my Great Honor to announce that General Michael T. Flynn has been granted a Full Pardon," Trump tweeted. "Congratulations to General Flynn and his wonderful family, I know you will now have a truly fantastic Thanksgiving!"