Folk icon Peter Yarrow has been accused of raping an underage girl in 1969.
The musician, best known for his involvement in the 60s group Peter, Paul and Mary, is facing a new lawsuit that alleges Yarrow "groomed" the then-teenager.
Documents were filed on Wednesday at Manhattan Supreme Court in the suit, which was brought under the Child Victims Act.
Documents claim that Yarrow, now 82, met the victim a number of times before the incident took place in a Manhattan hotel room.
He then "took an interest in her," acting what in what the minor thought was "paternal way," per to the filing
The lawsuit claims that the then-teenager ran away from her St. Paul, Minnesota home and met Yarrow at a Lower East Side hotel, where he allegedly raped her.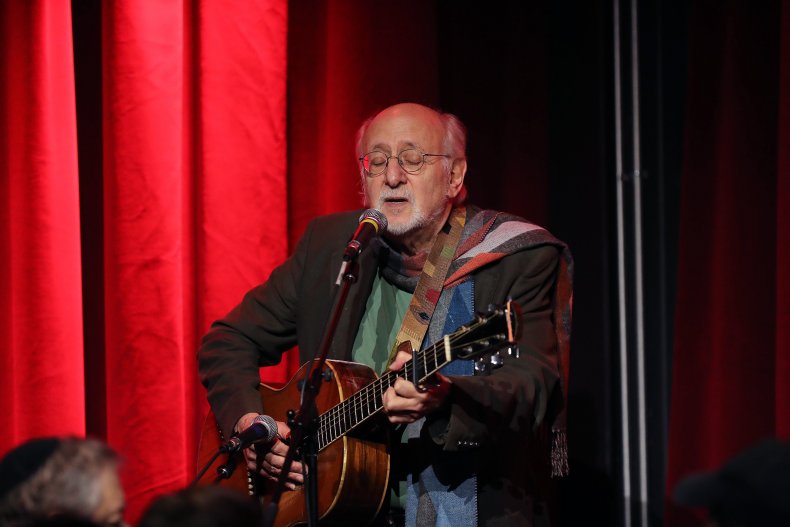 The day after, it is claimed, Yarrow asked the girl to leave and bought her a ticket back to Minnesota.
The plaintiff, now 68, is seeking compensatory and punitive damages, alleging sexual abuse of a child, negligence, assault, battery and infliction of emotional distress.
The woman states that she "has been suffering the effects of Yarrow's rape ever since," and is and is "unable to fully describe all of the details of that abuse and the extent of the harm she suffered as a result," according to the lawsuit.
The suit also names 'Peter, Paul & Mary Co' as a defendant because they "should have known that Yarrow was dangerous to children and posed a threat of sexual abuse to children."
Newsweek has reached out to Yarrow's representatives for comment, but received no response at the time of publishing.
This accusation comes after Yarrow was pulled from the Colorscape Chenango Arts Festival lineup in 2019.
This situation stems from Yarrow's prior conviction for "taking indecent liberties" with a 14-year-old girl in 1970.
The singer was convicted for this incident after pleading guilty in 1970 and served three months in prison. However, in 1981, then-president Jimmy Carter pardoned Yarrow for the crime, the day before he left office.
Yarrow released a statement to The New York Times in 2019 about the conviction.
"I fully support the current movements demanding equal rights for all and refusing to allow continued abuse and injury—most particularly of a sexual nature, of which I am, with great sorrow, guilty," he said at the time.
"I do not seek to minimize or excuse what I have done and I cannot adequately express my apologies and sorrow for the pain and injury I have caused in this regard."